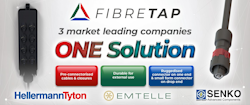 At ANGA COM 2019 (June 4-6) in Germany, Emtelle, HellermannTyton, and Senko Advanced Components announced that the companies have collaborated to create FibreTap, a ruggedized drop cable offering for fiber to the x (FTTx) applications.
The partners say the pre-connectorized, non-splice "plug and play" cable speeds installation in aerial and underground applications.
Specifically, the FibreTap combines pre-connectorized 5/2-mm and 6/3.2-mm universal drop cable with 2-8 G.657.A2 fibers pre-installed from blown fiber specialists Emtelle; and an optical network terminal (ONT) closure and a new IP68 rated fiber adapter block for pole or chamber installations from HellermannTyton. For its part, Senko provided an LC blown fiber type connector, a mechanical splice alternative for the ONT, and a custom version of its IP connector.
SEE ALSO:  Futureproofing for FTTx
The combination of the three companies' expertise creates a drop cable approach that is easy-to-install, reliable, and futureproof, the partners assert. The cable's design ensures optimal protection of the cable and connection, they add.
"It made logical sense to partner with Emtelle and Senko to create such a solution, due to our longstanding relationships and 180-plus years' experience between us," commented Matthew Hunter, managing director at HellermannTyton. "To pre-connectorize our well-renowned closures to Emtelle's quality cable with Senko's ruggedized connector, makes a complete solution that helps installers worldwide on making fiber installations quicker, easier, and more effective."
Learn more about this product.