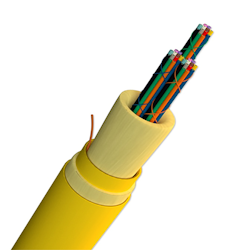 aflglobal.com
AFL announced it has received Construction Products Regulation (CPR) certification for certain fiber-optic cables including its Sub-Unitized MicroCore 2.0 and MicroCore 3.0, plus its Ruggedized MicroCore, product lines. CPR, often recognized as "CE marked," defines minimum cable fire safety standard (EuroClasses) based on installation and type of building. Each country sets its own minimum EuroClass requirements for installation cables.
"Receiving the CPR certification and accompanying AVCP 1+ system certification greatly expands our data center cable portfolio worldwide," commented Michael Houck, product manager for AFL. "As we expand our global footprint, this certification will allow us to offer a full system solution to our customers and positions AFL as an industry leader in cutting edge optical cable solutions."
CPR certification applies to all cables which are permanently incorporated in a building or construction works. The supplied cable will have a CE label on the drum flange, on the box or in the packaging. This label identifies the Declaration of Performance (DoP) number (reaction to fire), unique product name, manufacturer, NANDO Lab number and "reaction to fire" classification. Every cable design is tested for "reaction to fire" unless there are "extended application" (EXAP) rules set up in TS 50576.
AFL's Sub-Unitized MicroCore 2.0 Base-8 and Base-12 cables are available in fiber counts up to 144 and 216, respectively. The MicroCore 2.0 supports high-density networks and "offers the highest density 2.0 mm fiber cables available," claims the company.
AFL's Sub-Unitized Premise MicroCore 3.0 Base-12 and Base-24 designs are available up to 144 fibers and 288 fibers, respectively. Both standard 250 µm fiber and SpiderWeb Ribbon technology designs are available for the MicroCore 3.0. Designed for direct termination and supportive of both single-fiber and multifiber architectures, this cable family can serve as the backbone to any deployed system, notes AFL.
AFL's Ruggedized MicroCore is an alternative to traditional inside plant central loose tube ribbon cable. Consisting of bare fiber, this cable eliminates edge fiber stress due to the preferential bend of encapsulated ribbons. "The Ruggedized MicroCore is ideal for termination of fiber rack systems, intra-building backbones, headend termination to a fiber backbone or MTP/MPO or MTP to breakout terminations," says the company.
Learn more at www.AFLglobal.com.