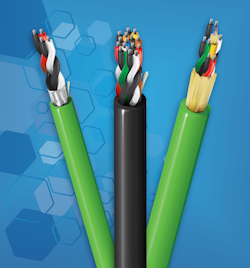 Belden recently announced the availability of its Digital Electricity Cables. Designed in conjunction with VoltServer, recognized as the creator of Digital Electricity, the cables are available in copper for power-only applications, and in hybrid copper/fiber constructions to transmit power and data over long distances in a single cable run.
Digital Electricity Cables are available as shielded or unshielded constructions, in pairs of two, four or eight, and in conductor sizes of 14, 16 or 18 AWG.
"Tailored specifically to the demands of Digital Electricity, this new cable line enables power delivery for applications that can't be supported by Power over Ethernet and remote DC powering due to distance limitations," Belden said when introducing the cables. The company added that its Digital Electricity Cables "transmit up to 20 times more power or 20 times more distance than PoE: up to 2,000W or up to 2km reach in indoor and outdoor applications."
Belden added that Digital Electricity Cables support Internet of Things (IoT) and convergence in venues such as airport terminals, convention centers, hospitals, high-rise hotels, stadiums and office towers. "These cables are the only application-specific solution designed to support Digital Electricity," the company said.
Michael Bodzay, Belden's product manager for security and electronic cable, commented, "With the explosion of IoT has also come the need for in-building wireless systems, such as distributed antenna systems [DAS], to support device connectivity. Often, the ideal location for a DAS radio isn't near a local power source, and this is driving the need for Digital Electricity. DAS is an ideal application for Digital Electricity, and through our partnership with JMA, we are able to provide an end-to-end DAS solution."
Belden stressed, "This technology isn't only about power; it is also about safety. Transmitters and receivers constantly monitor line conditions and stop power distribution immediately if an issue is detected, protecting people and equipment. Twisted pairs in the copper cable maintain flexibility and performance during installation, improve electrical performance, speed up installation and reduce confusion by offering easy identification of cable pairs. Made of tinned copper, the cable features anti-corrosion properties for improved longevity.
"The copper/fiber hybrid version helps installers reduce cable inventory, because a hybrid construction requires only one cable stock and manage, and it reduces labor costs with only a single cable to pull."
The cable's default reel length is 2,000 feet, versus a convention length of 1,000 feet. Belden says this reduces waste by providing enough material to support runs that exceed 500 feet, with cable left over for additional cable runs.