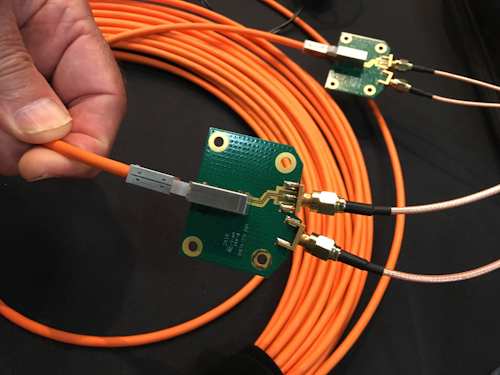 By Patrick McLaughlin
Opportunities to deploy Ethernet systems for industrial applications will grow significantly in the years ahead, according to several business analysts. "Continued advancement in Ethernet technology are expanding the reach and capabilities of industrial Ethernet architectures," explained ARC Advisory Group recently.
Chantal Polsonetti, vice president at ARC Advisory Group, is one author of the firm's recently published "Industrial Ethernet Switches Global Market Research 2018-2023." When that study was published in June, Polsonetti explained, "Manufacturers are leveraging technological advancements to automate processes and improve business performance. These capabilities enable pursuit of decentralized, even autonomous, operation by distributing communication away from the central processors, enabling more direct communication between machines capable of controlling their own logic and initiating subsequent process steps."
According to Polsonetti and ARC Advisory Group, important developments in Ethernet technology include faster speeds, higher bandwidth, higher wattage PoE, and the prospect of real-time deterministic Ethernet. "Connectivity and edge-to-cloud integration requirements at the thin edge, or network infrastructure tier, of digitally transformed architectures are escalating exponentially," the analyst firm continued. "Concurrent evolutions in technology, standardization, and competitive landscape add to the opportunities and challenges faced by industrial Ethernet switch buyers and suppliers."
Part of the mix that ARC describes and analyzes in its recent report is the existence of single-pair Ethernet transmission capabilities and the development of single-pair cabling systems to support that transmission. Standards-development work is underway within a number of organizations, including the Institute of Electrical and Electronics Engineers (IEEE), the Telecommunications Industry Association (TIA), and the International Organization for Standardization/International Electrotechnical Commission (ISO/IEC).
802.3cg
In a Techbrief document titled "Back to the Future: The Road to Single-Pair Ethernet," Anixter explained, "The IEEE 802.3 formed the 802.3cg Task Force to develop a standard to address device support twisted-pair cabling beyond 100 meters. The standard—IEEE 802.3cg 10 Mb/s Single Twisted Pair—envisions a unified network based on single-pair Ethernet as an alternative to the hugely fragmented fieldbus landscape."
Fluke Networks' Mark Mullins explained via the company's Cabling Chronicles blog, "Low-speed fieldbus for machine-to-machine (M2M) communications is found over a range of protocols, media, conductor sizes, distances and connector types depending on the application. Terminal block connections are currently the most prevalent for controllers and devices such as sensors that detect heat, moisture, pressure or other environmental factors, or actuators that control valves or other switches such as relays.
"Due for publication this year, short-reach 10Base-T1S and long-reach 10Base-T1L are well under development by IEEE P802.3cg. Yes, we already have single-pair Ethernet standards such as 100Base-T1 [802.3bw] over 15 meters and 1000Base-T1 [802.3bp] over 40 meters for the automotive industry. 10Base-T1S supporting 10 Mbits/sec to at least 15 meters is also targeted towards automotive and industrial applications as an attractive alternative to traditional fieldbus communication protocols. But 10Base-T1L that supports 10 Mbits/sec over a single pair to at least 1000 meters is something that might just change how you connect low-speed IoT devices such as sensors, actuators and relays used in HVAC, security and lighting-control applications that cross over into the commercial enterprise space."
Circuitry produced by AEM enables testing of single-pair cabling. The single-pair cabling construction shown under test here is a prototype developed by Panduit.

10Base-T1L will allow up to 10 in-line connections, Mullins further pointed out. "The application will also accommodate cabling configurations referred to as a mixing segment. In contrast to traditional link segments, a mixing segment, sometimes referred to as a multi-drop, can support more than two devices in a channel. While it remains to be seen how this configuration will be utilized, it is anticipated that some building automation systems in the commercial enterprise space may take advantage."
As Mullins stated, existing single-pair Ethernet specifications were developed for automotive applications. More than two years ago the IEEE published 802.3bu standard, specifying the provisioning of Power over Data Lines (PoDL) for a single pair. Sometimes referred to as "poodle," the 802.3bu specifications likely will be leveraged with 10Base-T1L to provide power to Internet of Things (IoT) devices along with wired connectivity.
Developing components and systems
Uwe Widmann, a manager of technology and standardization for Belden, recently explained in a blog post titled "Single-Pair Ethernet Drives Ahead" that, "There are some applications where shorter range and lower data rates are not a concern, and it was in one such application—wiring automobiles to carry sensor and diagnostic information and on-board communications—where Single-Pair Ethernet was first proven out successfully … Similar applications for Single-Pair Ethernet—cabling within robots, inside walls and floors for building automation, and inside trains and buses, for example—are also emerging in the shorter term.
"Just as with traditional Ethernet, Single Pair is not a static technology, and dynamic improvements are emerging all the time. Belden presented test samples of some of the most advanced SPE cables yet developed to industry experts a few months ago. And we continue to work in partnership with IEEE to help create standards that will achieve longer distances and data rates that will double the latest standard.
"In the even shorter term, a number of companies are working on creating the products that will bring the promise of current and emerging Single Pair Ethernet standards to reality. Where there is new cable, there of course needs to be new infrastructure to support it, including connectors, switches, I/O modules and more. We at Belden will ultimately provide industrial customers with a complete SPE solution—in transportation, in robotics, in building automation, and ultimately, even in the most data- and distance-intensive applications in the process industry and on the factory floor."
TIA-568.5-D
As we previously reported ("Standardized single-pair connector interfaces set the pace for intelligent buildings," February 2019), the ISO/IEC group developing single-pair cabling specifications selected two interfaces, through voting, about a year ago. However, that decision within ISO/IEC JTC1/SC 25 does not dictate the path of other standards-development groups. Specifically, the TIA's TR-42.7 Telecommunications Copper Cabling Systems Committee is working on the ANSI/TIA-568.5-D standard, which will specify single-pair cabling. That standard document is not yet in Draft 1.0 form, which as a practical matter means it has not yet taken shape. Sterling Vaden, of Vaden Enterprises, is vice-chair of TR-42.7. When asked about TIA-568.5-D, he responded, "At this point, our draft does not parallel the work in ISO/IEC except in attempting to address the IEEE single pair application with channel limits that are supportive."
Like all standards from TIA, 568.5-D is being developed through a consensus process. Vaden pointed out, "There are still some fairly fundamental issues to be hammered out, specifically in how we address the existing IEEE applications with defined topologies for installed cabling. There were 40 pages of comments on our initial committee mock ballot."
Fluke Networks' Mullins, in his blog post, informed, "The 568.5 standard will include field tester specifications to verify the performance of installed single-pair cabling using familiar performance parameters … However, because we are only dealing with a single pair, there will likely be no need for familiar pair-to-pair parameters such as NEXT [near-end crosstalk] and ACRF [attenuation to crosstalk ratio, far end]."
AEM, a provider of test equipment including the TestPro 100, has provided single-pair testing capability to the automotive industry as that market has adopted the technology. The company explains, "Automotive manufacturers are rapidly adopting SPE for in-vehicle communications. Standardization bodies have made great progress in defining specifications and test procedures for SPE cabling systems for automotive use. AEM's MMVNA is designed with manufacturing test requirements for automotive cabling in mind. With its small size, ability to perform mixed-mode S-parameter testing in single-ended or dual-ended configuration, and configurable measurement parameters, MMVNA is an ideal tool for automotive cabling test."
MMVNA is AEM's Mixed Mode Multi-port Vector Network Analyzer. It is a very different tool from the company's TestPro 100, but AEM points out that it has leveraged its R&D into the MMVNA to offer SPE testing capability. "The use of SPE is growing quickly for connecting IoT sensors and other devices," AEM says. "Test Pro enables testing of SPE systems. It also allows specifying limits for SPE based on current IEEE specifications."
A promising future
Other cabling manufacturers also have discussed their efforts to produce single-pair components. Phoenix Contact's executive vice president for device connectors, Torsten Janwlecke, recently said, "We consider Single Pair Ethernet one of the next megatrends of data cabling. Because of its ISO/IEC normative base, I believe it will open up a lot of new applications in terms of sensor connectivity, actuator connectivity, or even replace some of the fieldbus cabling of the past. With its single pair, I think it offers a very easy to install and easy to operate system that comfortably can be interconnected with the Ethernet system."
Phoenix Contact's manager of product marketing for data connectors, Verena Neuhaus, added, "Single-pair Ethernet saves installation space and costs, and offers the possibility of realizing new connections and technologies. Transmission rates up to 1 Gigabit per second, and transmission distances up to 1000 meters are possible. Phoenix Contact offers an integrated and very compact connection system, from IP20 components for building installation, to IP67 components for use in industrial automation."
Weidmuller's head of product management Simon Seereiner stated, "The connector family is designed for office and industrial environments; the connectors are standardized in IEC 63171. The international standard defines the mating interface for one-pair as well as four-pair single-pair Ethernet transmission. This provides the possibility of building up single-pair Ethernet structures seamlessly for connecting devices and sensors in machinery, process, as well as in building-infrastructure applications."
As this issue of Cabling Installation & Maintenance was going to press in mid-July, the IEEE group developing 802.3cg was meeting to progress on the standard. We will gather information from that meeting and publish a follow-up article that discusses IEEE milestones as well as the interrelationship between the IEEE 802.3cg specifications and cabling-standards documents from the TIA and ISO/IEC.
Patrick McLaughlin is our chief editor.