Fluke Networks' MicroScanner PoE cable verifier
Fluke Networks says its MicroScanner PoE cable verifier cuts through the confusion of Power over Ethernet installations by providing swift and simple PoE verification. The tester detects the available PoE class (0-8) in accordance to the latest PoE standards and displays the voltage from passive PoE sources. Everything cable technicians need to know, including available services (up to 10G Ethernet), cable length, wiremap, cable ID, and distance to fault are all shown on the unit's LCD screen. Fluke's built-in IntelliTone digital and analog toning precisely locates virtually any cable or wire pair, even on active networks. The tool's ergonomic design features a sleek rubber overmold to enhance grip and ruggedness.
Fluke Networks, flukenetworks.com           Booth 1230
Powerful, intuitive OTDR for singlemode and multimode fiber networks
AFL's rugged FlexScan FS300 Quad OTDR is an all-in-one solution designed to quickly detect, locate, identify, and measure fiber-optic network components and faults. It tests both multimode and singlemode networks, including FTTH PONs and point-to-point networks. AFL's SmartAuto multi-pulse acquisition capability detects events <2 meters apart, while still delivering the range to test through PON splitters and long point-to-point networks. The pocket-sized FlexScan FS300 features a bright 5-inch touchscreen that displays event type and standard or customized pass/fail status using color-coded icons. FlexScan's intuitive interface and icon-based LinkMap display enables even novice users to reliably and accurately locate and resolve optical network problems. An optional integrated light source and power meter ensures users can complete OTDR, OLTS and VFL tests.
AFL, aflglobal.com      Booth 1347
Adjustable round-hole cutter
The Jonard Tools AHC-10 adjustable hole cutter is designed for cutting round holes up to 10 inches in diameter in ceilings, walls, and floors. Billed as "the perfect tool for installing recessed speakers, lighting, or other round objects," the adjustable hole cutter cuts plywood, plasterboard, and acrylic sheet up to 1-1/16-inch (2.7 cm) thick. Cutting depth is adjustable via the tool's hex locknut and compression spring. The AHC-10 cuts hole sizes from 2.2 inches (55 mm) to 10 inches (254 mm), with a polycarbonate transparent dust shield that collects dust and prevents chips from flying into eyes while cutting. The cutter's rubber gasket provides surface protection against damage, a tight seal against flat surfaces, and prevents fallout from debris. A compression spring absorbs vibrations while cutting. The AHC-10 can be used with any variable-speed drill (power drill not included with hole cutter) and includes a rugged carrying case. The hole cutter will join other cabling-installation tools from Jonard's portfolio on display, including fiber-cable slitters.
Jonard Tools, jonard.com
Booth 1250
AEM positions TestPro for smart buildings, IoT
As stated by AEM, "With the proliferation of smart building deployments, the need for network bandwidth and power has never been greater — and it is rapidly increasing, with the adoption of technologies such as PoE and Multi-Gigabit Ethernet over copper cabling." To meet this growing demand, AEM designed its TestPro, billed as "an affordable, easy-to-use, versatile and rugged testing solution purpose-built for this modern network environment." The TestPro provides users with the ability to fully ensure infrastructure readiness to support the deployment of IoT connected devices, be they for lighting, multi-sensor cameras, building entry, wireless APs, monitors, computer workstations, or even single-pair and long-haul applications including powered fiber. As contended by AEM, "The best part, all of this comes at an affordable price that will allow organizations to outfit more technicians to optimize efficiency during both deployment as well as ongoing management and troubleshooting." The company notes its TestPro delivers among the industry's fastest complete Category 6A autotest capabilities at 6 seconds, including all TIA-required measurements, plus TDR Locator, TCL, ELTCTL, and DC Resistance Unbalance capabilities.
AEM, aem-test.com   Booth 1253
Hitachi's Power+ composite cables
Hitachi Cable America delivers long distance power and throughput with its Power+ composite cables. Made in the USA, the Power+ composite cables offer 1 copper pair for power and 2, 6 or 12 stands of fiber for video/data. Especially ideal for long-distance camera applications, the Power+ composite cables are available in a plenum-rated outdoor design. Copper pair options include 12, 14, 16, 18, 20 or 22 AWG conductors. Pick the copper gauge that will support the desired application to the distance needed. With standard 48-volt power supplies, distances of up to 10,000 feet can be achieved. For data or video transmission, customers may choose the type of optical fiber required, such as singlemode or OM3 multimode fiber. The standard jacket color is black. Since the Power+ composite cable can go in both plenum and outdoor environments, its design greatly simplifies installation by eliminating transition points and allowing true point-to-point connectivity, says Hitachi.
Hitachi Cable America, hca.hitachi-cable.com           Booth 826
Locking suspended ceiling tile WiFi access point enclosure
Oberon's 1047 Series WiTile enclosure mounts and secures WiFi and small cell access points (APs) flush to ceilings. The 1047 Series is part of Oberon's WiTile Collection. These locking WiFi and small cell AP enclosures provide security without compromising connectivity. Designed to replace a standard suspended ceiling tile, a full back-box permits access to the AP without opening the plenum space. This simplifies Infection Control Risk Assessment (ICRA) procedures in hospitals. Ideal for healthcare, financial, retail, and government facilities where security is paramount, the WiTile's surface finish matches most ceilings. This economical, locking, 2x2-foot steel enclosure for suspended ceilings replaces a standard ceiling tile; its larger back-box is suitable for larger APs and antennas. APs are mounted in the enclosure's door, or inside the models with an ABS or frosted polycarbonate plastic dome. The interchangeable door simplifies AP and antenna moves, adds, and changes.
Oberon, oberoninc.com      Booth 1218
5-in-1 stripping, cleaning, cleaving, splicing and protecting
At the 2019 BICSI Fall Conference & Exhibition, America Ilsintech will devote its showcase to a pair of fusion splicers. The K33A is billed as a premium IPAAS Core Alignment fusion splicer, which uses the proprietary All-In-One system that provides 5 functions in one unit (stripping, cleaning, cleaving, splicing and protecting). The unit's wide 0.5-inch color LCD monitor with electrostatic touch screen and bidirectional operating system make it easy to work with; its large capacity lithium-polymer battery ensures technicians never run out of battery on the job. The K33A is also compatible with the company's Fusion Splice-On Connectors (FSOC) in accordance with industry standards, and features a rotating blade that allows up to 75,000 cleaves and resistance to shock, dust and water. For its part, the KR12A is a premium ribbon splicer from America Ilsintech, also featuring the company's pentafunctional All-In-One system and 5.0-inch color LCD monitor with electrostatic touch screen and bidirectional operating system with a large-capacity lithium-polymer battery. The model KR12A also offers a user-friendly GUI and resistance to shock, dust and water.
America Ilsintech, americailsintech.com   Booth 1330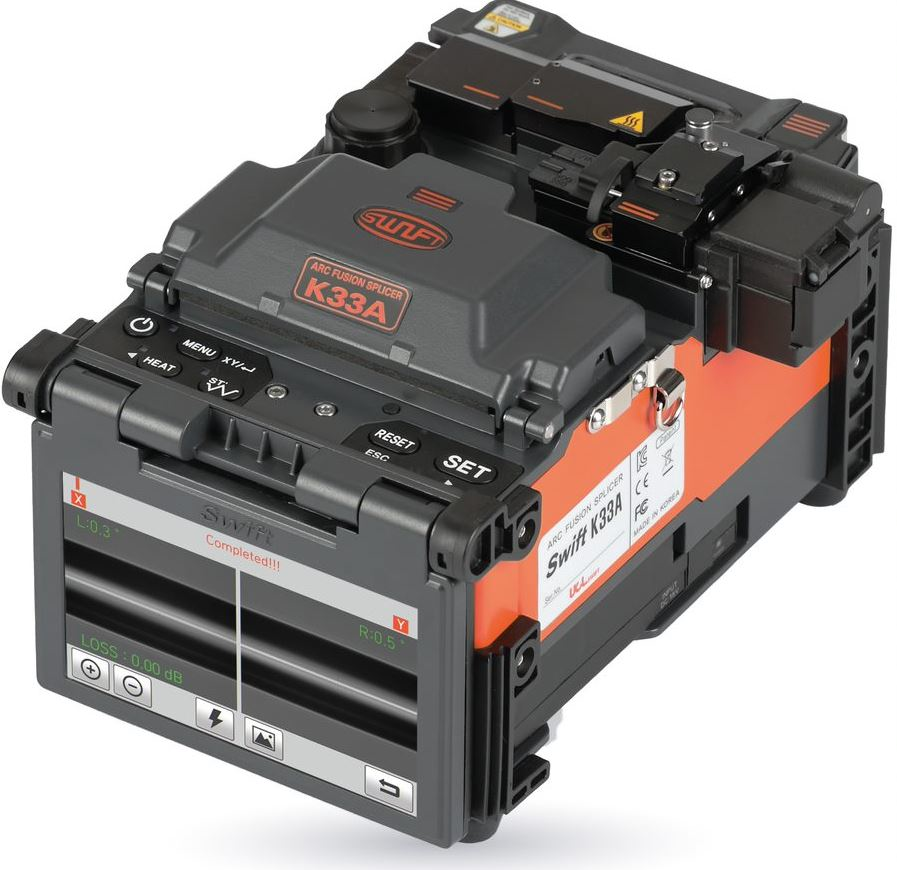 America Ilsintech's K33A fusion splicer