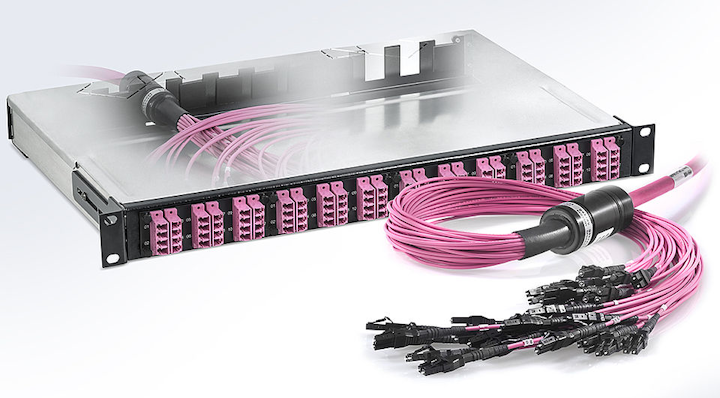 osi.rosenberger.com
Rosenberger Optical Solutions & Infrastructure (Rosenberger OSI) announced that it has completed an extensive fiber-optic project for the European utility company TenneT.
Rosenberger OSI says it implemented several workstations and training workplaces in TenneT's control room as part of a concept for seamless monitoring of the operating status of its networks and interaction with the data center. Among other products, Rosenberger OSI's PreCONNECT SMAP-G2 19" distribution panels as well as OM4 PreCONNECT STANDARD Trunks were used.
The project was implemented by Rosenberger OSI within 20 days. As part of the project, the company deployed several workstations and training workplaces in TenneT's control room. In addition, further workstations were deployed in the utility's back office. The various cable types in the deployment were subjected to the necessary measurements before acceptance. This included the factory measurement of the fiber-optic cables as well as the OTDR measurement by on-site service.
The Rosenberger OSI service team used the company's 96-fiber OM4 PreCONNECT STANDARD trunks for the connection between the control room and the data center, as well as the training rooms and the office area. The PreCONNECT SMAP-G2 1HE and 2HE as well as 1HE and 2HE splice housings were used for the installation of the trunks at the corresponding cord ends, for example in the control room. Additional splicing work was necessary in order to properly implement the trunk.
"Despite the sometimes somewhat critical conditions in the installation environment, the Rosenberger OSI team has implemented our specifications in an exemplary manner," said Patrick Bernasch-Mellech, responsible for Data & Application Management at TenneT, who was pleased with the completion of the work. "The individual installation steps were carried out according to our specifications within the promised time frame. The ongoing operation was not interrupted."
In order to guarantee network availability and security in the future, as part of the deployment, TenneT also launched its "KVM Matrix" project and commissioned Rosenberger OSI to plan and implement the solution. The KVM connection between the control stations and the data center enables dedicated data visualization directly at the workstations of the control centers despite the physical distance.
TenneT is one of the leading transmission system operators (TSOs) for electricity in Europe. The utility company employs more than 4,500 people and operates about 23,000 kilometers of high-voltage lines and cables. Around 41 million households and companies in Germany and the Netherlands are supplied with electricity via the power grid. The company has set up monitoring control centers at locations in northern and southern Germany to ensure secure network operation around-the-clock.
Learn more at https://osi.rosenberger.com.