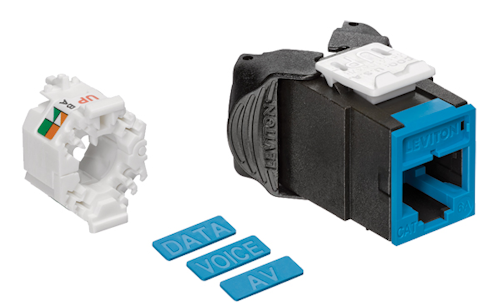 Enterprise applications, intelligent building systems, power supply and industrial networks all provide opportunities for the specification and deployment of twisted-pair copper cabl
ing systems.
By Patric
k McLaughlin
For twisted-pair copper cabling, the path to the future very well may lead outside the data center and toward a growing number of other facilities and applications. There's copper to be found in many data centers for sure, but if we look at the future in terms of decades rather than years, the data center may offer limitedopportunities.
The Telecommunications Industry Association (TIA) published Category 8 twisted-pair cabling specifications as ANSI/TIA-568-C.2-1 in June 2016. Those Category 8 specs were recognized in addendum 1 to the TIA's 568.0-D standard, published in 2017. And some Category 8 cabling product is available on the market. Leviton Network Solutions, for example, offers the Atlas-X1 Category 8 shielded system, which comprises jacks, patch panels, patch cords, and cable. However, the specific transmission schemes that Category 8 is built to support—25GBase-T and 40GBase-T—have not come to fruition as of early 2019, and to this point, as a technology, Category 8 has languished as aresult.
Nonetheless, the need for highly capable twisted-pair cabling is emerging among several other types ofusers.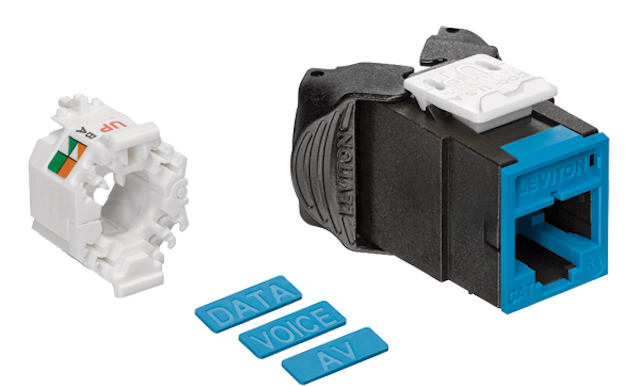 This is Leviton Network Solutions' Atlas-X1 Category 6A jack. The option to label the jack for a "data," "voice," or "AV" application is indicative of some of the many applications for which twisted-pair cabling can be used in a building.
Building applications
Increasingly, building applications are connecting to their facilities' IP networks. Cable manufacturer Berk-Tek, a Nexans company, has dubbed this transition "Everything IP." The company explains, "Businesses, hospitals and universities alike are feeling the pressure to do more with less. This mandate looks different to each department within an organization. For facilities managers and IT network managers, it means working together in a way that's never been done before. It means connecting, integrating, controlling, and powering non-traditional IP devices such as lights, cameras, and many others to the network for maximum efficiency. Embedded sensors in these devices will collect billions of data points that will produce actionable analytics to drive productivityimprovements.
"Simply put, Everything IP refers to the digital revolution that is upon us. The number of devices being connected, integrated, controlled, and powered by the network will only continue togrow."
Jim Frey, Berk-Tek's director of marketing, further explained that many end users "see a very definitive core network, which can be considered the traditional LAN—laptop, desktop, VoIP phone, wireless access points. But what is emerging is what we call the uLAN, or Utility LAN. That's everything else that is going to be connected to the network. uLAN includes lighting, HVAC, security, and AVsystems."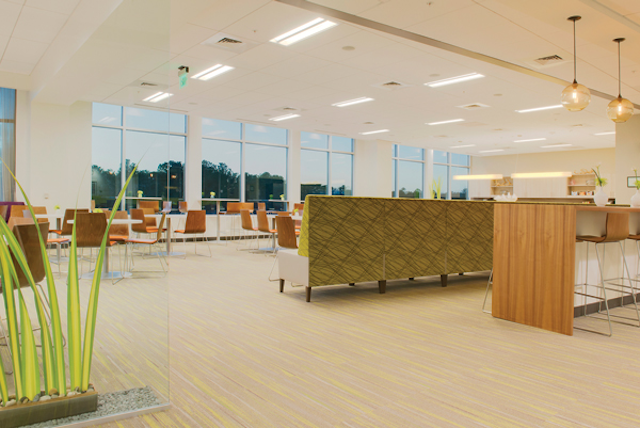 The uLAN concept from Berk-Tek Leviton Technologies emphasizes the cabling system's ability to support utility applications, like the smart lighting system shown here.
The company continues, "In a sense, uLAN represents the integration of an organization's building management systems with its IT network. Each department within the enterprise is being tasked to do its part to improve performance and reduce costs. IT and building management can support these objectives through convergence—the creation of a uLAN. The uLAN enables you to integrate systems to reduce installation and maintenance costs, and capture actionable analytics to further improve efficiency, and improve productivity and the overall userexperience."
Depending on the application, connectivity may or may not include a fiber-optic backbone. Regardless, twisted-pair copper cabling is the medium that connects to the end devices in Berk-Tek's uLAN scenario and in similar enterpriseenvironments.
The importance of power
Copper cabling's ability to deliver power to end devices is providing the medium with opportunities to serve multiple building systems. When discussing the importance of copper cabling's capabilities, CommScope's director of strategy and technology Jason Reasor reflected, "It used to be just bandwidth. Now it's also power, which opens the door for all kinds of applications that haven't used twisted pair. We may be talking about fewer connections in some cases—like a single cable serving a wireless access point. But those connections go all the way to the ceiling. Cabling used to be viewed as the infrastructure that only goes up to awallplate."
Serving end devices that reside at, in, or near the ceiling provides flexibility for building owners/tenants, and introduces a number of new applications that twisted-pair cabling can support, he added. "The power-bandwidth combination is a sweet spot in many enterprises," Reasorobserved.
In that sense there can be a four-cell matrix: high-bandwidth/high-power, high-bandwidth/low-power, low-bandwidth/high-power, and low-bandwidth/low power. Any application that requires any "high"—high bandwidth or high power—is going to require highly capable twisted-pair cabling. In most cases that means Category6A.
Reasor said, "In existing building space, NBase-T has emerged." NBase-T technology enables the transmission of data at 2.5 Gbits/sec or 5 Gbits/sec over the installed base of Category 5e or Category 6 cabling, respectively. Reasor added, "But even the NBase-T Alliance says if you're starting new, use Category 6A. When building from the ground up, we see more customers going with Category6A."
In October 2018 CommScope opened a research-and-development laboratory in Greensboro, NC, at which it trials next-generation PoE applications to verify the performance and safety of the structured cabling systems that support these PoE applications. At the time of the lab's opening, CommScope vice president for enterprise solutions Ernie Pickens commented, "Next to the data transport itself, PoE is the most important enabler of devices that use structured cabling in enterprise buildings today, which is critical as IT managers look to drive more value out of their installed copper cabling plant and connect moredevices."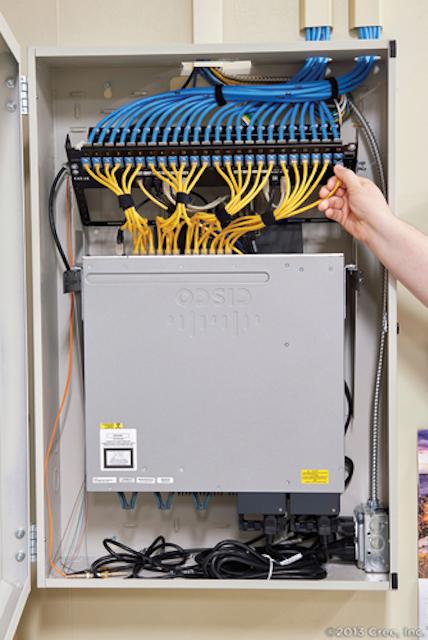 When Siemon teamed with Cisco and Cree to deploy a PoE lighting system in the Mobile County Public School System in Alabama, Siemon's 24-port zone enclosure housed intermediate connection points in the ceiling space.
Lighting the way
While a number of systems present opportunities for deploying twisted-pair cabling in buildings, lighting currently garners much of the industry'sattention.
Several cabling suppliers have partnered with lighting and networking vendors to offer end-to-end twisted-pair-based lighting systems. Siemon, for example, partnered with Cisco Systems and lighting manufacturer Cree to deploy a PoE lighting system in a school in Mobile, AL. Betsy Conroy, global marketing communications manager for Siemon, chronicled that project in an article we published in 2017. In that article, Conroy explained, "Through the use of Cree LED fixtures outfitted with occupancy and temperature sensors, the Mobile Public School System can ensure that lights are on only when needed and they can integrate the networked light fixtures with other building automation systems such as HVAC to reduce unnecessary energy consumption. The ability to connect PoE lighting to the network also allows the school to integrate lighting control with networked security systems and activate blinking patterns for emergencyresponse."
The Mobile, AL project included approximately 145 PoE lighting fixtures, she said. "The PoE lighting system was deployed using a zone cabling design that consists of horizontal cables run from the Cisco UPOE switches in the telecommunications room to intermediate connection points housed in a zone enclosure located in the ceiling space. From the zone enclosure, each PoE lighting node was connected via shorter, easy-to-manageconnections."
In a recent interview with Cabling Installation & Maintenance, Conroy pointed out that modern facilities can operate multiple building systems on direct-current (DC) power, including lighting and computing systems. In some greenfield projects, the need for traditional alternating current (AC) power supply is far less significant than what many believe it to be, and what traditionally has been the case, sheadded.
AV and more
AV systems also represent opportunities for deploying twisted-pair cabling. The Berk-Tek Leviton Technologies partnership offers product sets specifically for these needs. Berk-Tek's Frey observed, "With AV you can be dealing with 60-watt monitors powered by PoE that also carry 4K video. That's a high-bandwidth and high-power demand." The AV6850 is a Category 6A system that supports 10-Gbit/sec applications including 4K HDBase-T and Software Defined Video over Ethernet (SDVoE).
The Berk-Tek Leviton Technologies partnership explains in a technical brief, "Our IT/AV systems help low-voltage contractors be the AV experts for their customers by delivering an easy-to-install standards-basedsolution."
As we have written about previously, single-pair Ethernet and single-pair cabling systems are poised to serve the needs of industrial networks soon and for years to come. CommScope's Reasor said, "We see single-pair applications in three environments: automotive, industrial, and building environments like automation systems and HVAC controllers." He noted that standards bodies including the IEEE and TIA have made significant progress in developing single-pair specifications. "We've demonstrated products at a number of shows and continue to work with our partners to detail what single-pair looks like in actualdeployment."
While single-pair transmission is well-established in automotive systems, it remains a work in progress for in-building environments like industrial networks and building systems. Nonetheless, it holds promise as yet another avenue for twisted-pair copper cabling to serve users' needs far into thefuture.
Twisted-pair copper cabling may be close to the end of its path in data centers. When we see 25- and 40-Gbit/sec transmission over twisted pair, we may be seeing the highest data rates the medium will achieve. Twisted-pair cabling's longer-term future very well may be in other enterprise-type environments. Even there, it will face competition. CommScope's Reasor pointed out that powered fiber cable—in which optical fibers provide high-data-rate transmission over long distances and copper conductors enable DC power supply—is growing in popularity. But if this can be considered a turf war, twisted-pair copper has gone up against fiber in the past. And as you can tell by looking at virtually any in-building communication system today, copper remains a capable and reliable medium. u
Patrick McLaughlin is our chief editor.