Platinum Honoree: PoE lighting project at Waldinger Corporation
The Waldinger Corporation is a full-service mechanical and electrical contractor, based in Des Moines, IA and serving customers in 42 U.S. states. Waldinger also is a structured cabling contractor and is a Panduit ONE Gold Partner.
Waldinger embarked on a project with Panduit, General Cable, and Innovative Lighting to update its headquarters facility's office lighting to an efficient, modern solution while maintaining the aesthetic of existing light fixtures. In the process, Waldinger's structured cabling installers and technicians gained firsthand experience in the rapidly developing field of Power over Ethernet (PoE) lighting.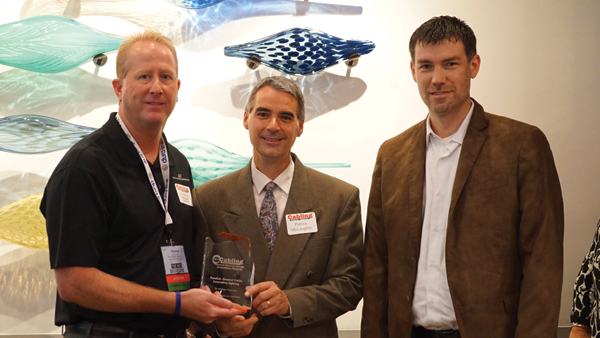 Howard Spencer, manager of structured cabling for The Waldinger Corporation (left) and Harry Aller, chief technology officer for Innovative Lighting (right) accept a Cabling Innovators Award for the PoE lighting project carried out at Waldinger's corporate headquarters facility.
As a low-voltage contractor, Waldinger already was installing PoE and IP networks for their customers. Adding PoE-based lighting to the networks was a logical next step. "I won't put anything in a customer facility that we haven't tried here," insists Waldinger's president Tom Mass. The retrofit solution that Waldinger carried out included intelligent LED lighting fixtures powered by PoE.
Innovative Lighting supplied its Genisys PoE Lighting System, which Waldinger explained met its goals of reducing both energy consumption and operational expenses, while maintaining the existing aesthetic. The Des Moines, IA facility has been showcased in architectural magazines, highlighting features such as its exposed ductwork, high ceiling, and pendant lights. Waldinger's crew installed the Innovative Lighting LED components in the existing fixtures.
The large pendant fixtures are the primary light source for an open office area of about 15,000 square feet, which houses 30 workers. Private offices form the perimeter of the space. To further test PoE lighting, Waldinger converted the lighting in four of the private offices to the Genisys PoE Lighting System, deploying 2x2 troffers within each space. Occupants control the lights' color and brightness to create a space in which each worker is comfortable and productive.
The Genisys PoE Lighting System includes the Genisys Intellidrive, a node that drives multiple lights, control, and sensors from a single unit. The solution's web-based interface enables control of fixtures either individually or within a zone.
The system's PoE generates from three Cisco Catalyst 3850 PoE switches, and is supported by a PanGen Category 6 cabling system. The cabling system comprises General Cable GenSpeed 6 cable, terminated to Panduit TX6 Plus Category 6 modular plugs, thereby providing the connection from the PoE switches to each Genisys Intellidrive. Panduit's TX6 unshielded twisted-pair patch cords connect each Intellidrive port to each fixture.
"We did all the installation work ourselves," Mass said. "Our low-voltage guys pulled the cable. They cabled it right the first time, and it worked right the first time. Now we can show our customers how it works. They can see it and experience it firsthand, and we can have confidence designing it into their projects."
Waldinger reports that since the PoE lighting retrofit, its headquarters facility has reduced its monthly wattage consumption by 60 percent.
Editor's note: Each month we highlight some of the products, projects, programs and systems that received Cabling Innovators Awards. Look for more Innovators Awards honorees in our next issue, as we gear up for this year's program.