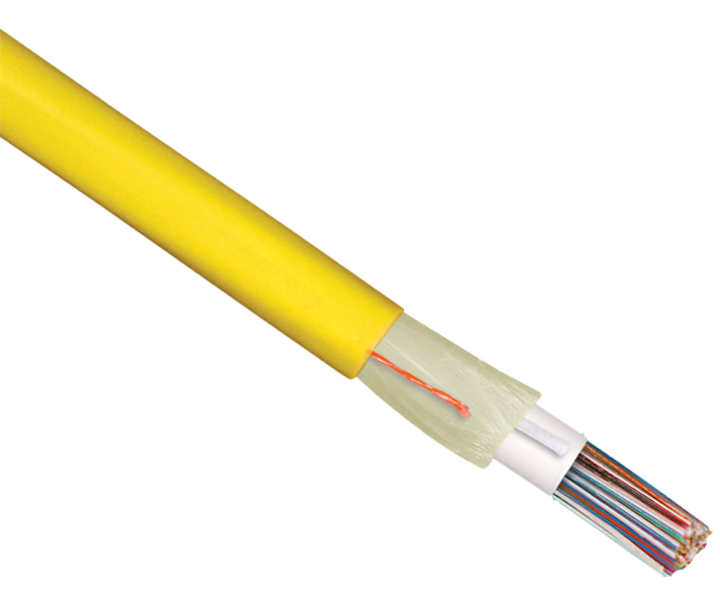 PLATINUM HONOREE: Rollable ribbon cables
Specifically developed to offer the highest density possible relative to cable size, the AccuFlex Rollable Ribbon Cable and AccuRiser Rollable Ribbon Cable offer the benefits of both flat fiber ribbons and loose fibers in one cable. The resulting cables require less space, allowing installers to double the density of existing pathways when compared to standard indoor cable designs.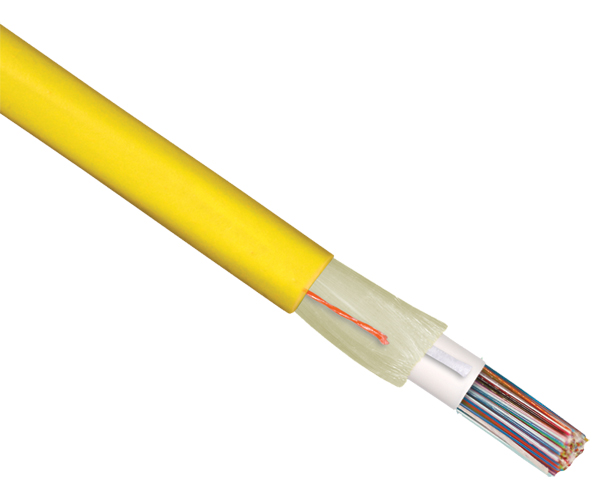 This capability is fueled by incorporating a new fiber ribbon technology from OFS into these cables—rollable ribbons, each of which consists of 12 optical fibers partially bonded together at selected points. Recent additions to the AccuTube+ cable family include cables with 432, 576, and 864 rollable ribbon fibers. The line also features cables with 1728 fibers in single-jacket and light-armor construction, as well as with 3456 fibers in single-jacket construction. "Field-proven in North America, the original AccuTube Ribbon Cable is well known in the industry for its rugged durability, fiber protection, ease of installation, and readily accessible fiber ribbons," OFS says. "This cable design features totally gel-free buffer tubes in a standard loose tube construction and exhibits superior coiling and handling when compared to other high-fiber-count cable solutions."
GOLD HONOREE: Low-pressure mold and puling eye
Pulling preterminated trunks can lead to damage if it is not done correctly, with connectors being knocked off during the installation process. Cables or trunks can also be damaged due to improper pulling, jacket stress, tension or a tight bend radius. When this type of damage occurs—oftentimes unknowingly to the installer—cable performance suffers.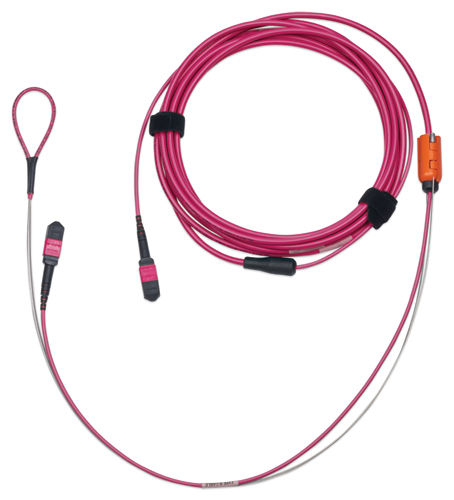 To create a solution that would allow installers to easily route cable and install preterminated trunks without having to worry about damage along the way, Belden narrowed in on improving the pulling eye. Typically, a pulling eye is located at the end of a flexible gripping cord that grips the jacket and distributes pulling tension. By attaching a hook through the pulling eye, installers can successfully pull fiber cable through ductwork or other tight spaces. In preterminated assemblies, pulling eyes protect connectors at cable ends. These eyes, however, can slow down the installation process, taking five minutes or more to remove once the pull is completed. Installers can remove Belden's new fiber pulling eye in less than 20 seconds by cutting the connection tab. Belden also improved transition points by incorporating a low-pressure mold that makes transition points lighter, smaller and easier to handle than the traditional transitions made of epoxy.
Belden,www.belden.com
SILVER HONOREE: Active clad fusion splicer
The 915FS Active Clad Fusion Splicer allows the technician to reliably fuse fiber-optic cables with low splice losses in the most demanding environments. It offers IP52 ingress protection rating, and is resistant to dust and water. Designed to meet FTTx installation requirements, the splicer can be used for point-to-point installations including backhaul, cellular, and local area network connections.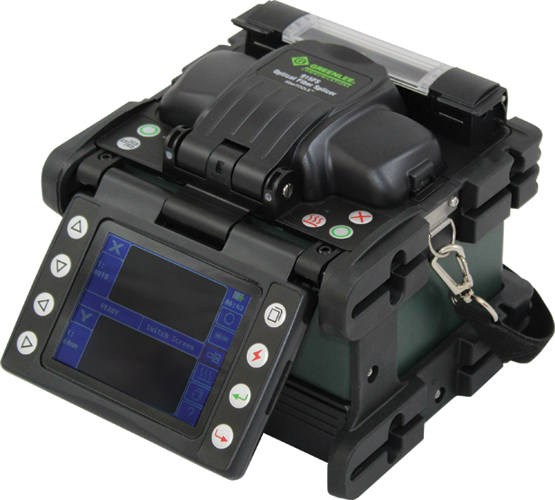 Greenlee says the 915FS Active Clad Fusion Splicer "outperforms v-groove technology, providing near-core-alignment splicing performance at a more-cost-effective price point. The intuitive user interface keeps the learning curve short." It uses four motors to align the fiber without the two focus motors found in core-alignment splicers.
Greenlee Communications