Editor's Picks
The new tML-tde Modular Link extension from trans data electronik enables 192 LC-based fiber-optic connections in a single rack unit.
Sep 1st, 2012
Compiled by Matt Vincent
From the September, 2012 Issue of Cabling Installation & Maintenance Magazine
---
Adapter fits 192 LC fiber connections into 1 RU
The new tML-tde Modular Link extension from trans data electronik enables 192 LC-based fiber-optic connections in a single rack unit. The company's chief executive officer Andre Engel commented, "Due to the compact, space-saving design of the tML HD patch cable we can accommodate 192 fibers in one rack unit of our modular plug-and-play system tML instead of the previous 96 fibers. This means the users can install twice as many ports within the same space."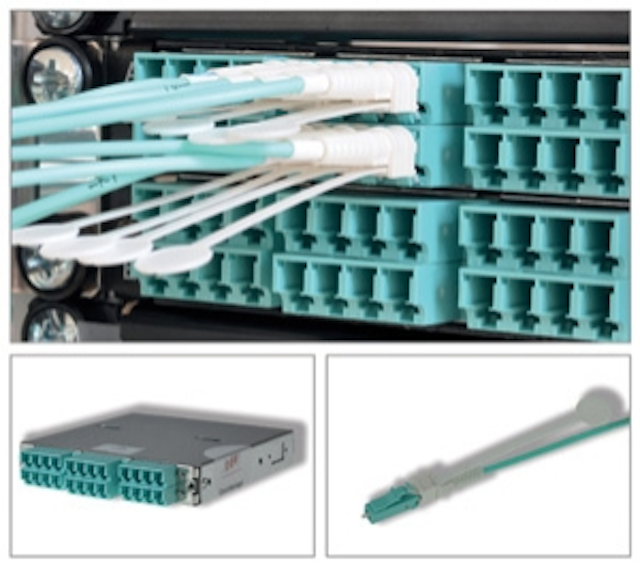 That all sounds great, but with LC connections so dense, how is a user supposed to plug and unplug the connectors? tde thought of that as well. "With conventional LC connectors a release mechanism is pressed down to release the plug from the adapter," the company explains. "Since this is done with the fingers, space between the adapters is required for a convenient handling. The centerpiece of the new tML HD patch cable is the compact LC High Density connector," tde says. "Pulling the integrated trigger tab is all it takes to release this connector from the adapter. The bar requires less space than conventional LC connectors and in the tML HD module these adapters can be directly stacked on top of each other. There is no need to calculate with extra space for convenient handling as the available space in the module is used to its full extent."
tde explains that thanks to this approach, one tML module can be used instead of 6x LC duplex ports, thereby doubling the density of a single unit to 12 LC duplex ports. "A higher packing density is also more energy efficient, because less space must be air conditioned," Engel added. The tML HD also reduces connector length from the adapter, to 15 mm. tde also notes that the trigger tabs are available in various lengths and colors.
---
Cable management system goes under the table
The Under Table Cable Management (UTCM) System from Legrand Wiremold organizes cables and cords that feed tables, desks and other work surfaces. The UTCM integrates with other Wiremold work-surface portals to allow access to network, audio/video, electrical and other services.
The system includes a 5-foot base, 5-foot rail and matching clips. An installer cuts the tray to length depending on the size of the table or desk. The UTCM can be used alone or in concert with other new products from Legrand Wiremold that work together to bring cabling and connections from the building infrastructure to their point of use.
---
Ortronics introduces raceway for fiber-optic cabling
Legrand Ortronics has introduced Mighty Mo Fiber Raceway, an overhead fiber pathway that routes fiber-optic cabling and cords between termination equipment, patch panels and fiber-optic splicing cabinets or frames. The company says the system is easy to install and configure above equipment racks, or below runway or cable trays. The raceway complements Legrand Ortronics' OptiMo fiber-optic product line as well as Mighty Mo racks and cabinets.
The Fiber Raceway is made of Noryl, which is a halogen-free, zero-dust plastic, the company explains. The product is fire-retardant, metal-free and RoHS-compliant, and is certified to UL 2024A. The product line comprises 300 SKUs across 23 product groupings.
Those groupings include solid and slotted straight duct; fittings such as joiners, vertical elbows, horizontal tees, vertical tees, storage loops and end caps; side drop-offs; adapter kits; wall-mounting kits; mounting hardware; and raceway tooling. This wide variety of parts, as well as a range of five available sizes, equips the Fiber Raceway to support fiber-optic cabling and cords in such environments as data centers, telecommunications exchanges, universities and hospitals.
The company notes that the new system allows additional pathway elements to be added, safely and easily in the field, even after fiber-optic cable has been installed.
---
Cisco announces 802.11ac router that tops Gbit/sec speed
Cisco recently announced that it will release a Linksys Smart WiFi Router and a Universal Media Connector, both incorporating 802.11ac wireless technology, which is "designed to deliver wireless speeds approximately three times faster than the current wireless 802.11n standard," the company noted.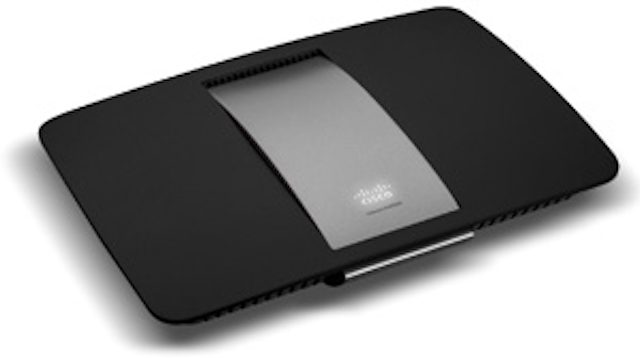 The router is compatible with previous-generation 802.11a/b/g/n systems. It can operate in the 5-GHz band using 802.11ac technology, where Cisco says it can reach speeds up to 1.3 Gbits/sec and is backward-compatible with 802.11a and n. The router also can operate in the 2.4-GHz band, where it uses 802.11n technology, for speeds up to 450 Mbits/sec and backward compatibility with 802.11b and g. The EA6500 "contains six internal 3D antennae that are designed to insure the same performance whether placed on a desktop or mounted against the wall," the company says, adding, "As new 802.11ac devices such as smartphones and tablets enter the market, consumers will be able to take full advantage of the new capabilities and power with their Linksys Smart WiFi Router that offers 802.11ac performance." It is aimed at the consumer/home market.
A companion product, the Linksys Universal Media Connector "enables consumers to connect wired devices such as Smart TVs and game consoles to their WiFi network and stream HD or even 3D HD video content wirelessly," Cisco says, "and has been optimized to work with the ... EA6500. The connector operates in the 5-GHz band that offers less interference for a clearer signal. Additionally, with four gigabit ports, users can connect a variety of entertainment devices in the living room to the Internet at incredibly fast speeds."
---
AFL advances mechanical fiber splice technology
AFL has received a patent for its new mechanical fiber splicing technology. The patent comprises a technology that eliminates the need for a special tool or fixture to open and close the elastomeric alignment groove that allows cleaned and cleaved fibers to be properly positioned to facilitate a low loss mechanical splice. The splice itself has a fixture built into the mechanical splice, and is removed and disposed of when the splice is complete.
The patent was awarded to Patrick Dobbins, director of training and certification for AFL. Dobbins has 32 years of professional fiber-optic/telecommunications experience and has held a variety of leadership roles at AFL over his 20-year tenure with the company. The new patent is Dobbins' second while with AFL.
---
Gigabit Ethernet connectors feature EMI shielding
Belden has added new Gigabit Ethernet connectors to its Lumberg Automation product line. The new Gigabit Ethernet connectors support data rates up to 10 Gbits/sec. The company says the connectors' compact design features special shielding that covers the individual wire pairs, ensuring reliable data transmission even in the presence of strong electromagnetic fields.
The connectors support M12 or RJ45 connection technology and are available in both molded and self-assembly versions. Their robust design, IP67 ingress protection rating and wide temperature range (-30 to +90 degrees Celsius) make them a good fit for harsh industrial environments. Applications include connecting IP cameras and complex machines and systems.
The Gigabit Ethernet connectors are available in two versions: field attachable and pre-molded. The field attachable M12 version features eight-pins, couplings with X-coding, screw connectors and has a threaded joint. Cables are made up either using cut-clamp or via print contacts for the flange version. The molded M12 connectors also have eight-pins (X-coding) and, like the corresponding RJ45 versions, are available as single or double-ended cord sets. A hybrid version with an M12 and an RJ45 connector will be available sometime in the third quarter of 2012.
The bodies of the molded M12 connectors and the RJ45 versions are made of thermoplastic polyurethane (TPU), while the self-assembly connectors are of nickel-plated die-cast zinc or brass (flange version). Optionally attached cables are made of halogen-free polyurethane (PUR) with 26 gauge (AWG) cores. This also applies to the cables for the molded connectors, which are offered in standard lengths of 2-, 5- or 10-meters.
---
Federal energy audit tallies government data center inefficiencies
According to recent reporting by Nextgov.com, an inventory of the U.S. Energy Department's data centers conducted in July 2011 neglected to include more than 500 facilities managed by contractors, the department's internal auditor said in a report.
The department told the Office of Management and Budget that it was operating only 58 federal data centers, excluding at least 520 contractor-operated centers totaling 314,000 square feet. "We noted that omissions of contractor-operated data centers continued despite OMB's request that the department resubmit an updated and complete final inventory prior to Dec. 31, 2010," the audit said. Nextgov noted that the 520 uncounted facilities all meet an old OMB definition that included only data centers larger than 500 square feet; and that, under a new definition made effective in October 2011, "the number of uncounted data centers at Energy could be significantly larger."
Also according to the auditors' report, the Energy Department has failed to introduce several data center energy efficiency measures that could result in significant cost savings.
"For instance, IT server racks in 43 of 77 data centers reviewed were not configured using hot/cold rows to maximize energy efficiencies," the report said. Further, the audit said that officials have also not introduced various low-cost or free measures to increase air circulation through data centers. According to the report: "Improvements such as perforated tiles that direct air flow from the floor to the servers were placed in less than optimal locations, and blanking panels and floor skirting typically used to prevent hot and cold air from mixing within or beneath server racks were not used consistently."
Federal data centers also contain a lot of empty space, said the auditor's report. Of 77 data centers examined, about 74,000 square feet, or 26 percent of the space, was found vacant or underutilized.
---
AFL prevails in lawsuit against Fiberoptic Hardware
AFL Telecommunications has won its legal case against Fiberoptic Hardware and has been awarded $217,341 in damages. In an order dated May 31, 2012, United States District Court Judge David G. Campbell granted AFL's motion for judgment while denying the plaintiff's motion for reconsideration and request for leave to file an amended complaint.
Evidence presented during the case proved, to the court's satisfaction, that AFL lost that sum, $217,341, when Fiberoptic Hardware LLC sold unauthorized Fujikura fusion splicers. The judgment also stated that, having proven its case, AFL also will be awarded certain other costs to be determined by the court.
AFL explained that in the case, its contention was that "the Fujikura fusion splicers sold by Fiberoptic Hardware, which were intended for sale outside North America, were materially different from authentic Fujikura fusion splicers authorized for sale in that U.S. in that, among other things, their software was not properly licensed for use in the U.S. and had been modified to alter the language display, and that their sale was likely to confuse purchasers." AFL also contended that Fiberoptic Hardware sold the splicers under the premise they were new, which AFL alleged was false advertising.
Steve Althoff, executive vice president for AFL's equipment business, said the company "is pleased with the judgment," and vowed to continue defending technology, patents and copyrights belonging to Fujikura. He added that when anyone sells altered products, "our customers are the real losers. They believe that they are receiving authentic Fujikura goods directly from Fujikura, and they come to find out that they are not. They get confused, and they feel violated because the trust is lost."
The order from Judge Campbell detailed how AFL's monetary loss for each splicer sold by Fiberoptic Hardware was approximately $7,011. The award amount was based on that per-sale loss.
---
Punchdown tool doubles as screwdriver
The Punchdown/Screwdriver Multi-Tool from Klein Tools is an interchangeable device that comes with a 110/66 cut-style punchdown blade, both Phillips and slotted screwdriver tips, and hardware to convert to a nut driver or hex key.
Featuring machine-tooled steel bits, the Multi-Tool includes a bayonet-style twist-and-lock socket in the shaft that accepts most manufacturers' punchdown blades. It also has a cushioned handle, a heavy-duty blade barrel for internal bit storage, and the manufacturer's Tip-Ident feature, which provides for easy tool identification.
In all the tool has nine configurations: 1) 110 punchdown, 2) 66 punchdown, 3) Phillips #1 screwdriver, 4) Phillips #2 screwdriver, 5) Slotted 3/16-inch screwdriver, 6) Slotted 1/4-inch screwdriver, 7) 1/4-inch nut driver, 8) 3/8-inch nut driver, 9) 3/8-inch hex key.
Dave Mueller, senior product manager for Klein Tools, said the company "created a custom VDV punchdown/screwdriver multi-tool for wall jack maintenance to address the specific needs and frustrations of the VDV installer and technician. This convenient all-in-one tool eliminates searching for and carrying up to three different tools to perform simple maintenance tasks."
The Punchdown/Screwdriver Multi-Tool is available through Klein Tools' usual distribution channels.
---
802.11n access point for industrial WiFi
Aaxeon Technologies will begin shipping a new, 802.11n access point for industrial environments in Q3 2012, the company recently announced. Aaxeon already offers 802.11b/g and 80.211a/b/g models, and will add the 300-Mbit/sec-capable APN-300N model to its portfolio.
The APN-300N has a multiple-input multiple-output (MIMO) radio with two antennas, so it is able to support 2-transmit, 2-receive technology. The access point supports both the 2.4- and 5-GHz bands; users can select which band to use via a web interface, the company says. Additionally, it contains an independent radio option, by which the user can use the 5-GHz radio for backhaul and the 2.4-GHz radio for a local connection.
The unit also has two LAN ports, enabling it to operate as a two-port switch as well. Its standard operating temperature range is -10 to +60 degrees Celsius. Aaxeon says it also plans to offer a model with a temperature range of -35 to +75 deg. C.
---
Survey sizes up most demanding jobs in IT
A report produced by Emerson Network Power and based on feedback solicited from 792 information technology (IT) professionals lists the 10 most-demanding jobs in IT. Emerson explains that by "most demanding" they mean "the degree to which they have to be always available, always working at peak capacity and always accurate."
The 792 individuals who responded to the survey represented 17 work roles, 18 industries and businesses of all sizes, Emerson says. "It is expected that technology, like smart phones and websites, will be always-on and available 24/7, in this hyper-speed, hyper-connected world," Emerson Network Power said when announcing the survey's results. "But what about the people who support that technology? Do they have to be always-on as well? Are some more always-on than others? ... Survey respondents confirmed the hunch that IT professionals must be as always-on as the data center."
Five dimensions of "always-on" were considered, and each was given a certain weight during calculation. The five dimensions are: working capacity/bandwidth, dependencies/multi-tasking, public leadership, quick responsiveness, availability.
Overall, Emerson Network Power drew the following general conclusions from the survey.
All IT jobs are highly always-on, averaging a score of 71 on a 0-100-point always-on scale.
On average, IT professionals are required to be available to work 119 hours in each 168-hour week.
In general, the higher level the job, the more always-on.
When the results were tallied, the 10 most-always-on IT jobs were determined to be as follows.
Executive director/administrator
IT procurement
CIO
IT manager/director
IT operations
Data center manager
Engineering
IT security
Applications/software development
Database management
Blake Carlson, vice president of the IT business segment with Emerson Network Power's Avocent Products and Service, commented, "IT is a hugely demanding profession. They need to be smart, flexible and quick, a lot like the technology they work to support. And they must be able to handle multiple tasks at once and figure out how to get things done with limited or inadequate resources. In my experience, IT professionals are a breed apart."
---
Cable-lasher reconditioning services available
General Machine Products (GMP) offers reconditioning and repair services for the company's cable lashing machines. At the Lasher Repair Center, lashers are inspected, and worn-out or damaged parts are either reconditioned or replaced with original parts. GMP says it restores the machines to service in 10 days or less.
GMP says its lashers have been known to operate for 25 years, winding stainless steel wire around telephone, power and other utility cable and thereby securing (or "lashing") the cable to the supporting messenger strand that spans between the poles. The company says it has produced more than 30,000 lashing machines.
The wear and tear that lashers endure over a period that may extend to 25 years or more, and account for thousands of miles of lashed cable, can require repair. When repaired or reconditioned at the Lasher Repair Center, a lashing machine is line-tested and safety-checked to ensure like-new performance before being returned to its owner.
---
Police release graphic burn photos to deter cable thieves
Police in Bedfordshire, U.K. have released to the public extremely graphic images of the left and right hands of a would-be cable thief who suffered third-degree burns after touching a live power line.
According to a report from the BBC, the images are of a 20-year-old man who had been admitted to a hospital burn unit. The suspect had a 16-year-old accomplice, who suffered burns to his face and nostrils and also was in a hospital burn unit, the BBC says. Images of the 16-year-old were not released.
The report quotes Bedfordshire inspector Steve Ashdown as saying, "This incident and the pictures we are releasing illustrate the dangers of tampering with this type of product. Even in buildings that appear to be disused you will not know if the main electrical supply has been cut off. ... Others should heed this warning."
---
Category 6 cable has FEP jacket
A new Category 6 cable offering from Superior Essex uses fluorinated ethylene propylene (FEP) as the material in its outer jacket. The manufacturer says the cable "is designed for high-risk applications such as chemical processing plants, petroleum refineries, and temperature extremes."
The FEP-jacketed Category 6 plenum cable is suited "for industrial UTP applications where severe environmental stresses would compromise" plenum-rated cables with PVC jackets, the manufacturer says.
Like other cables offered by Superior Essex, the FEP-jacketed Category 6 includes print that will not rub off, a QuickCount marking system in feet and meters that tells how much cable remains on the reel, and a ColorTip circuit-identification system that allows for easily identifying conductor mates, the company says.
---
Power strip data collector streamlines data center monitoring
New from Geist, the Racknet-A power strip data collection device provides visibility to data from Geist power strips in one, centralized location, saving data center users from having to set up thousands of IP addresses on a production network. In addition, the company contends that users may save considerable space on network switches by plugging power strips directly into Racknet-A to centralize all data for efficient monitoring.
The Racknet-A features an intuitive, Web-based interface that displays trends, and applies data for intelligent monitoring and management. The device communicates via SNMP, comes with 48 ports, and supports up to one thousand devices. In addition, Racknet-A offers alarms, notifications, trending features, and automatic reporting capabilities to give users all the required tools needed to run their data centers more effectively.
"Racknet-A saves time by not having users set up all the IP addresses and it saves real estate on expensive network switches," explains Matt Lane, president of Geist DCiM.
---
Forecast: Fiber-optic connector, mechanical splice consumption dips in 2012
The latest market forecast from ElectroniCast Consultants indicates that consumption of fiber-optic connectors used in the American and Europe/Middle East/Africa (EMEA) regions is set to decline this year. However, recovery is expected in 2013, the analysis says. "Unlike the Asia Pacific region, due to a market situation in mainly the private enterprise and telecommunications end-user sectors, both the American and EMEA regions are forecast for negative consumption value this year, however recovering in 2013 and beyond," comments Stephen Montgomery, director of the fiber-optic component group at ElectroniCast.
The overall market trend remains up, emphasizes the firm. As optical fiber use migrates closer and closer to the end user, where cable lengths are shorter with higher fiber counts, the requirements for joining fibers becomes more critical. "Fiber-optic connectors and mechanical splices play a significant role in a network's cost and performance and they are increasingly used in applications where flexibility for routing or reconfiguring is necessary," Montgomery adds.
According to ElectroniCast, the number of fiber-optic connectors and mechanical splices sold worldwide reached 703 million units in 2011. In the year 2016, the worldwide consumption volume is forecast to increase by a factor of two, to reach over 1.57 billion units. The Americas region (North America, Central, and South America) led in global market share with 54 percent in 2011. Americas consumption is forecast to expand to at an average annual growth rate of 10.8 percent during the forecast period. The Asia Pacific (APAC) region is forecast to show the fastest growth with an average annual growth rate of 25 percent (2011-2016). EMEA fiber-optic connector volume consumption, with 19.5 percent relative market share, trailed the second-place APAC region in 2011.
ElectroniCast released these figures in its latest annual market forecast and analysis of the use of fiber-optic connectors and mechanical splices in communication applications.
---
Multi-fiber test technology gets patented
Erkan Gunal, founder of Click2See.US, LLC, received a patent on June 26 for the Rapid Visual Fiber Optic Cable Tester, the company announced. "This invention is also known as the Visual Fiber Tester or VFT," the company said.
Click2See describes the tester as a tool that "is simply used to pre-inspect multi-strand fiber-optic cable terminations or splices with all strands at once for defects by the user's eyes based on visual comparison ... Conventional techniques offer testing one pair or strand at a time, which is very time consuming. The present invention offers instant and rapid testing of multiple pairs or strands up to any given number, almost infinite, in one single shot."
The company claims that overall productivity is 92-percent faster than using conventional testing methods. It adds, "Since a dust-free test environment is a must requirement per stringent industrial standards, the VFT uses no patch cords at all ... potential dust contamination at the core level of a single fiber strand is minimized. Since there is no physical connection with the tip of a fiber-optic connector, dust is not carried from one pair to another using a tester's patch cords."
The VFT is "compatible with any type or brand of fiber-optic adapter panel, coupler or connectors," the company says. "Ultra-bright LEDs create enough light output to illuminate multimode fiber-optic strands up to 5,500 feet at the far end. Singlemode fiber-optic strands can be visually inspected up to 2,500 feet." The company emphasizes that the tester can be used by inexperienced, novice operators.
---
Weather chasers have IP-video, PoE network built into GMC Yukon
The BAM Chase Team—a weather-spotting team formed by Bryan Kilgore, Amanda Kilgore and Michael Clark—has built an Internet Protocol (IP) video network including six cameras, Power over Ethernet capability and a custom-built server rack with 3 Terabytes of storage, in the cargo area of a 2003 GMC Yukon. "In use for about a year, the system has helped to track 15 to 20 notable storms during that time, providing one of the clearest storm-related video streams online with the ability to capture multiple angles of high-resolution video of any storm or severe weather event," explains OnSSI, whose Ocularis video-management software system runs on the team's server.
The network includes six IQinVision cameras: four 2-megapixel minidome cameras mounted to the roof for a 360-degree video, a dashboard camera that rests on a tripod and can be positioned by the driver or passenger, and a custom-built wireless handheld camera that enables an individual outside the vehicle to capture video. All six cameras record straight to the server hard drive. Ocularis enables the team to capture video from all six cameras at one time, and also makes it easy to retrieve video after a storm, OnSSI explains. "Based on when a storm occurred, the team can use Ocularis to specify a time and see video from multiple cameras on screen at once in a quadrant view or a full view of any one camera," OnSSI adds. "The product's ease-of-use, with features such as the Time Slicer function, simplifies finding the needed video."
Bryan Kilgore commended the software: "Ocularis allows us to record and manage the video, easily and quickly. We can save a video clip from Ocularis and then package it in a zip file, send it to an FTP server or put it on our website and provide a link." The software package also allows the BAM Chase Team to export the video and distribute it to anyone, with the ability to edit it after the fact.
The team's videos are streamed live on the Severe Studios website, sold to television stations, and turned over to the National Severe Storms Laboratory and National Weather Service to be studied. The team's videos have been seen on the Weather Channel, CNN, ABC, CBS and local television stations in Indiana, Kentucky, Minnesota and Ohio.
---
Datwyler offering turnkey fiber-optic distribution stations, installation services
Datwyler Cabling Solutions announced that it is now offering a line of turnkey fiber-optic distribution stations to municipal utilities, power supply companies, and city carriers. Such network operators can receive reliable points of presence (PoPs) with the features they require from a single source, equipped with all the necessary technical facilities and systems, the company says.
Technical equipment offered includes: optical distribution frames (ODF) as required, with pre-assembled patch panels and pigtails if requested, in addition to lighting and emergency lighting; as well as various safety devices such as access control, alarm systems and fire extinguishing systems; and an air conditioning unit. The scope of supply also includes the electrical installation with an emergency power system, an electrical distribution panel, a static uninterruptable power supply (UPS) with backup battery, together with cable runs and/or cable routing ducts.
The distribution stations are made from concrete and come in different sizes, depending on the number of connections needed. The exterior facades are individually designed to blend in with the respective site environment. The company says it makes the PoPs in collaboration with certified specialist partner companies.
Once produced, the fully equipped stations are transported to the site and set up. The operator can then immediately start terminating fiber-optic links, Datwyler says. Use of the turnkey PoPs avoids coordination work and delays often associated with FTTx and TC projects when several installers or suppliers are present, the company points out. Datwyler also can perform on-site splicing work upon request.
---
TIA initiates standard-development process for STEP
The Telecommunications Industry Association's (TIA's) TR-42 Engineering Committee on Telecommunications Cabling Systems has created Subcommittee TR-42.10 for the purpose of creating standard specifications for the Sustainable Technology Environments Program (STEP). The TIA is taking on this initiative in cooperation with BICSI, CompTIA, InfoComm and the Communications Cable and Connectivity Association.
"This effort will bring sustainability to the process of planning, designing, integrating and operating technology systems," the TIA said. "Technology is part of the solution to the future's economy and STEP will play an important role in coordinating and enhancing the benefits that technological innovation brings to the built environment."
TIA was selected to standardize the STEP rating system and guide, which are managed by the STEP Foundation. TIA noted that the considerable work already completed by STEP's founding members has created an advanced and thorough contribution for standardization.
The TIA is inviting new members and participants to be part of TR-42.10's efforts. The group's first meeting will be held on October 1, 2012 in Philadelphia, PA. Anyone interested in participating can email standards@tiaonline.org. ::