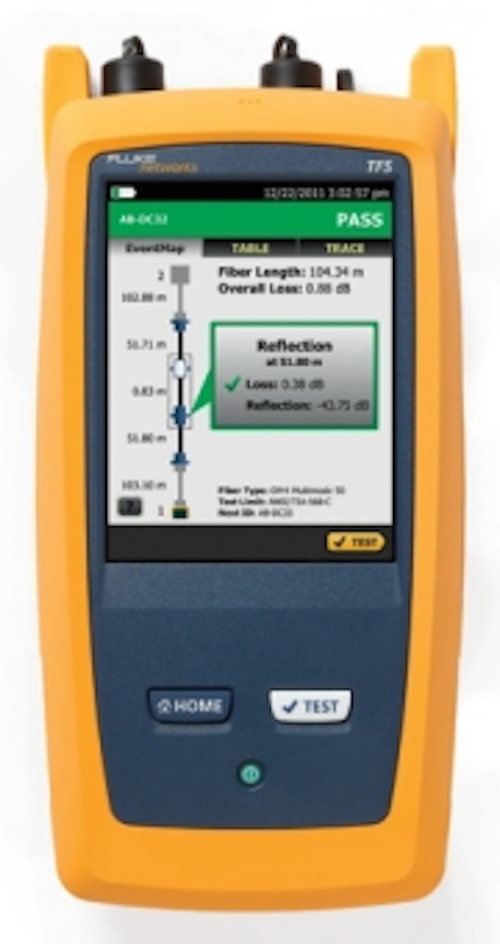 From the May, 2012 Issue of Cabling Installation & Maintenance Magazine
Compiled by Patrick McLaughlin
OTDR for enterprise, data center
Fluke Networks has introduced its OptiFiber Pro OTDR, which the company says sets "a new standard for usability" via its smartphone interface that supports gesture-based commands, and an automated data center mode to help technicians immediately solve fiber test problems in mission-critical environments. "Enterprise fiber use is growing at 57 percent a year, which increases the frequency and importance of fiber testing necessary to minimize issues that can be devastating to network operations," contends Jason Wilbur, vice president of datacom cabling and installation tools at Fluke Networks.
Aimed at reducing costs associated with premises fiber testing, Fluke says the handheld OptiFiber Pro's smartphone user-interface "dramatically reduces" the learning curve associated with traditional OTDRs by minimizing the tool's complexity for untrained users, helping new technicians to quickly become fiber experts. Further, the tool's simplified "data center" mode automates the process of setting test parameters, such as wavelength or end-detection algorithms, to significantly reduce set-up time as well as the complexity of learning how to troubleshoot data center problems.
Other new features of the OptiFiber Pro include shortened event and attenuation dead zones for testing connectors and patch cords as short as 0.5 meters. The company says this capability is critical in virtualized server environments, where connections are often less than one meter, and hidden performance issues can severely decrease the reliability of data centers and storage area networks (SANs).
Additionally, the updated tool's visual presentation of faults shows all fiber events graphically, allowing the user to quickly and easily interpret OTDR trace results. New built-in project management tools facilitate the assignment and tracking of all fiber testing projects for multiple users, increasing efficiency while enhancing project tracking visibility and enabling cost-effective device sharing.
---
Leviton upgrades shielded Cat 6A connector
Leviton Network Solutions has made improvements to its shielded QuickPort eXtreme Category 6A connector, including a narrower design and increased margin for alien-crosstalk suppression.
Senior product manager Keith Kosanovich, RCDD, states, "This new high-density, high-performance connector increases Cat 6A performance margins and supports short links commonly found in data center applications, while allowing for up to six connectors to fit in a single-gang faceplate."
The connector is part of Leviton Network Solutions' complete Category 6A shielded system, which also includes patch cords and patch panels. It meets TIA-568-C.2 and ISO/IEC 11801 Class Ea performance for all internal and alien-crosstalk parameters up to 500 MHz, Leviton notes.
---
TIA Fiber Optics LAN Section elects 2012 officers
The Telecommunications Industry Association's (TIA) Fiber Optics LAN Section (FOLS) has elected its 2012 officers. Serving a fifth consecutive term as section chair is Rodney Casteel of CommScope. Vice chair is Alfred Flores of Berk-Tek, a Nexans company; standards chair is Pete Pondillo of Corning; membership chair is Dave Cook of 3M; and co-communications chairs are Michelle Collier, Noyes Fiber Systems and Dave Cunningham of Corning Cable Systems.
FOLS provides information to users about the benefits of fiber in customer-owned networks. Visitors to the organization's website, http://www.fols.org" target="_blank">www.fols.org, can access a free cost model that enables cost estimates for LANs with various media (not strictly fiber). Site users can also register for FOLS webinars, read case histories, standards updates and FAQs about fiber-optic technologies and systems.
Casteel commented, "For the past 17 years, FOLS has played an integral role in helping users and network designers understand the benefits of deploying fiber in customer-owned networks. We provide vendor-neutral information that helps people make an educated choice about their network decisions.
"We offer webinars almost every month," Casteel added. He said the free webinars are "a great way for our members to offer training to interested people worldwide and for network designers, consultants and end users to get the information they need throughout the year." Attendees earn continuing education credits (CECs) from BICSI for their attendance. The webinars air live, and are then available on-demand.
Casteel also noted that the FOLS launched a research initiative in 2011 that has received significant interest and will continue in 2012. "As a group we are in the unique position of being able to survey users and network consultants on a regular basis. We have started to collect and publish this data on our website as a service to the industry."
---
Analyst: AOC market doesn't ebb and flow, it spasms
In summarizing its most recent analysis of the active optical cable (AOC) market, LightCounting explained that there is not so much an ebb and flow to the consumption of these devices as there is a flailing. "The AOC market will remain volatile as long as it is dominated by HPC [high-performance computing] InfiniBand products," the company said. "A single new HPC can use up to 40,000 AOCs, so the market can swing significantly if a new system deploys AOCs, or not." In total, slightly more than 305,000 units shipped in 2011, LightCounting said, underpinning the idea that a single order of 40,000 units will drastically impact the market as a whole.
Those 305,000+ units shipped in 2011 brought the total market close to $70 million, LightCounting says. It projects the total will rise to $175 million and 786,000 units shipped by 2016.
"The Ethernet data center community has taken notice of AOC technology," the analyst firm added. "Cisco's acquisition of Si-photonics startup Lightwire is yet another confirmation of the trend." Acknowledging that installing AOCs in congested, short-reach environments can be difficult, LightCounting nonetheless added, "data center managers love the low price of a high-bandwidth 40G link that is plug and play without all the connector costs and operating expenses associated with cleaning and repairs." It also cited the Romley server from Intel as a driver of traffic to a data center's switch infrastructure.
LightCounting added, "Parallel optic transceivers still have a place in structured cabling for longer reaches, but AOCs are starting to own the 10- to 50-meter space, using low price as a weapon. SFP+ direct-attach copper cables are dominating the server uplinks as 10GBase-T is still waiting for 28-nm and AOCs are becoming very popular at reaches beyond the 5- to 7-meters of direct attach copper cables." The "waiting for 28-nm" comment refers to the lithography manufacturing process for 10GBase-T PHYs. Current-generation 40-nm manufacturing enables 10GBase-T per-port power dissipation to fall below 4W under certain conditions. Many anticipate a 28-nm process to emerge in 2013. Until then, LightCounting emphasizes, AOCs will represent a lower-power-consumption option.
The report that includes this and much more information about active optical cables is entitled "AOCs Supercomputers to Smartphones and Everything in Between; Inside and Out." As its name suggests, the report delves into the possibility that AOCs will serve not only data centers, but also applications like digital cinemas, professional video studios and mobile devices.
---
Strap wrenches loosen and tighten difficult objects
The cast-iron Simplex and Warnock strap wrenches from Lowell Corporation "make it possible to turn any shape without scratching, denting, or crushing," the manufacturer says. Lowell Corporation recently expanded its strap-wrench line with the addition of the S-1224, S-1230 and S-1848 to its Simplex line, as well as adding the W-1224, W-1230 and W-1848 to its Warnock line.
Handle lengths of these new products range from 12 to 18 inches; strap lengths are from 24 to 48 inches. And capacities range from 4 to 10 inches. Custom strap lengths are also available for both models.
Lowell explains that uses for the strap wrenches include loosening and tightening oddly shaped and/or frozen fittings, PVC pipe, knurled fasteners and knobs, and other difficult objects.
Both lines, the Simplex and Warnock, have a baked-on epoxy finish that the company says is harder than conventional finishes and solvent-resistant as well.
---
Custom-designed wireless and telecom enclosures
Oberon Inc. now offers custom design services for wireless and telecommunications enclosures that are ordered in excess of 50 units. The company says it "has increasingly emphasized custom design as a way to meet the needs of unique and challenging deployments." It also points out that several products in its current catalog were developed as a result of the custom-design process.
"Notably among these is the Model 1052-HFHS wireless access point enclosure designed for Henry Ford West Bloomfield Hospital," Oberon notes.
Additionally, custom enclosures from Oberon have been used in a large-scale stadium deployment at a Division I college stadium. "The process inspired a line of three NEMA-rated enclosures designed for stadium and outdoor use," the company says.
Oberon's enclosures and mounting systems for wireless access points and networking components provide security, convenient access and an aesthetic appearance, the company says. It adds that its enclosures "can simplify compliance with industry guidelines and procedures such as ICRA in healthcare, PCI in retail and FIPS in federal government. The locking doors, ability to reach access points from below the back box, and secure installation attached to the building structure provide the security required in a variety of network environments.
"Additionally," Oberon concludes, "article 300.22 of the National Electrical Code specifies that unlisted equipment installed in the air-handling space above a suspended ceiling shall be secured in a metal enclosure, accessible via an opening panel or door."
---
Video shows good, bad firestopping systems
A video produced by the International Firestop Council (IFC) and available for viewing on the organization's website illustrates methods and materials that can be used to create effective firestop systems. The IFC collaborated with Underwriters Laboratories (UL) to create the video.
In it, viewers can see footage of tests, conducted within UL facilities, of firestop systems. On several occasions, footage shows properly firestopped penetrations alongside improperly firestopped penetrations, under test.
One particularly compelling scene in the video shows what can result when an improper insulation material is used to firestop a wall penetration.
You can view this video, as well as others produced by the IFC, at www.firestop.org
---
Graybar hosting data center seminars
Graybar will host a half-day seminar entitled "Planning for the Next Generation Data Centers," in five U.S. cities in the months ahead. The seminars will include presentations by data center professionals Andy Menard from Brocade, Ian Seaton from Chatsworth Products Inc., and Eric Klaiber from Corning.
Karl Griffith, Graybar's director of emerging markets, commented, "We are excited to offer our customers the opportunity to attend a free seminar that can help them prepare their data centers for the future. Data centers are evolving, and we want to provide a forum for educating our customers on important topics that can work to their advantage.
The seminar will travel around the U.S. as follows.
Los Angeles, CA - June 26
Raleigh, NC - July 17
Pittsburgh, PA - July 24
Austin, TX - July 26
You can register to attend the seminar at www.graybar.com.
---
10G network-gear port shipments to surpass 1G by 2014
We have reported on the significant price drops that many believe will propel the adoption of 10GBase-T. CommScope's Yinglin Frank Yang has even pointed out that on a per-Gbit/sec, per-port basis, 10GBase-T is a more-economical solution than 1000Base-T. (See "The economic case for broader 10GBase-T adoption," April 2012, page 40.)
A forecast recently published by Dell'Oro Group lends credence to those assertions. The report projects five-year deployment rates for controllers and adapters of different transmission rates and different media orientation. When announcing the availability of its Controller and Adapter 5-Year Forecast Report, Dell'Oro stated that by early 2014, 10-Gbit/sec controller and adapter port shipments will surpass those of 1-Gbit/sec. The 10-Gbit/sec devices will grow at a compound annual growth rate (CAGR) of 33 percent over the next five years, according to the market-research firm. That rapid growth will be "fueled by increases in server I/O processing capabilities, virtualization and big data," the company says.
Dell'Oro analyst Sameh Boujelbene, who covers the controller and adapter market, explained that the migration to 10-Gbit/sec from 1-Gbit/sec differs from the previous-generation migration (from 100-Mbit/sec to 1-Gbit/sec) in that it "is happening first with the so-called 'daughter adapter' instead of native LAN on Motherboard [LoM]." Daughter adapters provide server manufacturers with flexibility in terms of brands and features, he further explained, adding that he expects server manufacturers to keep 1-Gbit/sec on motherboards and "interim solutions with a combination of 1 and 10 Gbits/sec on the same controller/adapter will emerge to help end-users through the 10-Gbit/sec migration."
In addition to these dynamics, the report discusses the likely drivers and inhibitors of 10GBase-T adoption, and forecast for the shipment of ports enabled with Fibre Channel over Ethernet.
More-detailed information on the report is available at www.delloro.com.
---
Toneable system locates underground duct blockages
The Toneable Duct Rodder System from General Machine Products (GMP) allows technicians to remain above-ground, without having to dig or trench, when they need to find duct blockages or otherwise map an underground duct system.
System components include a signal transmitter, signal receiver, sonde, and duct rods that feature 18-AWG copper wires embedded into their fiberglass cores.
"To accurately detect rodder position in underground ducts," GMP says, "the Toneable Duct Rodder System employs a transmitter that sends a signal along the entire length of the rod. The rod is also fitted with a self-contained transmitter sonde. Above ground, a receiver is used to detect the rod's exact location at depths of up to 50 feet."
Rodders are available in various diameters and lengths. Each rodder's leading edge has a tapered male-threaded head and the trailing end includes a female-threaded fitting. The signal receiver has an LCD screen, is IP54-rated and battery-operated, and includes a choice of frequencies. The signal transmitter has 3 watts of power and provides a number of inductive or direct frequencies. The sonde, a self-contained transmitter that connects to the end of the duct rod, helps trace the duct route and can locate duct blockages or collapses.
---
MTP assemblies achieve 0.25-dB insertion loss per mated pair
The maximum insertion loss for CABLExpress's Skinny-Trunk fiber-optic cable assemblies is now 0.25 dB per mated pair. The company says the assemblies, which are fitted with MTP connectors, will keep networks within loss budgets when running 10-, 40- and even 100-Gbit/sec Ethernet.
Last year CABLExpress lowered the insertion loss value of its Skinny-Trunk assemblies to 0.35 dB. The company says that "improvements to the cable manufacturing process and extensive production testing" enabled this further-improvement of loss performance.
According to Mark Fabbi, vice president and distinguished analyst with Gartner, the timing for the introduction of such a low-loss assembly is good. "2012 will be the year where 10G attached servers become the norm, which in turn will drive demand for 40G and eventually 100G within the enterprise data center," he noted. "Enterprises are encouraged to rethink their physical data center architecture and prepare for increased fiber deployment to support 40/100G backbone requirements."
CABLExpress's president Peter E. Belyea added, "As data rates increase and loss budgets decrease, increasing performance is critical. Our product development team continues to focus on improving existing dB loss rates in an effort to provide customers with the best data center cabling solution on the market."
---
Optima acquires APW Mayville and Stantron brand cabinets
The Optima EPS operation of ELMA has acquired the APW Mayville and Stantron brand cabinets from Mayville Products Corp. The APW Mayville brand primarily serves data center environments and the Stantron brand primarily serves broadcast applications.
ELMA provides embedded computer and technology solutions; its Optima EPS operation manufactures cabinets, desktop/wall-mount enclosures, rack-mount chassis, consoles/desk and specialty instrument carts, serving a number of applications and user types.
Dan Eder, owner of Mayville Products Corp., commented, "Stantron and APW Mayville found the perfect home. ELMA and Optima EPS provide expertise and a path for the future for Stantron and APW Mayville."
Optima EPS describes its business as customizing cabinets and enclosures based on customers' specific needs, which can include harsh environments, military use, reinforcement for seismic events, shielding against electromagnetic interference and protection against fire or heat.
ELMA Americas president Fred Ruegg commented on the acquisition, "These newest assets demonstrate ELMA's commitment to providing rock-solid infrastructure to broadcast, communications, military, data centers and many other industries."
---
Cat 5e cable for Industrial Ethernet
Alpha Wire's newest Xtra-Guard brand cable is a Category 5e product for Industrial Ethernet applications. It incorporates the company's Xtra-Guard 4 jacket to accommodate "customers who needed a flexible and routable Ethernet cable that could withstand extreme environments," Alpha Wire's direct of marketing Tim Howlett said.
The cable is available in a number of constructions, including unshielded, foiled, or Alpha's SupraShield foil/braid combination (shown on this page). The SupraShield configuration uses a combination of aluminum/polyester/aluminum foil and tinned copper braid, the company says. Alpha adds that these cables are UV- and fluid-resistant, meet UL 1666 riser and CSA FT-4 flame tests, and are suitable for use in NFPA 79 applications.
It is also available with a temperature range of -50 to +125 degrees Celsius when conductors are insulated with FEP, and a range of -50 to +105 degrees Celsius when conductors are insulated with polyethylene.
Alpha Wire's Howlett added that the cable is available in lengths as short as 500 feet.
---
Wall-mount enclosure resists sea water
Networking environments like offshore wind farms or oil platforms are among the harshest anywhere. When trans data elektronik (tde) introduced a wall-mount enclosure intended to stand up to these types of environments, the company's chief executive officer Andre Engel commented, "Data transfer in offshore wind farms demands high standards of the network components since they need to reliably provide high performance while at the same time brave the adverse effects of seawater and pollution."
The product introduced by tde is a fiber-optic wall-mount enclosure designed as a turnkey system that makes initial startup on-site possible within a short time, Engel noted.
The enclosure's casing is made of powdered stainless steel, type V2A or V4A. With its IP-66 protection rating, the enclosure protects against ingress of dust and sea water, tde notes. The enclosure's interior contains a splice area on the left side and a patch panel on the right side, as shown in the photo on this page. The two areas are separated by lockable doors. The splice trays and cable-management clips for spare cable lengths are mounted on a carrier plate.
The entire splicing area can be removed from the cabinet to allow actual splicing to be done more comfortably for the technician. According to tde, the cabinet's interior design can be customized.