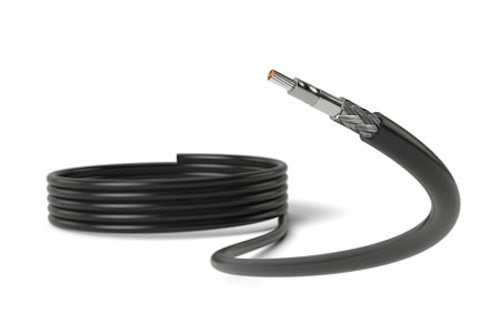 Quasi-piezoelectric coaxial cable's embedded smart electronics enables IoT applications
EMFIT, a Finnish company known for its electroactive ferroelectret sensors, sensor-integrated systems and the EMFIT QS quantified sleep monitor, is expanding into IoT applications with the introduction of the C-Series quasi-piezoelectric coaxial cable.
EMFIT says its coaxial cable design "ensures self-shielding for use in high EMI [electromagnetic interference] environments." The company says the new cable "has a unique, strong electromechanical response from the cellular ferroelectret polymer, allowing compression, stretch or vibration to generate a charge or voltage proportional to the stress." The cable can be spliced using standard coaxial splicing techniques.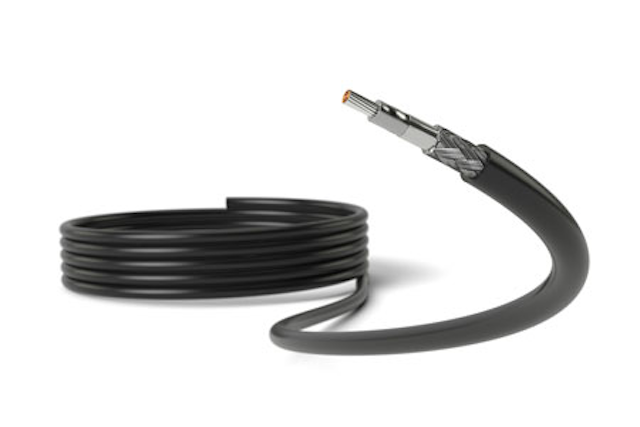 EMFIT says its C-Series cable stands up to heavy loads and water. It includes a narrow band of proprietary electroactive material wound around the inner conductor comprising 20 AWG stranded silver-plated copper wire. The cable is then braided, and jacketed with an extruded high-density polyethylene. Various lengths are available, with a standard spool of 50 meters.
EMFIT says its C-Series coaxial cable sensing technology works for applications including vehicle classification and weigh-in-motion (WIM); security, such as fence and perimeter intrusion detection; acoustic microphones and hydrophones; structural and machine vibration monitoring.
CommScope forms Multi-Tenant Data Center Alliance
The world's increasing consumption of data, combined with the trend of businesses and service providers outsourcing their data center facilities rather than owning and managing them, has resulted in significant growth in multi-tenant data centers (MTDCs). In fact, one analyst firm has predicted that total operational square footage of global MTDCs may reach approximately 177 million by the end of 2018.
To address this shift in the data center market, CommScope has formed the Multi-Tenant Data Center (MTDC) Alliance, as part of the company's PartnerPRO Network. MTDC Alliance members will be able to offer optimal network infrastructure solutions for customers who need to deploy this technology in multi-tenant environments.
"Over the years, a shift has taken place in which companies increasingly outsource IT needs to shared environments in which data centers are viewed as an operating expense," explains Stephen Kowal, senior vice president, global partners, CommScope. "By leasing third-party data center white space, enterprises can remain focused on their core businesses while enjoying optimal data center availability, reliability and cost control."
Demand will continue for MTDCs from hyperscale data center operators, service providers, cloud providers and enterprises; however, with the increased competition, it is becoming harder to differentiate on build quality alone. That is why CommScope says it formed the MTDC Alliance.
"With our global network of 179 data centers across 44 markets, Equinix is thrilled to be part of the CommScope MTDC Alliance to offer enterprise customers the optimal data center deployments that best fit their needs," commented Greg Adgate, vice president of global technology partners and alliances at Equinix. "Our facilities offer the broadest geographic reach, the largest choice in cloud and network providers, and the most efficient interconnection options for companies looking to lease data center space. We look forward to working with CommScope and their customers as part of this initiative."
As stated by a press release issued by the company, "MTDC infrastructure makes advanced technologies such as cloud computing and virtualized data centers available to companies of all shapes and sizes; from small- and mid-sized business to large enterprises, while also allowing flexible and easy expandability as the business grows. By outsourcing data center services instead of building, hosting, maintaining and upgrading them, MTDC tenants can realize significant operating and capital expenditures saving."
Berk‐Tek's OSP cables extend Cat 6A and Enhanced Cat 6 performance to outdoor environments
Berk-Tek, a Nexans Company, a provider of network infrastructure solutions, has announced the release of two new outside plant (OSP) cables. With the addition of its Category 6A LANmark-10G OSP and Enhanced Category 6 LANmark-1000 OSP cabling products to its LAN portfolio, Berk-Tek says it can now support Category 5e through Category 6A outside plant and building-to-building copper cabling requirements.
As stated by a company press release, "With ever-increasing bandwidth requirements and advancing technologies, more and more outdoor applications and building-to-building interconnections are requiring higher category cabling. Berk-Tek's new Category 6A and Enhanced Category 6 OSP cables enable network managers to extend their networks to their outdoor environments without sacrificing the bandwidth and PoE performance required for today's emerging technologies."
The new LANmark-10G OSP cable is fully compliant to Category 6A standard requirements, providing reliable electrical performance under the demand of today's data, voice, video and power applications. "LANmark-10G OSP meets Cat 6A specs for alien crosstalk, and provides excellent noise rejection and high PoE capability," says Brian Simmons, copper product manager for Berk-Tek. Simmons adds, "LANmark-1000 OSP is an Enhanced Cat 6 product, so it handles high-bandwidth and PoE applications just as well as our LANmark-1000 product, but with the added benefit of water-blocking and UV resistance required for outdoor applications."
Per the company, "This superior performance, coupled with their unique construction, make Berk-Tek's OSP cables ideal for outdoor applications such as portable classrooms, guard shacks, exterior security cameras, parking lot lights, and building-to-building connections."
All of the company's OSP cables are third-party verified to ANSI/ICEA S-107-704-2012 for water penetration. The cables' unique construction includes a water-blocking gel compound within the core that encases the four UTP copper pairs and a rugged, but flexible, black polyethylene, UV-resistant jacket. The cables can be installed either aerially or buried in conduit or duct, and are compliant with stringent NEC codes, which require outdoor-rated cables to be used when conduit is located below the floor in slab-on-grade construction.
The new LANmark-10G OSP and LANmark-1000 OSP cables are available on reels as of April 1, 2017.
Wireless distributor TESSCO hires new VP/CIO
Wireless distributor TESSCO Technologies announced its hiring of Joe Cawley as the company's new vice president/CIO. Cawley will leverage 25 years of experience in the technology industry and IT to elevate TESSCO's technology offering and implement strategic technology projects, including a refresh of the company's B2B e-commerce tools.
Prior to joining TESSCO, Joe Cawley was most recently vice president/CIO of IT for the Colonial Williamsburg Foundation in Virginia. There, he led more than 80 IT employees to transform the foundation's assets and drive innovation in strategy, software development, cybersecurity, and service management for the hospitality, retail, admissions, research, and donors businesses.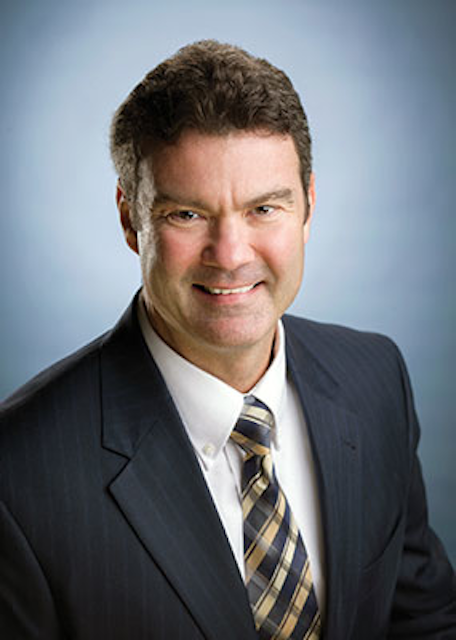 Cawley's addition is part of TESSCO's efforts to meet customer demand for a more streamlined online experience, where a growing number of customers are conducting their business.
"We are excited to have the opportunity to add someone with Joe's track record of success in technology and innovation to the TESSCO team," said Murray Wright, TESSCO president and CEO. "The addition of Joe reaffirms our commitment to create industry-leading technology that makes it easier to do business with TESSCO. Joe's skills, experience, and knowledge will be a driving force behind our future successes."
Cawley spent 20 years at IBM before joining Colonial Williamsburg Foundation, rising to director of worldwide support and playing a crucial role in the acquisition of IBM's enterprise network business by Cisco Systems. He holds a BS in Computer Science from Old Dominion University and an MS in Computer Science from Binghamton University.
Graybar announces new executive appointments
Graybar (St. Louis), a North American distributor of electrical, communications and data networking products and related supply chain management and logistics services, announced several changes to its leadership team, which took effect May 1.
"We believe these changes will bring us closer to our customers and accelerate our long-term growth and profitability," said Kathleen M. Mazzarella, Graybar's chairman, president and CEO.
"We are committed to strengthening our position in the supply chain by investing in people and service capabilities, while pursuing acquisitions and focusing on digital innovation. These new assignments align our leadership team for successful execution of these strategic priorities."
Per a company press release, the new appointments are as follows.
David G. Maxwell has been named senior vice president, sales. In this role, he will lead the development and implementation of Graybar's sales strategy. Maxwell has worked for Graybar for 30 years and most recently was regional vice president for the company's western region. He also serves on Graybar's board.
Dennis E. DeSousa has been appointed regional vice president for the western region. He will oversee the company's California, Dallas, Minneapolis, Phoenix, Seattle and St. Louis districts, as well as its two most recent acquisitions, Advantage Industrial Automation and Cape Electrical Supply. DeSousa has more than 36 years of industry experience and recently led Graybar's efforts to drive growth through acquisitions.
William P. Mansfield has been named senior vice president, marketing. He will lead Graybar's marketing efforts, with an emphasis on strategic growth opportunities and digital transformation of the customer experience. A 29-year Graybar veteran, Mansfield, a member of Graybar's board of directors, most recently was senior vice president, sales and marketing.
"Dennis will work closely with Bob Lyons, regional vice president of the eastern region, to raise the bar on performance and provide customers with exceptional service across all of our locations," Mazzarella continued. "Likewise, Bill and Dave will work together to bring innovative supply chain services to our current customers, while expanding our reach with new customers. We will also continue to explore potential acquisitions and new opportunities to drive our long-term success."
Ethernet Alliance launches Power over Ethernet certification program
In May the Ethernet Alliance launched its Power over Ethernet (PoE) certification program. "Enabling swift and easy recognition of interoperable products designed to available IEEE 802.3 PoE standards, the program will elevate the user experience by minimizing market confusion between standards-based and proprietary PoE solutions," the Ethernet Alliance said.
With analysts projecting PoE-enabled port and device shipments to reach close to 1 billion by 2021, the alliance says its PoE certification program is expected to attract strong interest from Ethernet ecosystem stakeholders. John D'Ambrosia, Ethernet Alliance chair and senior principal engineer with Huawei, said, "The impact of PoE technologies cuts across multiple markets, from enterprise IT, to network operations, to home automation, and this trend looks to continue. IEEE 802.3 standards-based PoE solutions offer predictable power delivery and greater network safety, along with the robust connectivity and interoperability the market has come to expect from Ethernet. The presence of the Ethernet Alliance logo will clearly identify products that are IEEE 802.3 standards-based and that provide the performance and interoperability assurance end users want from their PoE investments."
D'Ambrosia commented that in the development that led to the program's unveiling, switch manufacturers demonstrated a significant level of interest in the program. "They see the results of people using non-standard devices," he commented. D'Ambrosia specifically pointed to the efforts of David Tremblay, technical chair of the Ethernet Alliance's PoE Subcommittee and a system architect at Hewlett Packard Enterprise. "David has put a lot of time into this effort," D'Ambrosia applauded.
The alliance is targeting an August rollout of the program; at that time member companies and the products that have been certified will become publicly available. Certified products will be included in a public registry, which will enable users to quickly research and identify PoE products that best suit their needs.
The PoE certification logo will indicate 1) that a product has been PoE certified by the Ethernet Alliance; 2) whether it is power sourcing equipment (PSE) or a powered device (PD); and 3) either the maximum power consumed or maximum power supplied.
D'Ambrosia emphasized, "This program is not exclusively for Ethernet Alliance members. There is a path for companies that do not necessarily have a big PoE portfolio. There's also a path for companies that have a broad portfolio and have the ability to do their own testing."
Hand-in-hand with that, the Ethernet Alliance introduced a PoE membership class, which enables companies to participate in the certification program as members and gain access to members-only benefits. Plans also are underway for a PoE certification event, to be hosted at the University of New Hampshire InterOperability Laboratory in October 2017.
In a Frequently Asked Questions document hosted on its website, the Ethernet Alliance addressed the issue of why this PoE certification program is needed. "There are many varieties, standardized and non-standardized, of PoE in the market," it says. "The IEEE 802.3 Ethernet Working Group first standardized PoE in 2004, and introduced a higher power version, known as PoE+, in 2009. The presence of standardized and non-standardized solutions, with no visible way of distinguishing between the two types, has led to interoperability issues and market confusion. This problem will only be exacerbated by the predicted shipment of approximately 700 million PoE-enabled switch ports and 250 million PoE-enabled devices over the next five years."
Avnet intros 'Visible Things' development kit for Industrial IoT applications
At Internet of Things World held in Santa Clara, CA in May, Avnet introduced a starter kit specifically designed for the development of Industrial Internet of Things (IIoT) applications.
The SK002 Visible Things Industrial IoT Starter Kit adds to the company's Visible Things platform, which it says offers a complete development solution that enables engineers to get their IoT systems and applications quickly designed, tested and deployed. Targeting a wide range of industrial markets, the kit combines secure, integrated hardware and embedded software to connect smart sensors and embedded devices, via gateway solutions or low-power wide area networking technologies, to the cloud and smart enterprise software.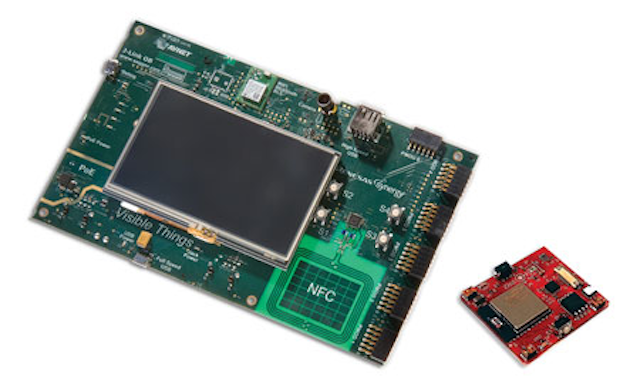 The distributor says "the highly flexible development platform aids in the design of a broad portfolio of industrial applications, including: remote monitoring, predictive maintenance of motors and drives, room control in homes and buildings, lighting, security and surveillance, smart energy metering and healthcare, as well as industrial automation applications such as inspection capabilities, drive monitoring and sensor hubs."
According to a press release, "The SK002 Visible Things Industrial IoT Starter Kit offers all the benefits of the platform's debut starter kit (SK001), with additional functionality, including smart pressure and energy-harvesting sensors, controller area network (CAN) and NFC connectivity, embedded vision and audio, as well as delivering Power over Ethernet (PoE). The Renesas Synergy S7G2-FBGA224 kit is based around an ARM m4 Cortex microcontroller. The Renesas Synergy Platform is a complete, verified, and qualified system solution that includes software, a scalable family of microcontrollers, and development tools. Like the original kit, the industrial version includes a smart sensor board with Bluetooth connectivity to send data to a WiFi gateway board, which manages connectivity through cloud services, where sensor data can be visualized and managed via simple tools. Additional communication options are also available. The Visible Things platform is supported by an Avnet-designed mobile application that runs on iOS and Android, and provides users with easy device configuration locally while supporting connections to cloud services. This fully integrated application comes with a quick start guide to facilitate edge to enterprise system connections and provide a rapid proof of concept."
Turkcell, Huawei jointly achieve 5G mmWave speed of 70 Gbits/sec
On June 16, Turkish mobile operator Turkcell and Huawei announced that the companies had joinly broken a record by carrying out their first 5G mmWave [millimeter wave] speed test together in line with their respective network capabilities.
In the test performed using real 5G equipment in the 71.5-73.5 GHz frequency band, the companies reported that a new speed record of 70 Gbits/sec was reached. According to a press release, "In this regard, Turkcell has become one of the few mobile operators in the world that can reach a speed that is impossible with current technologies, using the technology of the future, 5G."
With the support of the Information Technologies and Communications Corporation (BTK), the announcement signifies how Turkcell has taken another step in its partnership with Huawei, with which it set off to deepen work in 5G technologies and intensify joint R&D work together. The tests, carried out at Istanbul Turkcell Küçükyalı Plaza, used 5G equipment in the 71.5073.5 GHz frequency band, known as mmWave.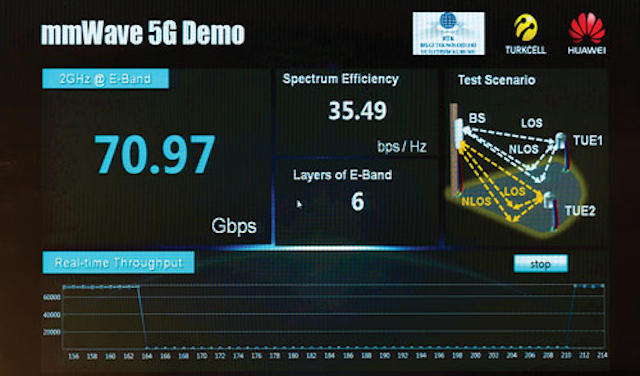 Figen Kılıç, a member of the Information Technologies and Communications Board of Turkey, said in a statement, "The technological needs for our country and for the industry are increasing day by day. This is why it is of great importance for both fiber infrastructure and new generation networks to become widespread. The dynamism that comes to the industry with 4.5G shows us the increasing need in this field. With 5G, the beginning of an era which will surpass the virtual dimension is coming. It is important to see 5G as a need. On the path to 5G, we must prioritize increasing accessibility, redefining network abilities and developing new business models in vertical industries with investment in infrastructure."
Gediz Sezgin, Turkcell's general manager responsible for network technologies, added, "We achieved a first in Turkey by carrying out the first speed test using 5G equipment. The speed we have reached today and the record we have broken are a striking example of the progress we, as Turkcell, have made in 5G in a short period of time. With new technologies, Gigabit level data transmission, low latency and reliable performance, we will continue to provide innovative services and solutions to our customers by developing high-efficiency and high-capacity solutions that we will achieve with 5G technologies."
Handheld test solution for HDBase-T cabling and systems
MS-TestPro is a handheld tool that provides in-field testing of HDBase-T cabling and systems. Manufactured by Media Solutions Ltd., the MS-TestPro is designed specifically for AV installers, integrators and technicians. A newly added feature enables users of the solution to generate a certification report on the quality of each cable installed, thereby simplifying the installation of HDBase-T networks, explains Media Solutions.
"The MS-TestPro generates a report after a very brief test, indicating the quality of various installation parameters," the company said. "These include detailed information about link quality, link status of the transmitter and receiver, pixel clock, HDBase-T link chip type, and cable length. In addition, user-friendly graphs summarizing the overall information are generated."
Eliran Toren, co-founder and chief executive officer of Media Solutions, commented, "The HDBase-T report generator tool can analyze data automatically collected by the MS-TestPro and create a report detailing the quality of an HDBase-T-routed cable.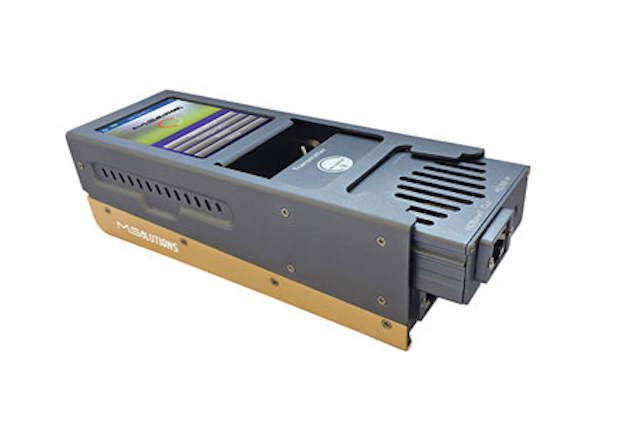 The report can be transferred to a computer or a smartphone.
"This is a great opportunity for professional AV installers and integrators," Toren added. "For the first time ever, they can inspect the HDBase-T installation quality within less than a minute while in the field, detecting any possible failures on the line."
The company recently announced that the tester offers full support for HDBase-T testing analysis and inline diagnostic capabilities for 4K content. The company said that using the tester, "installers can immediately detect line sensitivity and reduce installation time. The MS-TestPro generates a 4K readiness certification report, presenting highly important HDBase-T transmission-quality data, and ensuring 4K content streaming quality and support for any topology or architecture."
Ariel Marcus, Media Solutions' co-founder and chief technology officer, explained, "With the growing demand for 4K resolution content, we need to transmit four times as much data. Currently HDBase-T is limited to a bandwidth of 8 Gbits/sec. To quadruple the bandwidth, HDBase-T transitions to pulse amplitude modulation (PAM) with 16 levels (PAM-16) instead of 8 levels (PAM-8)—increasing the possibility of error.
"MS-TestPro adjusts the testing criteria while switching from 1080p to 4K resolution in order to meet the required transmission quality."
National Telecommunications Cabling Championship crowns six medalists
ETA International recently announced results from the National Telecommunications Cabling Championship, held as part of the SkillsUSA National Leadership and Skills Conference June 20-22. ETA International sponsored the telecommunications cabling competition for the 13th consecutive year.
"The philosophy of the championships is to reward students for excellence, to involve industry in directly evaluating student performance and to keep training relevant to employers' needs," ETA International said. "This philosophy is the guiding principle that inspires ETA International to continue to sponsor the National Telecommunications Cabling Championship."
The competition was divided between students from secondary schools and students from post-secondary schools.
The association added that the championship uses "many of the competencies and hands-on skills that make up ETA's Data Cabling Installer and Customer Service Specialist certifications. Students interested in voice and data network cabling and installation soon find out that industry indicates 80 percent of the problems in computer networks, security systems installations and others are caused by cabling connector issues and not computers, servers, switches, etc. This competition tests to worldwide industry standards related to cabling for data and voice connections, physical and logical networks and signal transmission. Contestants demonstrate skills in fiber and copper cable termination, pulling and mounting cable, patch panel installation and termination, installing jacks, cable testing and troubleshooting, and providing customer service. Both copper and fiber-optic cable are represented. The contest stresses safety in all activities."
It assessed skills in the areas of 25-pair cable installation, cable termination, copper and fiber cable construction, copper and fiber troubleshooting, and technical support. Each area rotation was 90 minutes in duration.
The medalists were as follows.
Secondary—Gold: Mason Woozley, Dennis Technical Education Center, Boise, ID; Silver: Joshua Ward, Weaver Academy, Greensboro, NC; Bronze: John Boris Paris, ESC Sup Voc Metropolitana Miguel Such, Rio Piedras, PR.
Post-Secondary—Gold: Tyler Dionne, Manchester Community College, Manchester, NH; Silver: William Carriker, Stanly Community College, Albermarle, NC; Bronze: David Rucker, College of Western Idaho, Nampa, ID.
"The contests are planned by the skills technical committee and designed to test the aptitude needed for successful entry-level performance in the field," ETA International explained. "The national education team and the technical team from industry developed the telecommunications cabling contest content, built and set up the rotation areas, as well as conducted both the orientation and competition. All contests are run with the help of industry, trade associations, and labor organizations, and test-competencies are set by industry.
"In addition, leadership contestants demonstrated their skills, which includes extemporaneous speaking and conducting meetings by parliamentary procedure."
ETA International pointed out the following organizations that provided support for, and contributed to, the competition: Dymo, eITprep, Corning Optical Communications, CWA, Panduit, Fluke Networks, Cisco, Kobalt Tools, Light Brigade, Keysight Technologies, Southwire, Milwaukee Tools, Wiley Publishing, MetroNet, Bland Technologies, and BICSI.
National technical and educational committee members for the Telecommunications Cabling Championship were Teresa Maher (technical chair) of ETA; Robert Dickerson, retired from the NC Department of Public Instruction; Richard Darnell of CommScope; Dan Parmer of Stanly Community College in NC; Jeff Searingen of Stanly Community College in NC; and Dede Starnes of Corning Optical Communications. ETA International also extended thanks to the Telecommunications Cabling Championship judges: Bill Phelps, Dymo; Nick Hart, Bland Technologies; Tom Maher, MetroNet; Allison Hassard, Swift Inc.; Derek Benson, Corning Optical Communications; Mark Damiter, Corning Optical Communications.
OptiCam 2.0 field termination tool also calculates insertion loss
Panduit claims to have "revolutionized field-terminated fiber connectivity" with the introduction of its updated, simpler-to-use OptiCam 2.0 termination tool. According to the company, "The tool delivers an immediate calculated insertion loss, which improves productivity by shortening the time installers spend on the jobsite and increases contractor profitability by decreasing project re-work.
"An on-tool display walks users through a three-step termination process, with no complicated series of buttons, knobs and levers," Panduit continued. "It provides an immediate insertion loss value, along with a pass/fail readout, so installers know they have achieved a successful termination the first time. A companion app mirrors the display screen and collects a robust set of data points that can be used for project and business management."
"OptiCam 2.0 changes the fiber termination market," asserts Dennis Renaud, vice president of Panduit's enterprise business. "We have made fiber termination so simple and reliable that it will change the way contractors work, bid jobs, and manage projects. We have a vested interest in the success of the contractor community and we are confident OptiCam 2.0 will help them be successful."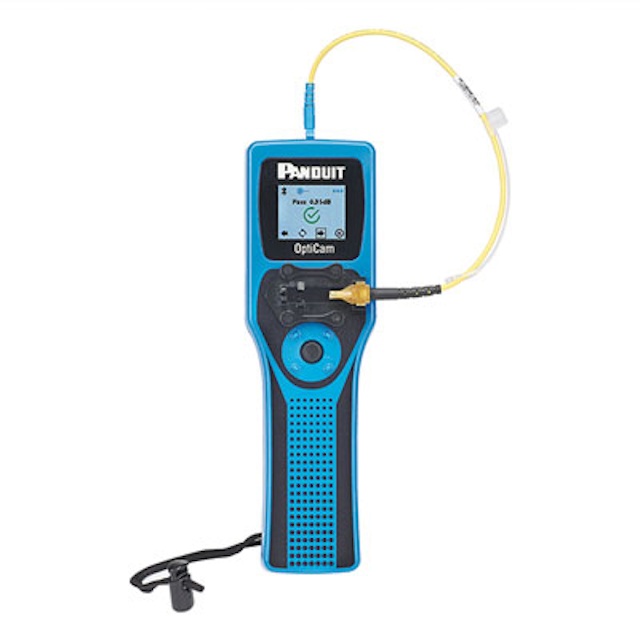 As cited by Panduit, "Among the tool's features are an ergonomic design that easily converts between left- and right-handed operation; color-coded cradles and patch cords to ease setup; and a pivoting cradle arm to make it easier to load connectors."
The tool works with Panduit LC, SC, and ST OptiCam fiber-optic connectors. The company adds, "If the installer isn't satisfied with the termination results on the first try, the termination can be easily reversed and retried, reusing the same connector. In comparison, other connectors on the market would have to be discarded and a new connector installed."
The new tool is optimized for use with other Panduit fiber solutions including the company's HDFlex fiber cabling system, PanMPO fiber connectors, and Signature Core fiber cabling.