How patch cords can become a strategic piece of your cable management plan
Twisted-pair cords can accommodate high port density, free up pathway space, and ease handling during moves, adds and changes.
Dec 1st, 2015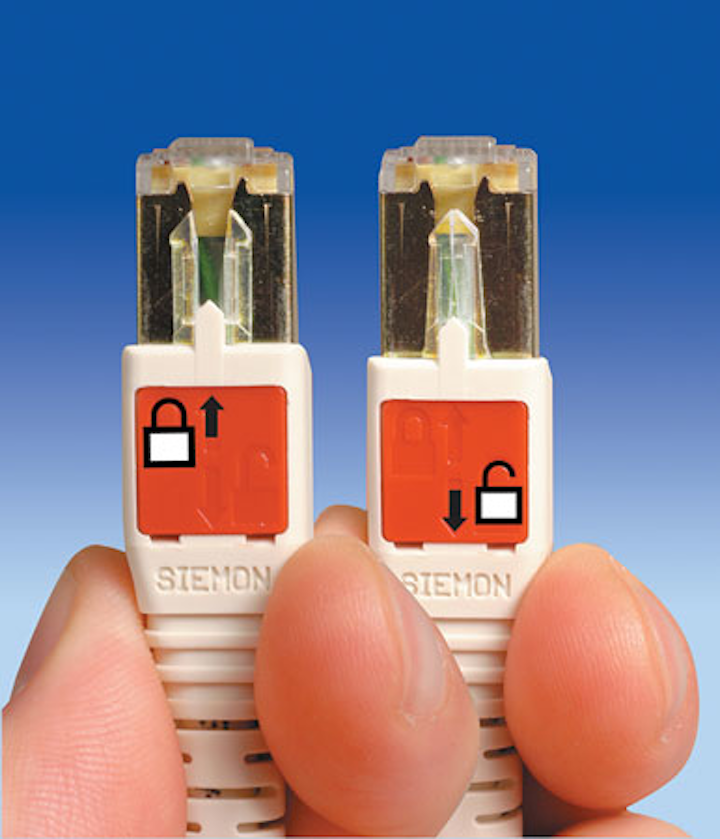 By Patrick McLaughlin
For many years the role of patch cords in structured cabling channels has been underrated, overlooked and misunderstood by many. Countless stories exist about patch cords being forgotten in the planning and installation of a structured cabling system, and low-budget, low-performing cords being hurriedly purchased and installed just before service is turned up. In such situations, end-user organizations are left to hope that their patch cords do not adversely affect the cabling system's and network's performance.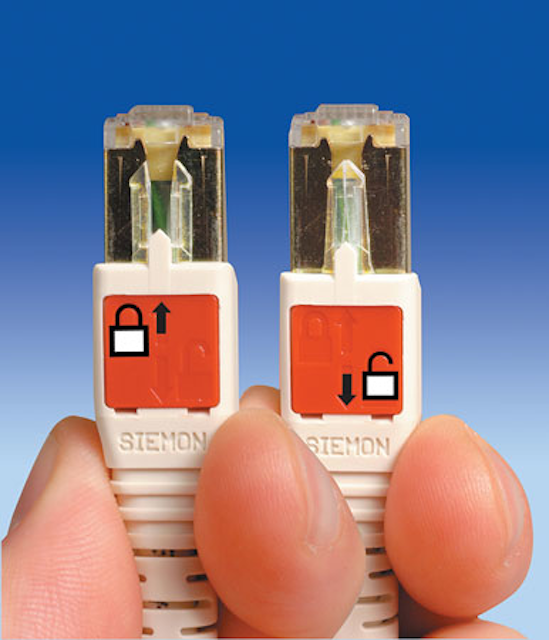 Developed after discovering that a customer was using a screwdriver to unlatch patch cords in a densely populated network space, Siemon's BladePatch offers a push-pull design that enables a technician to disconnect by pulling on the cord's boot. When plugged in, BladePatch makes the familiar and comforting audible click to let a technician know the connection has been made.
Along those lines, it is a myth that the medical profession's Hippocratic Oath is, begins with, or contains the phrase, "First, do no harm." While language somewhat similar to that does exist in the oath, many people mistakenly recite that four-word phrase as the oath's beginning. Likewise, it is a myth that the most a network cabling system administrator can expect from its patch cords is that they "do no harm" to the system as a whole. Technology improvements made to patch cords over more than a decade have showcased these products' ability to enhance the performance or management of a structured cabling system.
These patch cord innovations have proven themselves particularly well in high-density connectivity environments as well as those in which moves, adds and changes (MACs) are frequent.
Customer need met
Siemon's (www.siemon.com) BladePatch product set-available in fiber (LC connector) as well as copper (Category 5e, 6 and 6A performance levels) versions-was developed to ease the process by which technicians plug and unplug patch cords in dense connectivity environments. The idea for the product was born when the company's president and chief executive officer, Carl N. Siemon, visited a customer that was challenged to manage the density of cabling in its backplane system. Specifically, technicians were having difficulty releasing latches while trying to disconnect RJ45 plugs, and had resorted to using a screwdriver for the task. Obviously, much can go wrong when a technician wields a screwdriver around such networking gear.
After that visit, the company's research-and-development engineers set to work on a design for a cord with a push/pull boot that did not require manual latching. The first BladePatch product was introduced in 2004. Siemon describes the product set as "ideal for patching in high-density blade servers, patch panels, or any equipment with RJ45 outlets." BladePatch, which fits with any standard RJ45 opening, does indeed have a latch. The manner in which latching is accomplished is the innovation; a technician just pushes the boot forward to latch, and pulls the boot back to release. This capability allows technicians to unplug the cord by pulling on the boot in a process that has no adverse effects on the cord's electrical performance.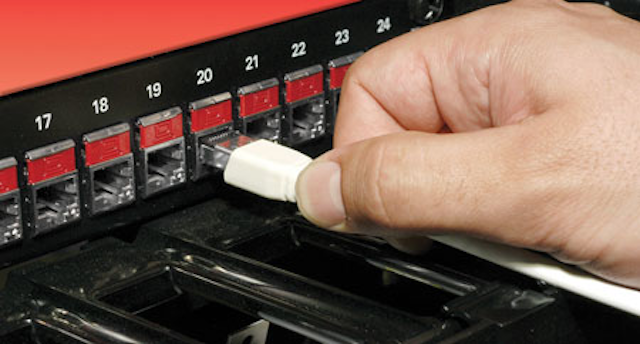 Here a technician grips the BladePatch boot to disconnect the cord from an outlet.
In the decade-plus since the initial BladePatch was introduced, its distinctive ability to facilitate connects, and especially disconnects, in high-density patching areas has won over user organizations worldwide. The extent to which 48-port, 1U patch panels have grown in deployment has fed the need for easier connection and management in these congested spaces. Siemon reports that one of its BladePatch customers is a municipality that had installed a particular vendor's end-to-end system for approximately 20 years, but incorporated BladePatch into its cabling infrastructure to achieve the product's benefits and efficiencies.
The absence of a latching tab on BladePatch make the patch cord attractive for use in a particular switch with a design flaw that, although it is years old, recently garnered publicity to the tune of more than 250,000 reads on the website Gizmodo. On that site, contributor Mario Aguilar pointed out, "A few years ago, Cisco was forced to issue a warning because of a serious design flaw … 48-port models of its expensive 3650 and 3680 switches were vulnerable to a system reset because [of] a major design oversight.
"In these models," Aguilar continued, "the system factory reset button is directly above port 1, which is a problem because many models of 'snagless' Ethernet cables have a little boot that keeps you from accidentally releasing or breaking the latching tab … Some of these cables have a very long boot, such that when you push the cable into port 1 on these Cisco models, you reset your system … Cisco's remedy for the problem? Get cables without a boot, or break the boot off the cable."
Considering pathways
The RJ45 plug-and-jack configuration, and the configuration's dimensions, are ubiquitous. Modifications to twisted-pair copper-based cords have been made, as this article is describing. But by necessity those modifications do not alter the RJ45 plug at the cord's end, because those dimensions must be retained in order for a cord to be compatible with the universe of RJ45 ports. BladePatch is an example of how a cord's boot or other elements can be modified to improve the user's experience with patch cords. And while Siemon has offered RJ45-to-TERA versions of BladePatch since 2008, all of the company's copper-based BladePatch cords include plugs that are compatible with any RJ45 jack.
Another company's efforts to enhance users' experiences with patch cord management also leave the RJ45 plug dimensions untouched, focusing instead on the cable and, in particular, its dimensions. Panduit (www.panduit.com) has introduced a series of patching products centered on the concept of incorporating 28-AWG conductors, rather than the typical 24- or 23-AWG conductors, into the twisted-pair cables. Panduit offers Category 5e, 6, and 6A patch cords in 28-AWG sizes; each 28-AWG cord is less than 50 percent the diameter of the same-performance-level 24-AWG cord.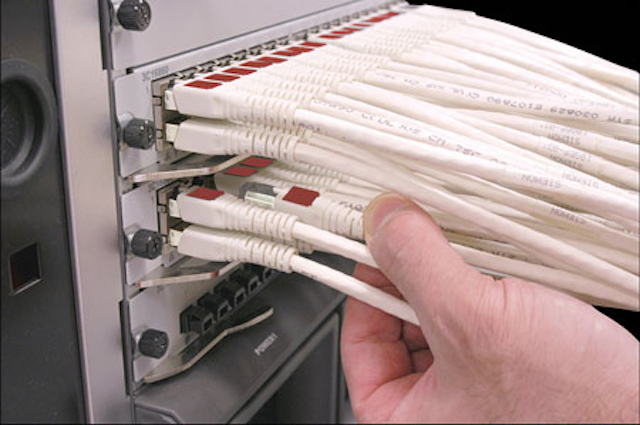 In high-density environments like these 48-port 1U patch panels, inserting and disconnecting patch cords can be challenging for technicians. These panels are populated with Siemon's BladePatch cords, which can be plugged in and unplugged using the cord's boot.
Panduit senior product manager Thomas Baum detailed the characteristics and benefits of 28-AWG cabling in an article we published earlier this year ("Applications for 28-AWG twisted-pair cabling systems," September 2015). In that article Baum emphasized pathway-space gains as a significant advantage of using the smaller-gauge, and therefore smaller-diameter, cables. He noted, "One example of the space and consequent money savings gained by using 28-AWG cabling can be seen in the use of a typical vertical cable manager, which has a finger opening of 1 inch. A 24-cord bundle of 24-AWG cords has a diameter of 1.37 inches-larger than the size of the finger opening, making such a bundle difficult to work with. In comparison, a 24-cord bundle of 28-AWG cords has a diameter of 0.89 inches. It easily fits into the 1-inch opening and technicians in the TR or the data center can readily work with it.
"Looking at the pathway space within a typical 4-inch vertical cable manager, the advantages of 28-AWG are even more demonstrable," Baum continued, citing a typical deployment of Category 6 patch cords in a 4-inch manager and using a 50-percent fill ratio. "A typical 4-inch vertical manager can fit either 213 24-AWG cords or 523 28-AWG cords-translating to 146 percent more 28-gauge cords than 24-gauge cords. What would it mean to be able to more than double the capacity of your existing manager? For some of the telecom rooms we have seen, it would mean the ability to actually fit the patch cabling inside the manager and close the door."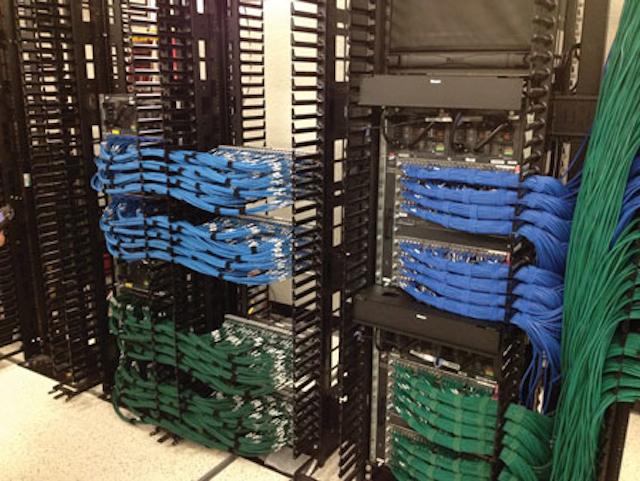 The populated racks on the left and right each contain the same number of patch cords. The rack on the left contains Panduit's 28-AWG cords while the rack on the right contains 24-AWG cords. Panduit emphasizes that one key advantage of its 28-AWG cords is pathway-space savings, and a significant benefit of those savings is that it allows room for future expansion.
In addition to standalone 28-gauge cords, Panduit offers the Plug Latch Guard as well as a set of Switch Harness products. The Plug Latch Guard "prevents inadvertent release of patch cords in high-density switch or panel configurations, thereby decreasing network downtime," the company says. Comparing it to BladePatch, the Plug latch Guard in a sense addresses the "equal but opposite" frustration that accompanies high-density patching; BladePatch makes arduous unplugging easier while Latch Guard prevents unintentional unplugging.
Latch Guard includes a pull tab and a main body, designed to protect patch cords by wrapping around the plug and securing it in place when installed, Panduit explains. "Patch cords can only be detached after the latch guard is removed by pulling on the tab, which is easily accessible," it says. "This user-friendly product allows easy installation and removal of the guard from the plug."
Panduit's Plug Latch Guard prevents inadvertent release of patch cords in high-density switch or panel configurations.
Panduit's QuickNet SD Switch Harnesses incorporate 28-AWG Category 6 cable and, the company says, "provide an ideal solution in network racks where they replace the loose cord cabling between switches and patch panels. Depending on the type of cord connection used at the patch panel end, two basic types of harnesses are available: switch port harnesses, and switch patching harnesses." Each harness contains 12 cables.
The company details each by explaining the switch port harnesses "provide plug-to-jack connection-also known as switch port replication-between switch ports and the patch panels, and replace individual equipment cords. On the panel end of the harness the modular jacks (either loose or contained in a cassette) are inserted into the patch panel from behind."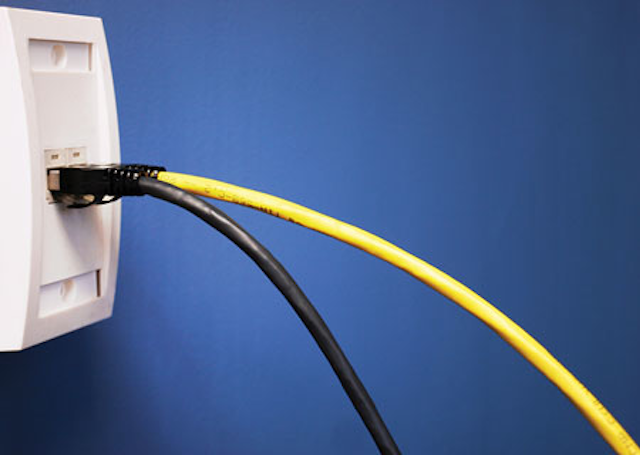 Quabbin Wire and Cable recently introduced the DataMax Relaxed 26 AWG F/UTP Category 6A patch cable (shown here, in black, terminated). The cable's design includes a more pliable construction, which makes it easier to install and work with than other F/UTP Category 6A cords, such as the yellow one shown here.
Switch patching harnesses "provide a 'plug-to-plug' connection between the switch ports and patch panel ports," Panduit further explains, "and replace individual patch cords. The panel end of the harness has plugs which are inserted into the front of the patch panel."
Baum pointed out that several drivers are making these smaller-gauge products and systems attractive to user organizations. "Ongoing evolution in the areas of networking equipment and building usage-such as equipment that is more compact with higher port counts, smaller spaces allocated to telecommunications rooms, or rapid large-scale changes to office configurations-are driving the need for new copper patch-cord solutions that support increased cabling densities and faster deployment speeds. Panduit has focused on new patching products to address these needs." He added that at Panduit, "We routinely hear from customers who rip out functioning 24-AWG patch cabling and replace it with our 28-AWG cords purely to gain the pathway relief and future expansion capability from the smaller cabling."
Achieving easier installs
Quabbin Wire and Cable Co. (www.quabbin.com) added a Category 6A F/UTP product to its line of DataMax Mini 28-AWG patch cables in early 2015. When announcing the cable, Quabbin said the "patent-pending spline-free design provides DataMax Mini-6a F/UTP with a reduced diameter profile, making it an ideal solution for applications that require a smaller and more-flexible cable. Features include a 23-percent reduction in size, 38-percent smaller cross-sectional area and a 33-percent difference in weight when compared to standard 26-AWG F/UTP patch cable."
The company added that the product meets Category 6A plug-to-plug electrical and transmission parameters up to 56 meters, "making it an excellent solution for data center patching, top-of-rack applications and other temperature-sensitive spaces where patch cable transmission distance is secondary to maximizing airflow."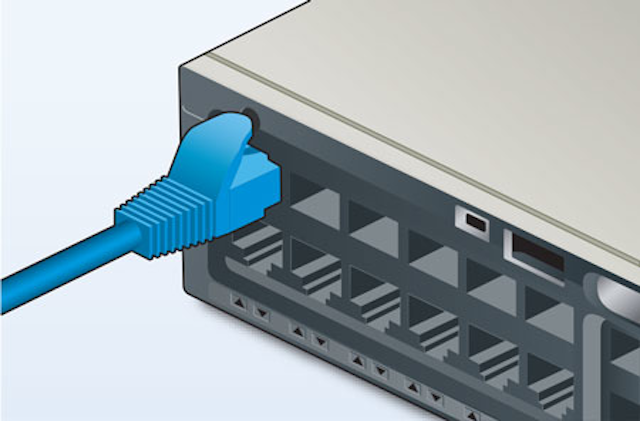 In 2013 Cisco issued a field notice about its Catalyst 3650 and 3850 series switches. As shown in this illustration reproduced from the notice, a patch cord with a boot that protects the latch may, if completely inserted, reboot the switch.
In September the company introduced the DataMax Relaxed 26-AWG F/UTP Patch Cable. "The new design features a more pliable construction, making it easy to install," Quabbin said when it introduced the product at BICSI's Fall Conference and Exhibition in September. "The relaxed feel is achievable by use of a unique patent-pending shield engineered specifically for patching applications in Category 6 and 6A systems. The absence of a separator and polyester tape make the DataMax Relaxed smaller, easier to terminate, and more flexible."
Examples of technological evolution in twisted-pair copper patch cords exist in the form of some products that have been available for more than a decade, and others that have been available for just months. This reality is an indication that the patch cord remains a vital point of connection in the network. Rather than overlooking or underestimating their importance, network owners can look at their patch cords and patching fields as opportunities to gain efficiencies and improve management processes.
---
Patrick McLaughlin is our chief editor.