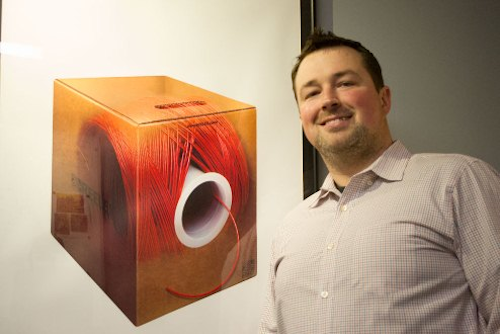 REELEX Packaging Solutions—the company that invented the REELEX cable packaging system that includes a cable coil wind pattern and payout dispenser—has embarked on an anti-counterfeiting campaign. As the company explains in several of its newly created information products, producers of counterfeit, substandard and/or non-compliant communications cable often also incorporate a "knockoff" winding pattern and payout that imitate the patented REELEX system (poorly imitate them, the company points out).
The REELEX packaging system, sometimes call the "pull box" package, is a patented and trademarked method, and REELEX said it "vows to continue to pursue measures against wire and cable brands that violate" these patents and trademarks. The system winds cable into a figure-eight coil that does not rotate during payout. "This approach dates back to World War II as a method for U.S. soldiers on the front lines to more-efficiently run wire from their backpacks," the company said. "Today the REELEX coil hugely benefits bulk cartons of LAN and low-voltage cables across AV, security and electrical channels, most especially for installers conducting one-person wire pulls."
Timothy Copp, vice president of business development at REELEX, explained, "Counterfeit boxes do not use the same technology as our licensees use. It is important that the installer understand there are genuine REELEX boxes and there are knockoff boxes, and when the package isn't genuine, it's very likely the cable isn't either. This leads to problematic wire-pulls. Additionally, inferior cable leads to the installer potentially having to rewire the job in the future."
Licensees of REELEX packaging are required to print the REELEX mark on all boxes that use the technology—both to identify the box as incorporating the REELEX packaging and to assist REELEX in legally bringing potential infringement cases to court, the company noted. "Counterfeit and substandard LAN and other low-voltage cables are an ongoing issue in the industry, evidenced by educational initiatives and other actions being pushed by the Communications Cable and Connectivity Association and UL," Copp added. "REELEX is wholly committed to protecting its licensees' investments in genuine patented and trademarked REELEX packaging technology. These measures include legal action against patent offenders, restrictions on importation of patent or trademark-infringing products, and more."
But a company that is going to make substandard cable and pass it off as legitimate, potentially put a bogus third-party test-lab logo on the package, and imitate a patented winding/packaging process, probably won't think twice about falsely printing the REELEX logo on the package. That being the case, REELEX points out two methods that can be taken to verify whether or not the packaging is genuine.
A check of REELEX's licensee list, available online here, is one method. A visual inspection is the other. On its website, REELEX explains, "Knockoff REELEX packages look the same from the outside, but inside they are very different." The image at the top of this page also appears on their website, along with the following explanation: "The example shows a genuine REELEX II coil, and a knockoff coil with a "REELEX II" hole. In this case, the payout tube was actually forced into the coil to make it look like a REELEX II box. Needless to say, this package kinked and knotted almost immediately upon payout." Elsewhere, the company explains "Counterfeit coils often do not have clear, precise payout holes and may appear 'scrambled.' REELEX coils always have a clear, easily distinguished payout hole." (Image immediately below.)

Copp told us, "For REELEX, it is immediately evident whether or not a box is a genuine REELEX package. We can open the box and tell whether a coil is made on our machines or a knockoff. Also, because our business model revolves around licensing our technology to cable manufacturers, we know who is using REELEX and who is not. Thus if and when we encounter a box labeled as 'REELEX' that we suspect is a knockoff, we can immediately take action via legal means, as we can easily point to the coil and the trademark."
Concerning the potential for the fraudulent use of the REELEX mark, we asked if REELEX uses a holographic or watermarked logo, like UL does, to combat that possibility. Copp said, "REELEX marks are not currently watermarked or holographic, though in the long run we may look into that … In the case of UL, it is not visibly evident to the end-user whether or not the cable manufacturer is fraudulently claiming UL listing, since a UL-listed product does not have any visible or otherwise obvious physical characteristics that would prove it is not a UL-listed product. UL must rely completely on the logo, which is why they have to find ways to make those logos genuine. REELEX may look into that in the future, but for now the logo is just one means of proving the package is genuine."
You can visit reelex.com/counterfeit for comprehensive information, including photos, videos, and information about the company's licensees, as that information relates to REELEX's initiative against counterfeiting.