CommScope demos 100G wideband multimode fiber benchmark at OFC 2015
CommScope's LazrSPEED 550 wide band multimode fiber (WBMMF) is being featured in what the company claims is the first known 100 Gbps short wavelength division multiplexing (SWDM) demonstration.
Mar 25th, 2015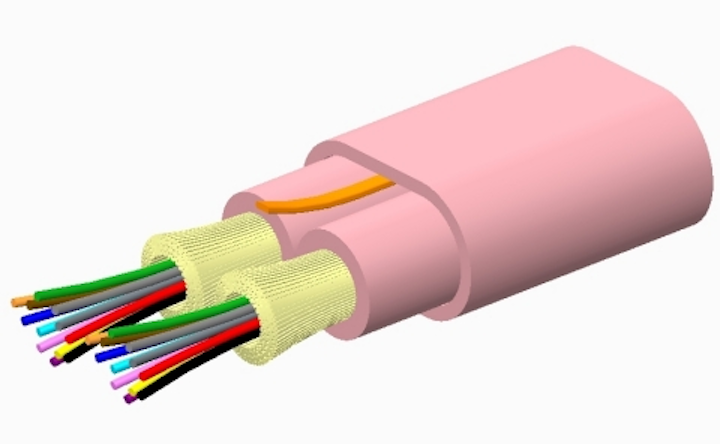 At this week's OFC 2015 (March 22-26) in Los Angeles, CommScope (NASDAQ: COMM) is demonstrating what it claims is the first known public bandwidth benchmark of 100 Gbps Ethernet applications using short wavelength division multiplexing (SWDM) over wide band multimode fiber (WBMMF), a breakthrough technology that the company is promoting as a major next-generation connectivity solution for high bandwidth applications in high-performance data centers.
"We have been working with our partners on advancing the capabilities of high-speed transmission over multimode fiber, and we believe this demonstration will show how far we have come in providing another cost-effective solution to support future data center needs," comments Kevin St. Cyr, senior vice president of Enterprise Solutions, CommScope. "The LazrSPEED wideband multimode fiber will enable migration from 10 to 40 to even 100 Gigabit speeds over a single fiber pair, as well as provide customers legacy support for existing applications."
Scheduled for general market availability later this year within CommScope's InstaPatch 360 pre-terminated fiber solution, the LazrSPEED 550 WideBand multimode fiber will be part of demonstrations taking place at Finisar's booth #1403 during the OFC exhibitions. The WBMMF connectivity solution from CommScope is being combined with Finisar's optical transceivers to demonstrate that 100 Gbps transmissions are achievable over a duplex pair of fibers using SWDM technology.

CommScope notes that it is working with leading ecosystem partners in the data center industry to foster the development and standardization of a WBMMF system focused on the support and advancements of high speed transmission over multimode fiber. In keeping with the continual growth of higher bandwidth needs in the data center, the company says the WBMMF solution will provide the needed infrastructure to allow cost-effective deployment that enables easier upgrades to future applications by extending the use of duplex connectivity. When used with parallel connectivity, WBMMF has the capacity to gracefully support applications far exceeding 100 Gbps, adds CommScope.

The WBMMF and transceiver demonstrations, as featured at the Finisar booth, will take place during the OFC exhibition on Thursday, March 26 from 10:00 a.m. – 12:00 p.m.