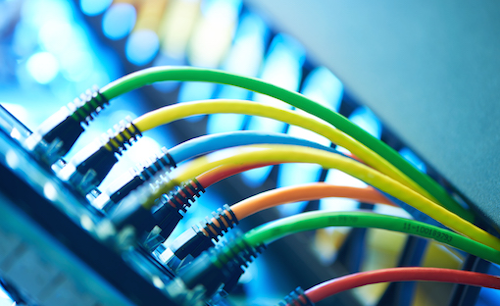 Reichle & De-Massari (R&M), the Swiss developer and provider of cabling systems for high-end network infrastructures, is preparing planners and installers for the introduction of 4-pair Power over Ethernet (4PPoE) through the release of a new white paper, and with the launch of a specially developed PoE calculator.

The company notes that the new generation of power supply via local data networks (remote powering) should enable a supply of up to 100 Watts, which is four to five times greater than the current rate. The corresponding standard IEEE 802.3bt is currently in progress. 4P PoE allows more powerful terminal equipment to be supplied with energy via network cables; parallel power cabling is therefore no longer required. However, twisted-pair copper cables heat up during the supply process, leading to an increase in attenuation. This must be taken into account from the very beginning of a cabling project, which in turn poses new challenges when installing data networks.

In its recently published white paper, R&M provides information on the physical background of 4PPoE; the document also contains practical information for network planners and installers on how to prevent the cables from suffering critical temperature increases, thereby avoiding the resulting loss of power in the structural cabling when using 4-pair Power over Ethernet. The paper also explains the standardized formulas for calculating the temperature increase in cable bundles. You can view/download the document here:
http://www.rdm.com/en/co/service/downloads/white-paper.aspx

At the same time, R&M's specially developed PoE calculator is also available, which takes into account all relevant factors, such as cable types and ambient air temperature. The maximum link length of the cabling and the appropriate cable categories can be determined by entering just a few values into the spreadsheet, which can be found here:
http://www.rdm.com/en/co/service/planungshilfsmittel/power-over-ethernet-calculator.aspx

Background:
R&M asserts that for Power over Ethernet (PoE), which was introduced 15 years ago, IEEE 802.3bt represents another step forward: Terminal equipment will be supplied with at least 55 Watts, and potentially up to 100 Watts, rather than 13 or 22 watts. In the future, PoE will need to use all four twisted pairs in the network cabling for this transfer of energy, which is the reason for the name 4-pair Power over Ethernet (4PPoE).
With the new technology, structured cabling systems are therefore not only used to transport data at an Ethernet speed of 10 Gigabits, but numerous powerful IP terminal devices, such as cameras, monitors, wireless access points, and point-of-sale terminals, can also be supplied with energy via the local data network. The trend for an increased use of Power over Ethernet would also support the Internet of Things. Many small sensors and control systems could be run from remote locations in buildings without additional power cabling.

R&M notes that the consequence of using 4PPoE is that every twisted pair in the network cabling has a current of between 650 and 1100 mA, depending on its power. This is a significant increase in load compared to pure data transfer. Due to physical losses, the cables and cable bundles heat up as a result of the energy transfer. According to R&M, a long-term temperature increase of 10ºC can halve the expected service life of the cable, due to the increased aging of the material. This temperature increase must also be limited for fire and occupational safety reasons.

Higher temperatures increase the copper resistance and the attenuation of the signal transmission, which reduces the potential length of a link. The cable temperature increases resulting from the energy transfer can increase the attenuation of a cable to such an extent that data transmission becomes impossible. It is therefore important to factor in these temperature increases when planning a cabling project. R&M advises that thick cable bundles and heat build-up in cable channels be avoided. It is recommended that larger conductor cross sections and/or shielded cables be used for longer cabling links, as they do not suffer such significant temperature increases. Alternatively, the distances (link lengths) can be reduced.

R&M also advises the use of modules and plugs with insulation displacement technology; this technology creates stable connections between the cables and connecting contacts that are similar to soldering joints. The widely distributed piercing technology penetrates only the insulation of the copper cables and creates a loose contact, which with live connections may in the worst case cause a fire.
The company adds that another problem may arise when using Power over Ethernet, if contacts are damaged by small arcs when disconnecting while live. When the contact breaks, a spark is created that at high transmission powers can destroy part of the contact. If this happens in the contact area of the connection, the transmission properties may be permanently impaired. R&M recommends the use of plug connectors and connection modules that are designed to ensure a sufficient distance between the breaking point and the nominal contact area.

Learn more.