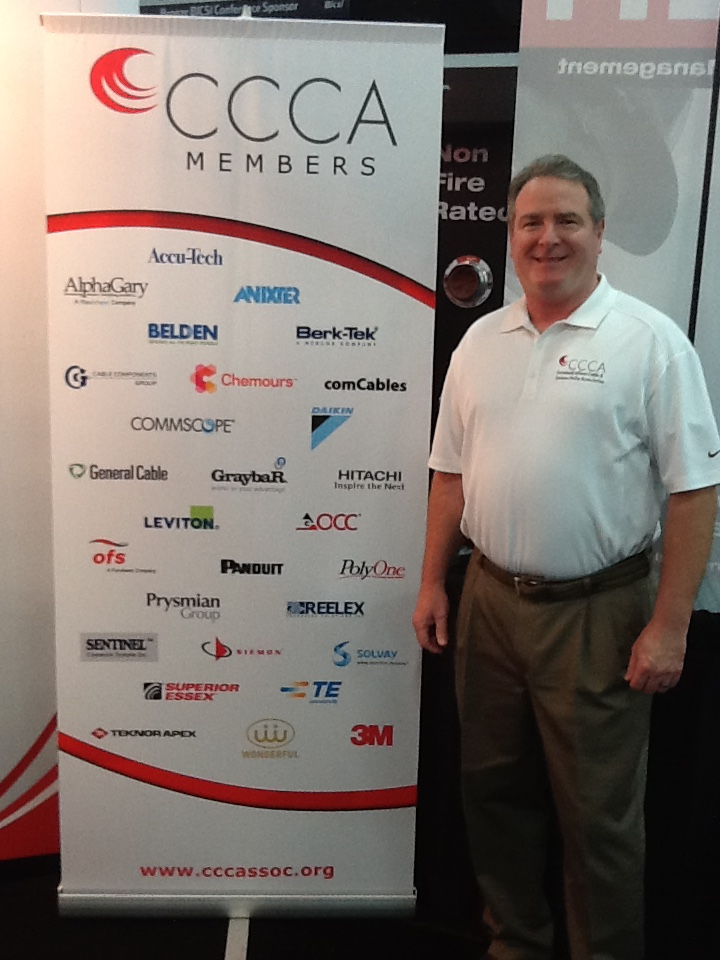 From the floor of the recent 2015 BICSI Fall Conference (Sep. 20-24), Communications Cable & Connectivity Association (CCCA) Executive Director David Kiddoo, as quoted below, illuminates industry concerns illustrated by the association's "Good Cable, Bad Cable" booth display:

"It's a very important thing for contractors, installers and users to understand that there are things that you need to look for to make sure that your cabling infrastructure is compliant with all the right codes and standards. Unfortunately, these counterfeit cable manufacturers (or cabling manufacturers who just want to skirt the system, cut out their costs, and make a tremendous profit) not going to expend the effort to have their cables certified for compliance to both safety and performance requirements.

And not only are they going to counterfeit materials and cable designs, but it's the whole package. So it's important for contractors to understand that they need to look for important characteristics that verify the compliance. One of the main things, when you're working with cables that are certified, is that they're third-party certified by companies such as Underwriters Laboratories (UL) [which] requires that every single box have a holographic label. Unless the box has a holographic label, and has all the right markings, then you need to either report that to UL to determine if that was an error -- or more importantly, it's likely that that cable has not been certified and verified.

In this particular case, Reelex has noted that there are a number of manufacturers that counterfeit their [proprietary] boxes. Reelex has the technology to make sure that when cable is pulled out of the boxes, due to the way that it's actually reeled inside, it comes out very cleanly and smoothly -- not with a lot of knots and twists, or tangling. Here, you can see a counterfeit box where it has no markings, no UL verifications.

You can see the very subtle differences [in the box], and when this cable comes out, it's twisted, has a lot of kinks, and you can actually see closely here, this particular cable manufacturer has used copper-clad aluminum -- which is also a very important issue for the National Electrical Code (NEC). You cannot use copper-clad aluminum in data cables. It's both a performance, and a potential safety, hazard."