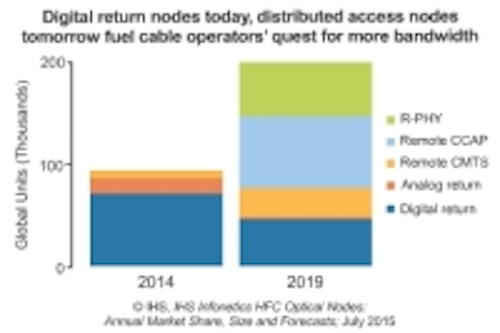 In a new report, IHS Infonetics (NYSE: IHS) forecasts global hybrid fiber-coaxial (HFC) optical node shipments to more than double in the 5 years from 2014 to 2019, jumping from 92,000 to 200,000. According to the researcher, driving the boost are cable operators upgrading their networks with optical fiber cable, taking advantage of its high-bandwidth, low-noise, low-interference characteristics to deliver broadband video, data and voice services to homes and businesses.

"Optical nodes have rapidly become important platforms for cable operators to grow their broadband capabilities," says Jeff Heynen, research director for broadband access and pay TV at IHS. "By way of increased node splitting today for increased bandwidth and a transition to distributed access in the coming years, optical nodes will see significant unit growth and innovation."

According to the new report, globally, HFC optical node revenue reached $356 million in 2014, up 14 percent from 2013. IHS Infonetics adds that, in 2014, 80 percent of worldwide optical node revenue came from digital return nodes, and 15 percent from analog return nodes. By 2019, the firm expects 35 percent of new physical nodes to be remote CCAP devices, 27 percent to be R-PHY units, and 23 percent to be traditional digital return nodes. In terms of specific vendors, the report notes that Arris led optical node global revenue and physical node unit shipments for the full-year 2014 period.

The 23-page IHS Infonetics "HFC Optical Nodes" market share and forecast report provides worldwide and regional market size, vendor market share, forecasts through 2019 and in-depth analysis for hybrid fiber-coaxial optical nodes. The annual market research service tracks physical node units, logical node segments and revenue for optical node types including analog and digital return, and remote PHY, converged cable access platform (CCAP) and cable modem termination system (CMTS).

Learn more about the report.