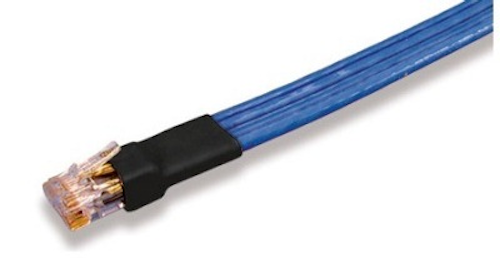 Cicoil recently released its Lightweight and Ultra flexible Category 6A cable. When announcing the new cable, the company said, "Unlike industry-standard Ethernet cables that don't' provide consistent data transmission accuracy in continuous-motion applications, Cicoil's compact design provides exceptional reliability when flexed, twisted or routed through tight spaces." The Category 6A cable comprises 4 individually shielded 28-AWG 100-ohm twisted pairs.
The company hails its patented extrusion process as the technology that enables a Category 6A cable to provide 10-Gbit/sec transmission under adverse environmental conditions. Cicoil says the extrusion process allows the twisted pairs "to be placed in a small, flat profile, precisely controlling the spacing of each component, insulation thickness and the overall cable shape. As compared to other Cat 6A cables, the flat design concept allows for easy stripping and a significant decrease in cable prep time."
This Category 6A cable incorporates Cicoil's proprietary Flexx-Sil rubber-encasing technology. "The unique outer jacket is self-healing from small punctures and will not wear, crack or deform due to long-term exposure to vibration, sunlight, temperature extremes [-65 to +165 deg. C], acid, submersion in water, sea ice, steam, coarse sand, flames, radiation, alcohol, mechanical stress, humidity, ozone, UV light, autoclave and many chemicals," the company states.
"In repeated flexing applications, the space-saving Cat 6A cable features a repeated bend radius of just 0.9 inch, and a cycle life exceeding 10,000,000 repetitive flexing cycles," Cicoil said.
The cables are available now for immediately delivery, as are cable assemblies in 3-, 6- and 12-foot lengths. Custom options include low-friction coatings, custom shape and torsion designs.