U.S. business-fiber penetration rate eclipses 40%
Research from Vertical Systems Group shows the business-fiber penetration rate was 10.9% in 2004, and hundreds of thousands of sites got connected in the past decade.
Apr 1st, 2015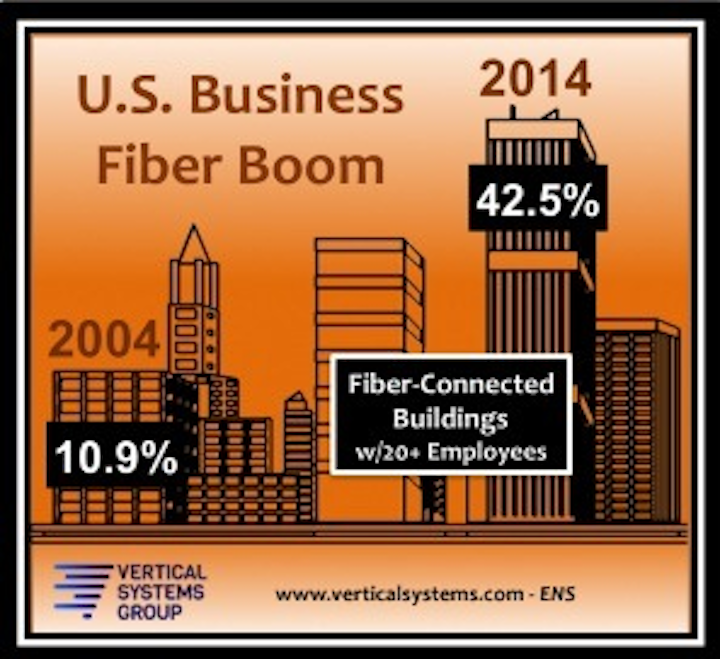 A new research report from Vertical Systems Group analyzes the growth rate of fiber penetration into commercial buildings in the United States, concluding that the penetration rate rose from 10.9% to 42.5% in the decade spanning 2004-2014. "These statistics measure fiber availability at company-owned and multi-tenant buildings with 20 or more employees, which covers more than 2 million individual business establishments," the researcher said.
Rosemary Cochran, principal at Vertical Systems Group, observed, "Accessibility to fiber-based business services in the U.S. nearly quadrupled between 2004 and 2014, with hundreds of thousands of sites newly fiber-connected during this time period. As a result of this growth, our fiber penetration benchmark now exceeds 40% for the first time. Looking forward, the high-stakes endgame for network operators is to deepen and broaden their service infrastructures around fiber—the future of wireline."
Fiber is the medium that delivers the majority of Carrier Ethernet service connections, Vertical Systems Group pointed out, adding that fiber implementations also are increasing for access to high-speed IP/MPLS VPN services, cloud and Internet connectivity, and mobile-backhaul applications.
The researcher also recently surveyed Carrier Ethernet service providers; that group cited fiber-footprint reach as the top competitive advantage overall. These service providers also said collectively that fiber expansion is their primary growth challenge for 2015.
You can learn more about Vertical Systems Group's fiber-research subscription service here.