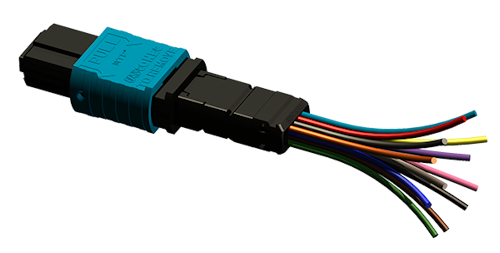 US Conec recently announced the release of a new 900 micron MTP connector system, supporting direct coupling to 900 micron loose or tight buffered fibers. Combining novel transition components with US Conec's MTP brand connector, the company says its new 900 micron MTP kit delivers reliable termination, ensuring ample fiber movement and superior cable management.

The transition components in the new kit can also be used independently from the connector, resulting in an ultra-compact ribbon fiber to a 900 micron breakout kit for factory or field installation, says US Conec.The company notes that the product's unique 900 micron MTP connector design facilitates multiple assembly techniques through which pre-terminated, loose, or tight buffered single fiber pigtails can be directly terminated into the MTP connector hardware.

Conversely, loose 900 micron buffer tubes can be furcated over an MTP ribbon connector pigtail which has been 'fanned out' into individual 250 micron coated fibers. The 900 micron MTP connector kit mechanically couples the buffer tubes, eliminating the need for epoxy in the critical cable exit portion of the connector.
Find more Connection & Cross Connection Devices in our Buyer's Guide