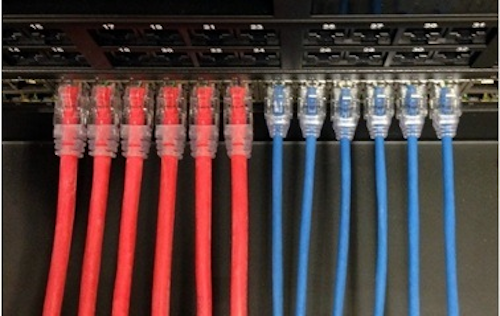 In an hour-long online seminar to be broadcast live on June 4, Panduit senior product manager Thomas Baum will provide information on the pros, cons, and practical realities of using smaller-diameter, 28-AWG Category 6 twisted-pair cable in telecommunications rooms. As the photo at the top of this page visually indicates, a Category 6 cable incorporating 28-AWG conductors (right) is significantly smaller in diameter than one incorporating 24-AWG conductors (left). The seminar will be hosted by Cabling Installation & Maintenance, and sponsored and presented by Panduit.
"The telecommunications room is housing more and more equipment, driving the need to maximize the space available," Cabling Installation & Maintenance said when announcing the seminar. "One option for creating more space is to shrink the size of the network cabling, while preserving network performance. Is 28-AWG copper cabling an option for your telecom room? This webcast seminar looks at the space savings that can be realized, as well as other benefits of 28-AWG cabling, and the standards trade-offs that accompany using a smaller-gauge cable." The seminar will address the use of 28-AWG Category 5e and Category 6A cable in addition to Category 6.
Cabling Installation & Maintenance added that seminar attendees will learn "how 28-AWG copper cabling products enable significant space savings within telecom rooms, why using 28-AWG cabling also eases cable-management and administration tasks, and the implications of using 28-AWG cabling, including standard-compliance hurdles and maximum channel lengths." It added that attendees could include "professionals responsible for the planning, installation, or administration of cabling systems and in particular telecommunications rooms. Parties that can benefit from this seminar's information include cabling-system end-user organizations, installers, technicians, consultants, and test technicians among others."
After its live broadcast at 1:00 p.m. EDT on Thursday, June 4, the seminar will be available for on-demand viewing for six months. Individuals who attend the seminar, live or on demand, will be eligible to receive one continuing education credit toward BICSI's professional credentials.
You can find more information on the seminar here and register for it here.