Flat data cable survives sub-zero temperatures
Cicoil's flexible flat data cable and other cable types operate at temperatures as low as -65 degrees Celsius.
Jan 6th, 2016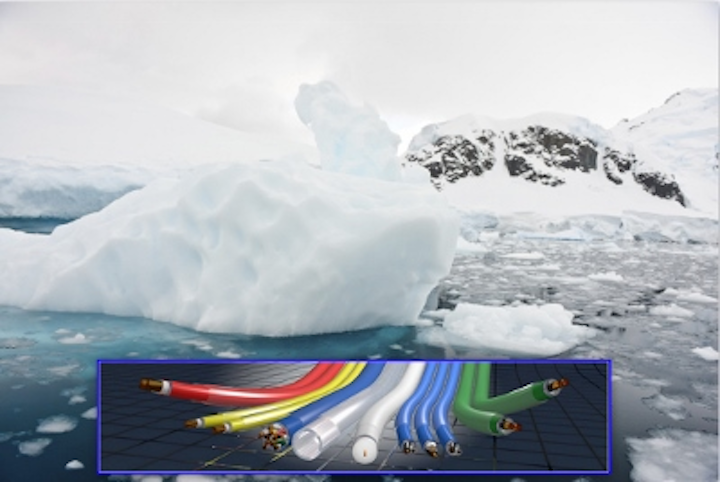 Cicoil offers flexible flat data cables that are rated for operational temperatures as low as -65 degrees Celsius (-85 degrees Fahrenheit) "to provide nonstop reliability in punishing weather, polar climates, cryogenic equipment and space applications," the company explains. It added, "Each Cicoil flat cable can incorporate a variety of components including power conductors, shielded control wires, high-speed transmission data pairs, video conductors, multi-layer shielding options, strength members and the patented StripMount fastening strip, all combined in a single condensed cable design, precisely controlling the inner component spacing, jacket thickness and the overall cable shape."
The UV-resistant cables offer an alternative to PVC, Teflon, Neoprene and Polyurethane cables, the company notes. "The deep-freeze-resistant Flexx-Sil Rubber Jacket needs no external conduit for protection, retains flexibility and will not deform, crack or wear due to long-term exposure to intense cold temperatures," Cicoil said. "The jacketing material is self-healing from small punctures and cable jacket damage can easily be repaired in the field."
In addition to its resistance to extreme cold, the cable also are unaffected by high heat (up to 260 degrees Celsius/500 degrees Fahrenheit) as well as ice, snow, vibration salt-water submersion, permafrost, physical shock, and operational stress.
Cicoil's Arctic Grade Cables are UL-recognized, CE-conforming, RoHS- and REACH-compliant, the company says. The cables exceed the outgassing requirements of ASTM E-595.