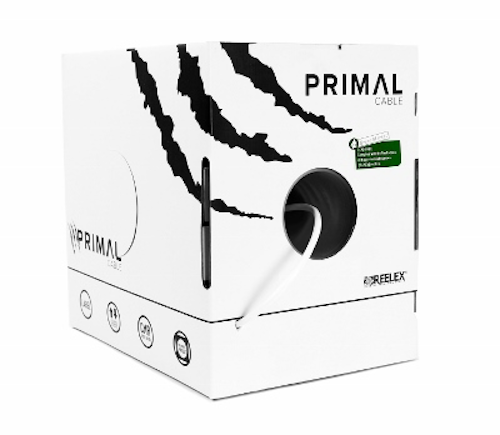 ICE Cable Systems recently announced it will debut its Primal brand of category cable as well as speaker wire, for business and residential cabling systems, at the International Systems Europe exhibition February 9-12.
"During the development of Primal, ICE Cable Systems did its homework," the company said when making the announcement. "The line consists of the most price-sensitive SKUs: Cat 5, Cat 6, and 16- and 14-gauge speaker cables. All are offered in a pull-box that incorporates reinforced handles and a water-resistant laminate similar to those found in the Big Mouth Payout Box. To keep wire pulls free of knots, kinks and tangles, the Primal box utilizes Reelex coil and payout technology."
ICE president Brian Rizzo said Primal is the most-affordable category and speaker cable on the market today that complies with safety regulations. "Primal offers many of the convenience features and safety aspects of the ICE line," he said. "In compliance with UL, ETL and NEC standards, we're using flame-tested jackets and full copper wire as opposed to non-certified compounds and copper-clad aluminum so commonly found in entry-level offerings. The benefit here is offering product at this price level while including Reelex technology and safety compliance."
While making a ceremonial debut at ISE 2016, Primal category cable and speaker cable are now available and shipping.
Below is a video of ICE's Rizzo discussing how some cable manufacturers cut corners in order to achieve low prices, in contrast to ICE's approach.