Cat 5e industrial cord sets can go in existing 600V cable trays
Belden's new DataTuff TC shielded Cat 5e cord sets have 18-AWG conductors, TPE jackets, and IEEE 1202 as well as FT4 flame ratings.
Nov 8th, 2013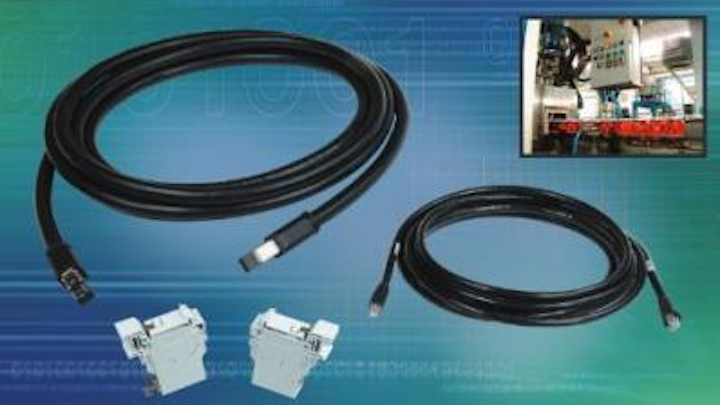 The DataTuff TC Category 5e cord sets from Belden include TC (Tray Cable)-listed industrial Ethernetcable. "These 600V TC 1277-rated Cat 5e cord sets, with RJ45 connectors, are the first to address a long-standing challenge—the ability to easily route industrial Ethernet cables in the most demanding heavy-industry environments using existing 600V cable trays," the company explains. "These cord sets reduce the cost of installation and reduce the risk of field failure, with the attendant costs of operational downtime and potential safety issues."
Contrasting these cord sets with other commercially available alternatives, Belden added, "Standard commercial cabling is not robust enough for the demanding, mission-critical environments of the industrial world. Standard industrial-grade Ethernet cable is designed to address the needs of industrial applications but is unable to be routed in cable trays. The latter has caused plant engineers to develop creative, but not always acceptable or reliable, ways of routing cable through a plant."
Belden's industrial cables product line manager Frank Koditek commented, "DataTuff TC is a breakthrough in cable technology that addresses a very real need. It can be the solution that bridges the gap between 'if only' and 'let's do it' for Ethernet deployment in a number of heavy industrial applications.
The 18-AWG conductors in the cord sets enable it to achieve the 600V TC 1277 rating required for routing through 600V cable trays. The cord sets comply with the Category 5e performance requirements established in TIA-568-C.2 and are built to the same requirements and standards of other DataTuff products, Belden says. They use Belden's bonded-pair technology.
"Targeted at both OEMs and end users, the Cat 5e 600V UL 1277 TC cable meets NEC requirements for deploying in standard cable trays," the company notes. "The TPE jackets are sunlight- and oil-resistant, have an IEEE 1201 and FT4 flame rating, and are MSHA mining approved. They have a UL 1581 -40 deg. C cold bend rating and can withstand temperatures of up to 105 deg. C. Cat 5eTC cord sets have RJ45 connectors, and are RoHS approved."