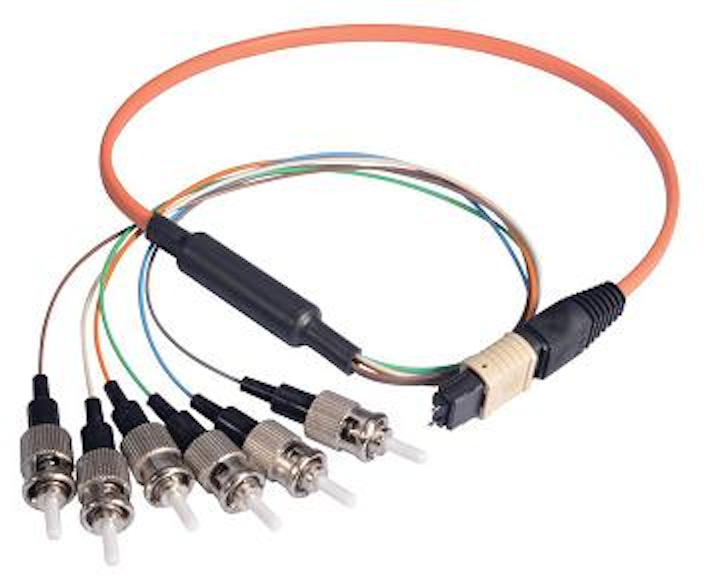 L-com has expanded its line of MPO fiber-optic cables. Previously, the company offered only 62.5/125 OM1 assemblies in female-to-female and fan-out styles, but now L-com offers 50/125 OM2, OM3, OM4 and 9/125 singlemode cables. The new styles include female-to-female, male-to-male, and fan-out options.

Multi-fiber Push-On/Pull-Off (MPO) connectors allow a single connector to terminate 6 or 12 count ribbon fiber cables, making installation simpler, easier, cheaper and smaller when compared to using 6 or more separate cables or more expensive breakout or distribution styles. MPO connectors can be plugged into MPO cassettes to separate the different fiber lines into individual SC, ST or LC connectors. L-com's MPO cables are fully compatible with US Conec's MTP brand connectors.

Each of the new stock cable assemblies comes with a test report showing that each channel passes loss inspection. Though all of the off-the-shelf versions are riser (OFNR) rated, L-com offers custom plenum (OFNP) and LSZH versions through its online cabling configurator, as well as custom lengths, connector mixes and polishes.

"We've offered a large variety of fiber-optic solutions for decades, supporting one of the fastest growing cabling standards available," comments David Gallagher, product manager at L-com. "We intend to continue to innovate in this field, offering solutions to contribute to miniaturization and space saving needs of our customers."