Firestop grommet doubles cable capacity
Up to 0.53-inch cable diameter fits into this no-caulk, no-sleeve firestopping solution.
Feb 25th, 2011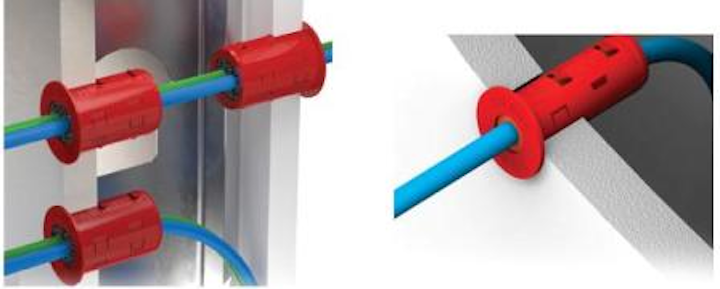 Specified Technologies Inc. (STI) recently introduced the Ready Firestop Grommet 2 (RFG2), a no-caulk, no-sleeve system for firestopping cable penetrations.
The RFG2 doubles the capacity of its predecessor, RFG1. The image at the bottom of this page shows RFG2 on the left and RFG1 on the right. RFG2 can accommodate a single cable or multiple smaller cables, with a combined maximum 0.53-inch outside diameter. Specified Technologies explains that in practical terms, that means two typical Category 6 cables, a single RG-59/18-2 Siamese cable, or 12-2 Romex. The product is UL classified for fire and smoke, Specified Technologies says.