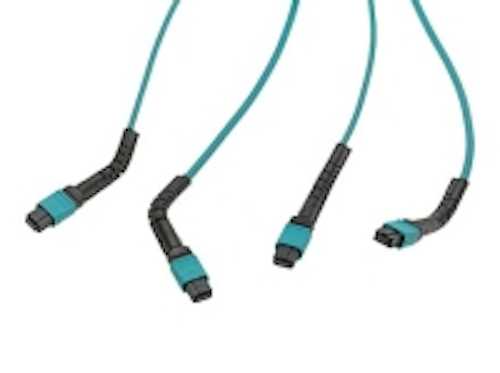 Molex has unveiled its FlexiBend MPO/MTP flexible-boot cable assemblies, which the company says are especially designed to optimize cable routing and support low-profile installations where cabinet doors or front panels might interfere with traditional, straight-style, bend limiting boots. The assemblies feature flexible bend limiting boots which allow cable exits in varying positions from straight to a 90-degree angle.
The new optical cables are intended for use in datacom, telecommunications, medical, and industrial equipment cabinets and rack-to-rack applications.
"Optical cable routing grows increasingly challenging when installing hundreds of fibers in dense optical patch panels," asserts Eve Leal, product manager at Molex. "The FlexiBend MPO/MTP flexible-boot cable assemblies help solve cable routing issues by giving installers the ability to bend and direct the exiting fiber in any direction within tight configurations like equipment cabinets and high-density racks."

See also: Four cabling reality checks for the 40G data center

Molex says the FlexiBend assemblies are designed with strain-relief boots that use a flexible and durable steel internal wire which allows an installer to position the boot in place. The "stay-in-place" boot provides strain-relief, but can easily be repositioned without disconnection in order to modify routing requirements while the cable is in service, adds the company.

Available in 12- and 24-fiber round cable options, the FlexiBend assemblies are compatible with any MPO receptacle or active QSFP, CXP and CFP modules. Singlemode and multimode cables provide options for transmission link distances using OM3, OM4, OS1 and OS2 fibers. Further, the MPO/MTP FlexiBend boot cables have been mechanically tested to GR-1435, ISSUE 2 specification to ensure product performance over 25 bends in various positions.

"Manufacturers and installers of high density hubs, router and server equipment need the right tools to effectively manage cable routing in compact spaces," concludes Leal. "Designed to be bent by hand, the round cable MPO/MTP FlexiBend boots can be positioned as needed -- 0, 45, 90 degrees -- for easier installation and maintenance of cable plant."
For more information, visit www.molex.com/link/flexibend.html.

More news: Molex tips plans for 28-Gbps QuatroScale AOCs