Identifying fiber-optic cables by color
Leviton reminds us of the telltale hues of singlemode and multimode jackets.
Aug 14th, 2014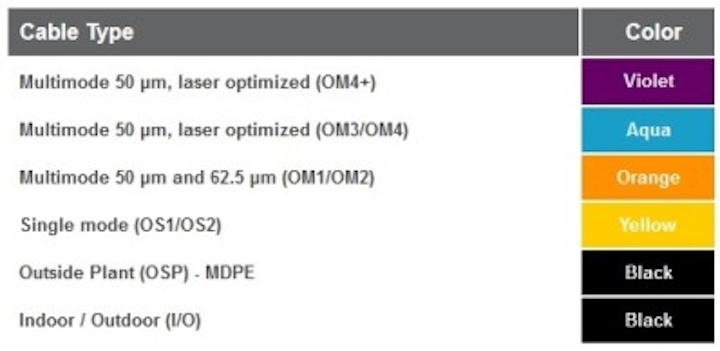 As part of its most recent "Crosstalk" newsletter, Leviton published a reminder of the commonly accepted outer-jacket colors of fiber-optic cables, and discussed this 'color-coding' convention with respect to OM4+ cables.
"Color-coding is an integral part of our industry, as it helps to identify individual fibers, cable, and connectors," the company said in the newsletter. "A fiber cable's jacket color is typically defined by the fiber type, and can differ based on mode or performance level. For example, laser-optimized multimode OM3/OM4 is aqua, making it easy to differentiate from singlemode (yellow) or OM1/OM2 (orange). Both multimode and singlemode cables designed for outdoor use will typically have a black jacket to protect the cable from damage due to solar exposure and UV light."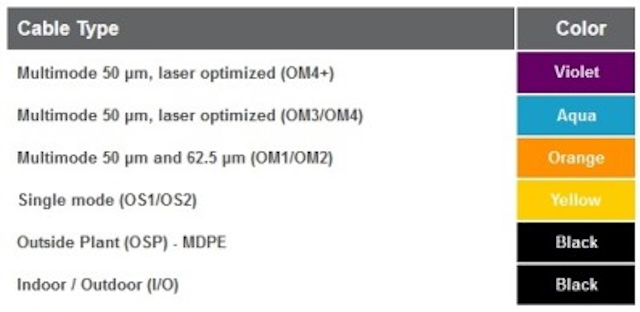 As for OM4+, the company explained, "We have color-coded our OM4+ system components violet, in order to distinguish OM4+ from aqua OM4 and OM3, or other legacy installations."
The chart included on this page is taken from the current (July/August 2014) issue of "Crosstalk." The newsletter also contains information on cabling needs for 802.11ac wireless LANs, Leviton's newly opened facility in the Chicago area, and a profile of a Leviton Certified Contractor. You can read the newsletter in its entirety here.