Corning's Thunderbolt optical cables available in Europe
The cables are now being sold in lengths of 5.5, 10, 30 and 60 meters.
Aug 27th, 2014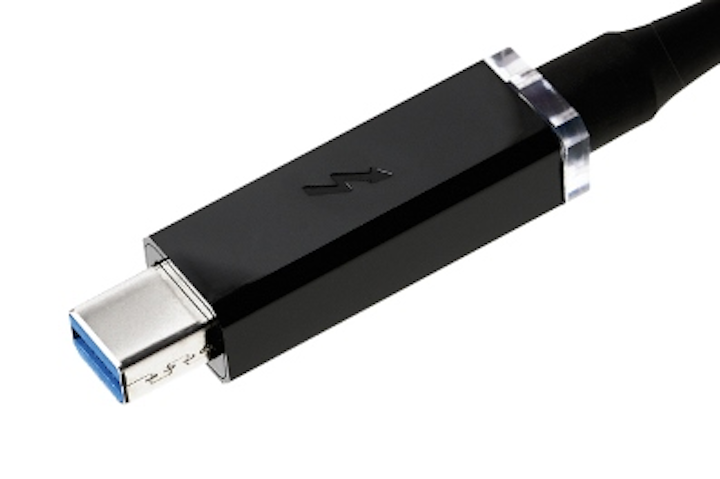 Corning Inc. recently announced that its Thunderbolt Optical Cables by Corning are available to the European market in cable lengths of 5.5, 10, 30, and 60 meters. When announcing the European availability, Corning said, "The first all-optical fiber cables for the Thunderbolt community, Optical Cables by Corning are enabled by Corning ClearCurve VSDN optical fiber. They are up to 50 percent thinner and up to 80 percent lighter than comparable copper cables—qualities that enable convenient transport. With a zero-bend-radius, they can withstand bending, squeezing, and tangling without damage or loss of function, making them ideal for routing through the harsh environment of a crowded workspace."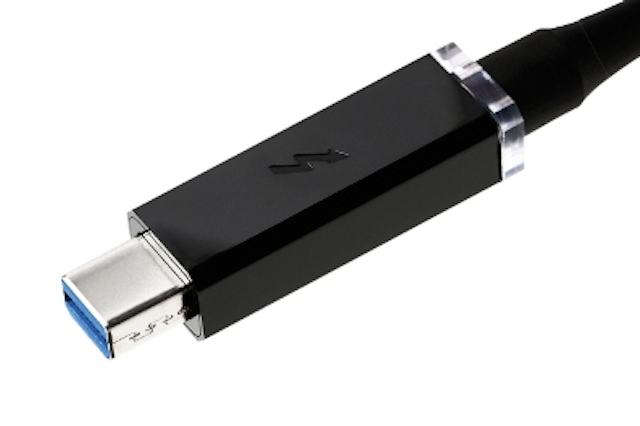 Bernhard Deutsch, vice president of consumer network connectivity solutions for Corning Optical Communications, commented, "This radically different cabling technology is ideal for professional video editors and music producers—or anyone—wanting the freedom to transfer massive amounts of data at their workstation, but with the whir of noisy peripherals in an entirely different room. Our products are designed to address real-world problems and Optical Cables by Corning give users the ability to create, move and manage data for what they need and how they work."
The company further explained that the cables have an electrically isolated noise-reducing design, which makes them ideal for connecting today's Thunderbolt-enabled devices, including AV equipment, distributed antennas, Serial Attached SCSI and storage area network storage devices, docking stations, expansion chassis, and small Ethernet workgroup networks. They can "daisy-chain" up to six Thunderbolt devices at a time, the company added, and are hot-swappable.
The company announced that in Germany, the cables are available in the Apple Store. Pricing is as follows.
10 meter: €299.95
30 meter: €659.00
60 meter: €1299.00