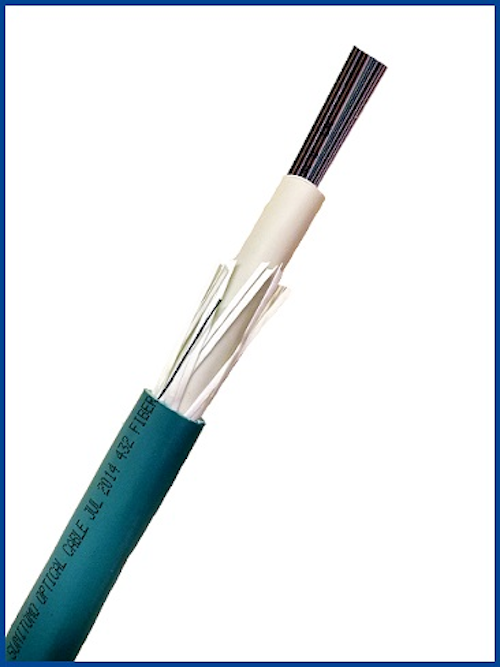 Sumitomo Electric Lightwave now offers its dry Flexible Indoor Plenum Rated Ribbon Cable with up to 432 fibers. The fiber count is the highest available, the company asserts. The company says its new 432-fiber flexible plenum rated ribbon cable meets or exceeds NFPA 262, National Electric Code OFNP, RoHS, CSA FT-6, and ICEA S-83-596 approvals and listings; the cables are available in all multimode fiber and singlemode fiber types, including bend-insensitive singlemode.

Featuring a diameter of 0.850 inches, the new fiber-optic cable aims to meet the needs of enterprise and data center networks that require a very high density option, says Sumitomo. The cable's dry central tube design offers fast, no mess splicing as well as a non-preferential bend axis, according to the company. The new product's all dielectric cable construction also eliminates the need for grounding or bonding, the company says.

The 432-fiber plenum cable also features Sumitomo's patented Easy Split and Peel technology. The technology enables the installer to peel back the ribbon quickly and easily by hand to expose the color-coded fibers, the company explains. The approach trims the time necessary to either fusion splice or terminate the fibers with MPO splice-on fiber-optic connectors.

"Sumitomo's expertise and leadership in ribbon fiber design and manufacturing has led to the development of the most advanced and reliable data center and enterprise network ribbon cables," comments Bill Charuk, senior data center product manager at Sumitomo Electric Lightwave. "We continue to strive to bring new and better solutions for our data center and enterprise network customers through continuous innovation and staying ahead of the curve of rapid technology change."