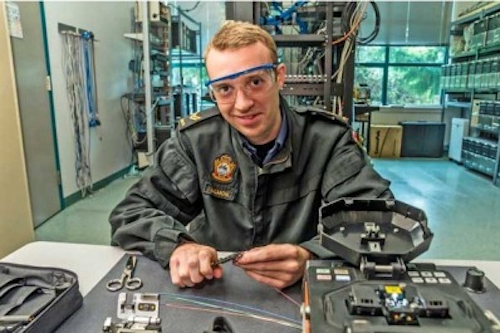 The Fiber Optic Association (FOA) recently announced it has certified its 50,000th fiber technician. Bradley Salmon (pictured, center), an electrical technician with the Royal Canadian Navy since 2010, completed the Certified Fiber Optic Technician—CFOT—training course and received his certification during the Camosun College phase of his Electrical Technician Journeyman Maintainer coursework.
"Since its founding in 1995, FOA has been following its charter to 'promote professionalism in fiber optics through education, certification and standards,'" the FOA said when announcing the milestone. "FOA programs have been accepted worldwide based on our wealth of technical information and high standards for training organizations, instructors, training and students."
Camosun College—FOA-approved school #330—offers the CFOT fiber training as part of its curriculum for the school's contract with the Canadian Department of National Defense. Camosun also includes the CFOT and CPCT certifications as part of the one-year technician program. "The idea was to give the civilian students a handful of certifications, including Microsoft, Cisco, electronics, and security, to give them an advantage against job candidates with a number of years of experience," the FOA explained. Camosun instructors Trevor Curtis (pictured, left) and Gurbinder Dhade (pictured, right) administer the training programs, and instructed Salmon during his coursework.
As of the 2012-2013 academic year, Camosun had more than 18,500 students between its Landsdowne and Interurban campuses in Greater Victoria, British Columbia. The FOA added, "Each year Camosun welcomes over 1,000 Aboriginal students from 50 nations including Metis and Inuit groups, and over 800 international students from 40 different countries."