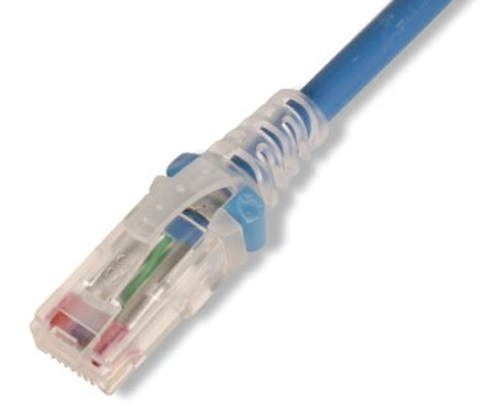 The new MC6 Category 6 unshielded twisted-pair patch cord from Siemon features a reduced-diameter cable and slimmer strain-relief boot compared to previous-generation Category 6 cords, the company says. Siemon adds that the MC6 cords "are constructed with a new 250-MHz-rated 26-AWG stranded cable that reduces cable diameter, improving cord flexibility" and maintaining performance that exceeds the specifications of TIA-568-C.2 and ISO/IEC 11801:2002.
The cord's low-profile boot enables the MC6 to be side-stackable, which is beneficial in dense patching fields like network switches and blade servers, Siemon adds. A protection feature on the cord's latch will reduce the potential for snags when cords are being removed; it also allows technicians to operate the latch from further back on the plug - another benefit in dense environments, the company points out.
Siemon adds that the MC6 cord also features robust strain relief and the ability to maintain cable-pair geometry while eliminating deformation. The cords are available with color-coded clips.