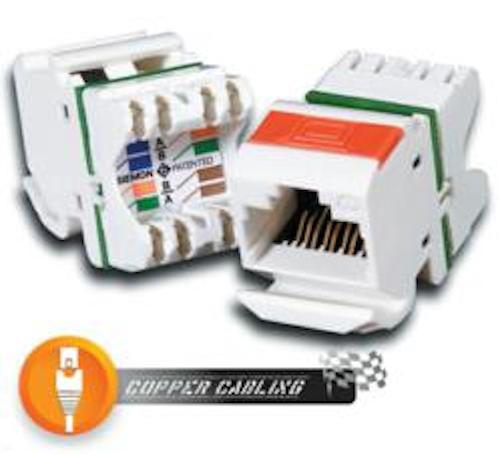 Siemon announced that it now offers new contractor pricing levels for its Category 6 UTP MAX outlets. According to the company, under the new pricing program, contractors and installers can purchase Siemon's US-made MAX 6 outlets at a cost deemed more competitive with minimally compliant commodity connectors.
Unlike many offshore-made connectors, Siemon says its MAX 6 modules provide performance far exceeding Category 6 connecting hardware performance specifications, delivering additional headroom and bandwidth to ensure that the installed cabling plant performs as expected. Cabling contractors also benefit from a number of installer-friendly features incorporated into the MAX 6 module.
In addition to its familiar punch-down termination process, the outlet's S310 termination blocks feature Siemon' Pyramid wire entry system, which helps to easily separate twisted pairs when lacing conductors, saving time in the termination process. Also, available in angled, flat and keystone mounting styles and a wide assortment of colors, the MAX 6 outlet's compact design is optimal for high-density applications, notes Siemon.
Up to six modules can be housed in a single gang faceplate, and twelve modules in double gang faceplate. The MAX jack's low profile design is also suitable for space-challenged installations, with a reduced mounting depth that helps to maintain proper cable bend radius in low-clearance work area environments, such as in modular furniture.
In addition to the new contractor pricing, Siemon now also offers a new value pack option for angled and flat MAX 6 outlets. Consisting of 250 MAX 6 jacks, the value pack kits are designed to offer contractors additional cost savings on the most commonly used connectivity options. Visit www.siemon.com/mx6 for more details.
Compare Connection & Cross Connection Devices in the Cabling Installation & Maintenance Buyer's Guide