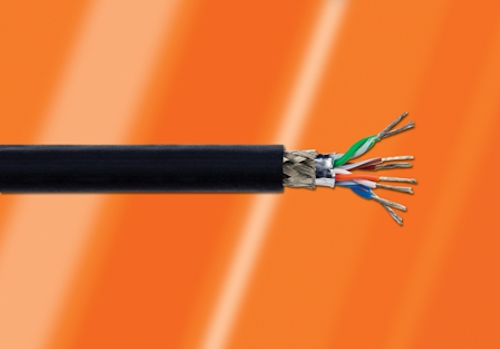 Alpha Wire's newest Xtra-Guard brand cable is a Category 5e product for Industrial Ethernet applications. It incorporates the company's Xtra-Guard 4 jacket to accommodate "customers who needed a flexible and routable Ethernet cable that could withstand extreme environments," Alpha Wire's direct of marketing Tim Howlett said.
The cable is available in a number of constructions, including unshielded, foiled, or Alpha's SupraShield foil/braid combination (shown at the bottom of this page). The SupraShield configuration uses a combination of aluminum/polyester/aluminum foil and tinned copper braid, the company says. Alpha adds that these cables are UV- and fluid-resistant, meet UL 1666 riser and CSA FT-4 flame tests, and are suitable for use in NFPA 79 applications.
It is also available with a temperature range of -50 to +125 degrees Celsius when conductors are insulated with FEP, and a range of -50 to +105 degrees Celsius when conductors are insulated with polyethylene.
Alpha Wire's Howlett added that the cable is available in lengths as short as 500 feet.