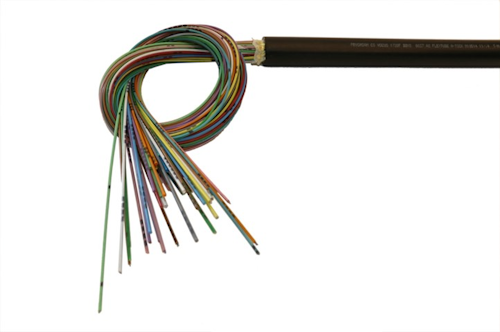 The European Investment Bank (EIB) and Prysmian Group, a world leader in the energy and telecom cable systems industry, announced that they have finalized financing of €110 million intended to support Prysmian's 2017-2020 research and development plans in Europe.
Specifically, according to a press release, the EIB financing will be put toward:
Industrial research: Research on innovative materials involving the use of nanotechnology, systems for monitoring and managing land and submarine networks, optimisation of cable design to reduce power loss and increase transmission capacity, new cables and materials for more sustainable solutions and hybrid energy and telecom cables.
Innovation and experimentation: The use of alternative materials for cable design and product project optimization.
New product development: Land and submarine cables and systems for energy transmission, HV P-Laser cables, cables for the renewable energy sector, high-performance optical fibers, cables for FTTH and FTTA applications, and connectivity and development of smart cables and systems for sensing, monitoring and management.
"Our group's growth strategy revolves around our commitment to R&D, an area where we intend to increase our investments further, also thanks to the funding from the EIB," explains Prysmian Group CEO Valerio Battista. "In particular, cable technology is proving that it can contribute decisively to the challenge of digitalization and the development of more efficient and environmentally sustainable power grids. Innovative optical fibers, cables with a reduced environmental impact and higher capacity and voltage rating, and technologies for monitoring network conditions are just a few of the areas on which we are focusing."
The financing represents approximately 50% of the company's investments planned in Europe during the period concerned. Overall, at the global level, Prysmian Group planned to allocate a total of approximately €300 million to research and development over the four-year period. This financing follows that provided by the EIB to the Group in 2013, also in support of R&D in Europe, a sign of the trust and excellent credit profile that the company enjoys with the bank.
"The development of electrical and digital networks is one of the pillars of the EIB's financing program, as faster, more efficient interconnections support economic recovery and contribute to improving competitiveness and reducing social disparities. We at the EIB are very satisfied to be supporting Prysmian's investment plans also because they concern R&D laboratories located in six different European countries," comments Dario Scannapieco, vice president of the EIB.
The company says the EIB financing is specifically intended to support projects to be developed at its R&D centres in six European countries: France, Great Britain, the Netherlands, Spain, Germany and Italy. A significant share of the resources is intended for Italy, which is home to Prysmian Group's headquarters, R&D offices and several plants that are centers of excellence in manufacturing optical fibers and submarine cables and systems for energy transmission. At the global level, Prysmian Group has 17 R&D centers located in Europe, North and South America and Asia, with a team of over 700 professional researchers, technicians and operators, and an extensive portfolio of more than 4,600 patents.
Noteworthy among the most recent innovations developed by Prysmian Group are: the company's new Flextube fiber-optic cable, which it says has set a world record for fiber density; the P-Laser 600kV cable, billed as the world's first fully recyclable high-voltage cable; and the company's 700kV submarine cable with MI insulation that it says has set the world voltage record. For more information, visit: https://www.prysmiangroup.com.
Search the Cabling Installation & Maintenance Buyer's Guide for companies, new products, press releases, and videos: