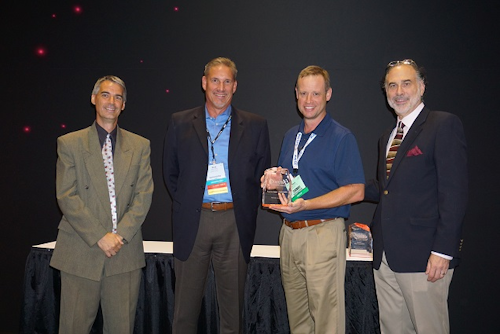 Brad Johnson (second from L), president of Superior Essex, and Matt Laherty (second from R), CEO of Platformatics, Inc., receive the 2017 Cabling Innovators award from Cabling Installation & Maintenance chief editor Patrick McLaughlin (L) and publisher Alan Bergstein (R).
At the 2017 BICSI Fall Conference (Sep. 24-28) in Las Vegas, Superior Essex, a leading manufacturer and supplier of communications cabling products, announced that its PowerWise 1 Gigabit 4-Pair Power-over-Ethernet (4PPoE) cable was recognized by the judges of the annual Cabling Installation & Maintenance Innovators Awards program, for the product's role in the company's West Baden Spring Hotel relighting project.
This year in the judging, Superior Essex received a Gold-level award for its PowerWise 1G 4PPoE cable and its role in the West Baden Springs Hotel relighting project. The West Baden Springs Hotel is one of America's oldest resort hotels, with a history that stretches back more than a century. Seeking to enhance operational and energy efficiencies and add to its already unique guest experience, West Baden Springs Hotel sought out Platformatics and Superior Essex to retrofit the atrium with a next-generation intelligent lighting solution.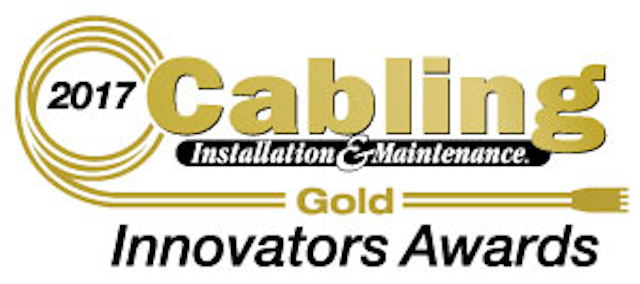 The new system provided by Superior Essex and Platformatics includes over 500 tunable, IP-ready lights that are interconnected over a single local area network (LAN) by more than 30,000 feet of Superior Essex PowerWise 1G 4PPoE cabling. This new solution provided the hotel significant improvements to its energy efficiency, user experience, occupant health, safety and productivity. It has also established a foundation for future converged network applications with features such as data gathering and analytics that will continue to add value as the hotel expands its in-building network.
"We are honored to be recognized by CI&M as a Gold-level Innovator for our work on the West Baden Springs Hotel project," commented Will Bryan, vice president of technology and market development for Superior Essex. "The West Baden connected lighting solution for is a great example of how our innovative cable, PoE lighting technology and architecture can be blended together to provide a truly unique and cost-effective user experience."
Company and product entrants to the Cabling Installation & Maintenance Innovators Awards program were judged based on key criteria including: innovation; value to the user; sustainability; meeting a defined need; collaboration; and impact on the industy.
"The judging panel consisted of cabling and communications system specifiers, designers, integrators and managers with vast professional experience," said Alan Bergstein, publisher of Cabling Installation & Maintenance. "This prestigious program allows Cabling Installation & Maintenance to celebrate and recognize the most innovative products and services in the structured cabling industry. Our 2017 Honorees are an outstanding example of companies who are making an impact in the industry."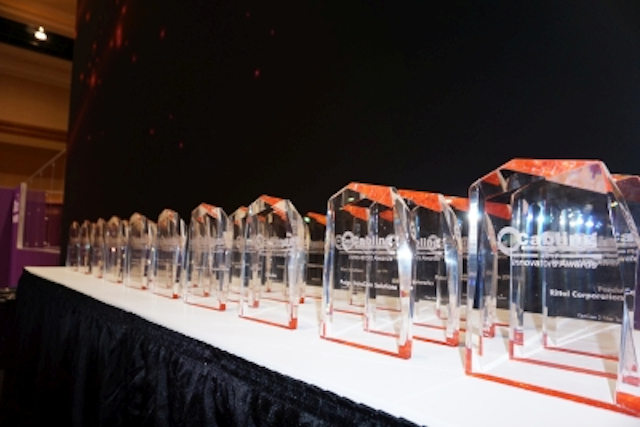 A total of 45 awards, in Silver, Gold and Platinum levels, were distributed to honorees in the 2017 Cabling Innovators Awards program. The program culminated with a ceremony at the BICSI Fall Conference on September 25.
The 2017 Cabling Installation & Maintenance Innovators Awards Honorees are featured in the November Issue of Cabling Installation & Maintenance magazine as well as on http://www.cablinginstall.com.
Search the Cabling Installation & Maintenance Buyer's Guide for companies, new products, press releases, and videos: