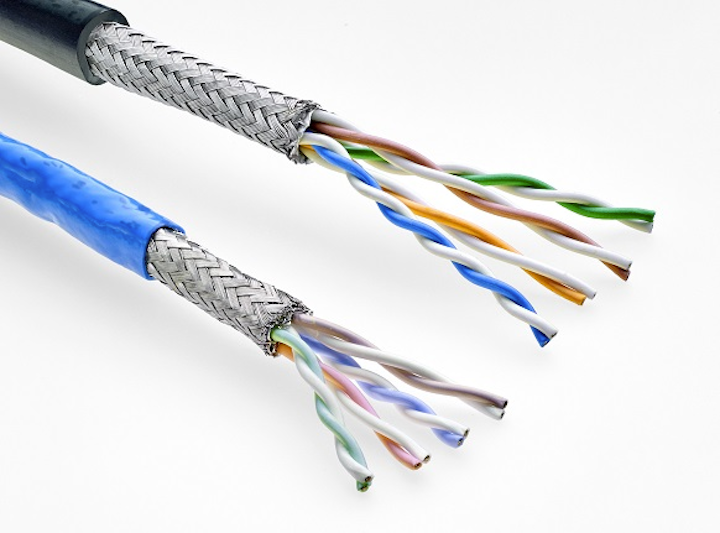 TE Connectivity (TE), a specialist in connectivity and sensors, recently introduced its Raychem Cat 5e cable, which offers high-performance Ethernet connectivity at speeds up to 1-Gb/s in harsh military, marine and aerospace environments. Combined with TE's expansive line of connectivity products, the Cat 5e cable can be part of a customizable, end-to-end solution from TE.
The new Cat 5e cable makes use of high temperature fluoropolymers that are designed to perform under extreme temperature fluctuations from -65°C to +200°C. Designed in accordance with ANSI/TIA-568-C.2, the cable is both lightweight and easy to terminate, attests the manufacturer. TE's waterblock variation uses super absorbent tapes and yarns that further help reduce weight, increase flexibility and lower installation costs when compared to silicon-filled waterblocks.
TE's variety of in-house jacket materials help give customers the flexibility to design the solution that's right for their application. "Whether it's a marine environment that requires zero halogen materials or small, tight spaces that call for flexible materials, TE's diverse portfolio of materials provide customers the ability to design Cat 5e cables that meet their needs," adds a company statement.
"The ability to support 1 Gb/s speeds while maintaining data integrity and quality is critical for high data rate communications in harsh environments," says Lynden Bajus, specialty cable product manager for TE's Aerospace, Defense and Marine division. "We believe the Raychem Cat 5e cable is an important complement to our expansive line of high-speed connectors, contacts, backshells and terminals."
TE's Raychem Cat 5e cables can be used in a variety of specific applications, including those for shipboard, satellite, missiles C4ISR, weapons systems, avionics, soldier systems and IFE (In Flight Entertainment) systems. For more information on the Raychem Cat 5e cable, visit the product page or contact the TE Connectivity Product Information Center at 1-800-522-6752.