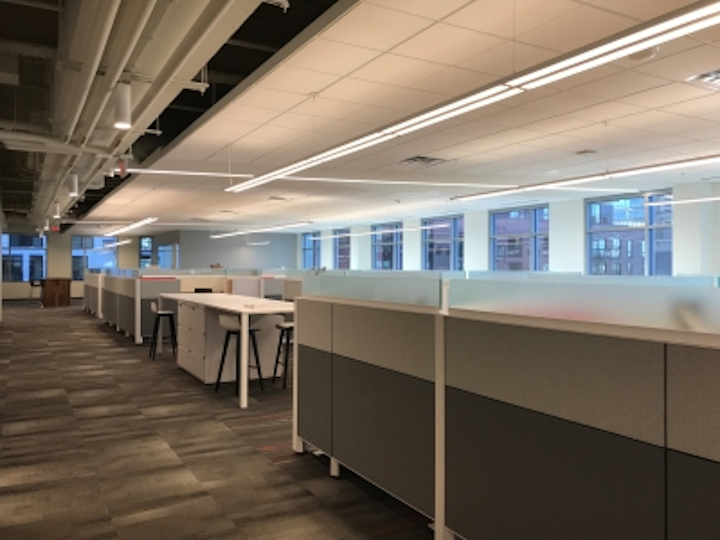 Kraus-Anderson Construction Company (KA), a 120-year-old commercial general contractor and construction manager, recently reaped the benefits of a passive optical LAN when it constructed a new 100,000-square-foot headquarters facility in Minneapolis, MN. The company said a main objective of its headquarters construction was "to create a state-of-the-art campus that enables a modern collaborative work environment, and above all, help attract, retain, and develop the best employee talent possible."
The facility's network had to achieve space savings, be strictly secure, and also be "something special," according to K-A. For those tasks, it enlisted ECSI Systems Integrators, an integrated technology solutions provider. K-A says it "knew that meeting these forward-looking workplace criteria would be difficult," but pointed out that ECSI already had an ideal, modern fiber-based local area network (LAN) installed at its own corporate headquarters. That solution is the Tellabs Optical LAN (OLAN). Tellabs is a member of the Association for Passive Optical LAN.*
According to Tellabs, having its OLAN deployed on K-A's headquarters achieves space savings in three critical locations: the data center, wall and ceiling pathways, and telecom rooms.
Tellabs explains, "In the data center, the switching equipment that would have monopolized three, 7-foot telecom racks, with OLAN only occupies three-quarters of one telecom rack of space. And the cabling in the data center might normally have been multiple 8-inch bundles of Category 6 copper—reduced to less than 1 inch of singlemode fiber … This is important because Kraus-Anderson did not have a traditional-sized data center room, and the smaller OLAN equipment helped shrink the room size by two thirds."
Furthermore, risers and horizontal pathways benefit from the Tellabs OLAN because it is a "point-to-multipoint architecture where one fiber cable can feed 128 Gigabit Ethernet ports. In a traditional point-to-point LAN architecture, that would have meant a very large bundle of 128 copper cables," according to Tellabs. K-A's vice president of information technology, Mike Benz, commented, "Our building has open ceilings, and it's very nice not to have to see the big blue bundles of copper cable running through all these open ceilings. The optical LAN only shows a few fiber cables."
As for telecom rooms, those spaces were eliminated altogether. Tellabs notes, "Not only did the removal of telecom rooms save K-A space, it also saved them money and energy, since dedicated mini air handlers were not needed." ECSI designed and installed ceiling enclosures that housed optical splitters, optical network terminals, and powering hardware. "These lockable drop-down consolidation boxes were positioned in common areas for secure easy access, but truly they house unmanaged equipment that requires little to no human touches after installation," Tellabs added.
The company also pointed to fiber-optic cabling's inherent security over copper-based cabling systems as an additional benefit for K-A. Benz noted, "It is my experience that fiber cabling is more secure than copper and it is reassuring that the optical LAN design promotes the use of fiber throughout our building."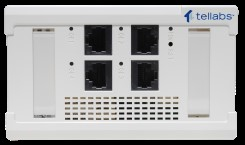 Tellabs concluded, "What is special about this infrastructure is that it stands ready to support 10G and 40G speeds in the future with no business-disrupting rip-and-replace upgrade. Unlike copper cabling, fiber cabling has no known capacity limitations and has proven capable of speeds in the petabyte range … Tellabs' OLAN also takes into consideration future impacts for system wavelengths, powering and space to eliminate any potential conflicts with future 10G or 40G speeds. That means today's singlemode fiber cabling, passive optical splitters and fiber management infrastructure can support future generations of 10G XGS-PON and 40G NG-PON."
*Case study disclaimer: The information published here was provided by the Association for Passive Optical LAN (APOLAN). The APOLAN provides third-party content for educational and general informational purposes only as a service to its members. The information and views presented in the third-party content are solely those of the respective authors, and do not represent the positions or views of APOLAN.