Prysmian completes acquisition of General Cable
General Cable now becomes a privately held company.
Jun 6th, 2018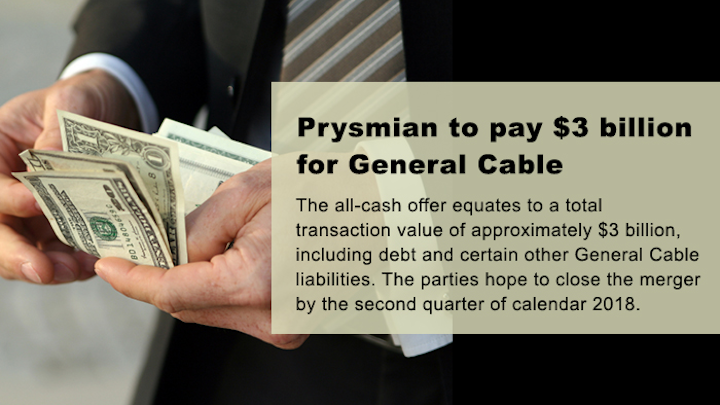 On June 6, Prysmian Group(BIT: PRY) and General Cable Corporation(NYSE: BGC)announced that Prysmian has completed its acquisition of General Cable. As stated by a press release, "Pursuant to the terms of the merger agreement entered into among the parties on December 3, 2017, Prysmian has acquired all the outstanding shares of General Cable common stock for $30.00 per share in cash. With the completion of the transaction, General Cable has become a privately held company, and therefore its shares will no longer be listed on the NYSE or any other public market."
In the following webinar, published on Dec. 8, 2017, Philip Radbourne, Director of Wire & Cable Research at Integer Research, discusses the news that Prysmian has bought out General Cable. In webinar, Radbourne answers the following questions: Why has Prysmian taken over General Cable? Where do Prysmian and General Cable make cable? What do these exisiting factories make? What will their future footprint and market shares look like? What are the main potential synergies for Prysmian?