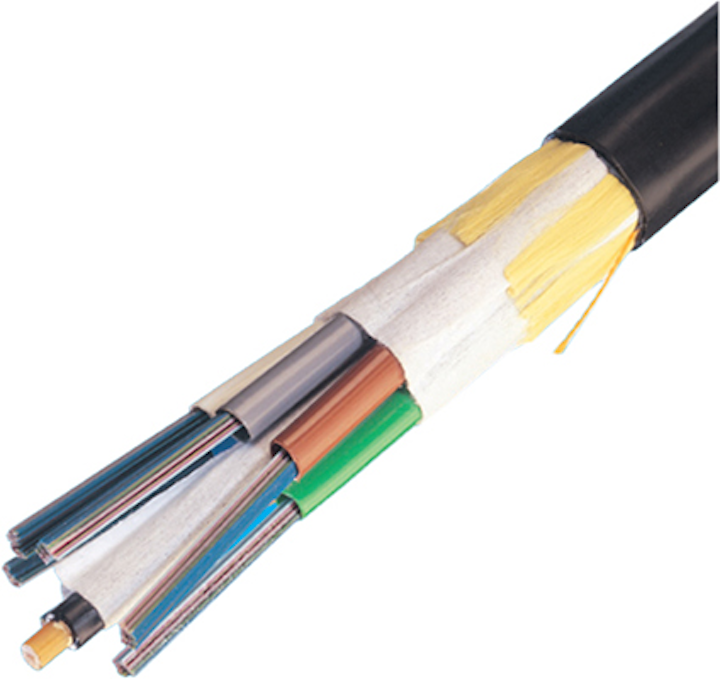 OFS is using the 2018 Fiber Connect Conference and Expo (June 4-8) this week in Nashville, TN to launch its expanded-fiber-count AccuTube+ Rollable Ribbon (RR) fiber-optic cable family. Additions to the product line now include cables with 432, 576, and 864 fibers featuring the company's rollable ribbon technology in a ribbon-in-loose-tube cable design. This expanded 100% gel-free cable line will provide single jacket/all-dielectric, as well as light armor constructions, said OFS.
According to the company, the development of rollable ribbon fiber-optic cables in outside plant (OSP) cabling technology is significant, offering users time and cost savings leveraging mass fusion splicing. In each rollable ribbon, 12 optical fibers are partially connected intermittently to each other at predetermined points. These ribbons can be rolled into a flexible, tight bundle, which offers enhanced fiber routing and handling in closure preparation, and doubles the cable's fiber density in a given duct size compared to typical flat ribbon cable designs.
With accessible fiber ribbons, OFS asserts that the original AccuTube Ribbon cable is field proven in North America, and features fiber protection and straight-forward installation. This cable design demonstrates coiling and handling that is advanced in comparison to traditional high-fiber-count cable approaches, the company adds. OFS notes that the design also has completely gel-free buffer tubes in a stranded loose tube construction.
The AccuTube+ Rollable Ribbon's fiber-optic cables are available with 1728 fibers in single jacket and light armor, and 3456 fibers in a single jacket construction. All cables have met or exceeded Telcordia GR-20 Issue 4 requirements, says OFS. The cable has a listed 1000 lb. tensile rating and durable loose tube construction for improved efficiency in dense metro and harsh environments.