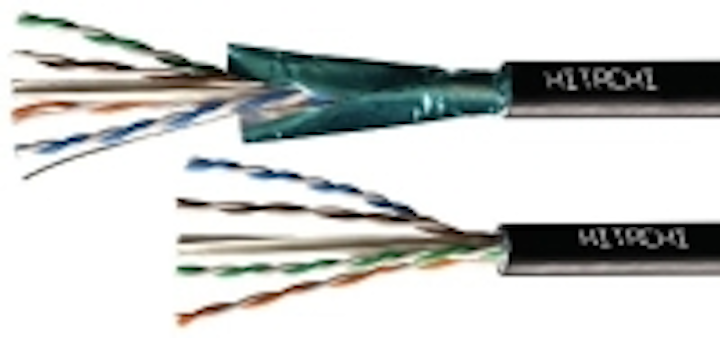 Hitachi Cable America recently introduced the DryBit Category 6 cable, which is plenum-rated and can withstand the harsh conditions of a wet environment without suffering degraded electrical performance. "DryBit is verified by Underwriters Laboratories for long-term water submersion," Hitachi Cable America explains, adding that the cable "also carries a plenum (CMP) rating. This CMP rating makes DryBit one of the most versatile cables available by simplifying installation and eliminating the costs associated with transition points."
DryBit is available in UTP and F/UTP constructions and is guaranteed to support all applications intended for Category 6 cable, the company adds.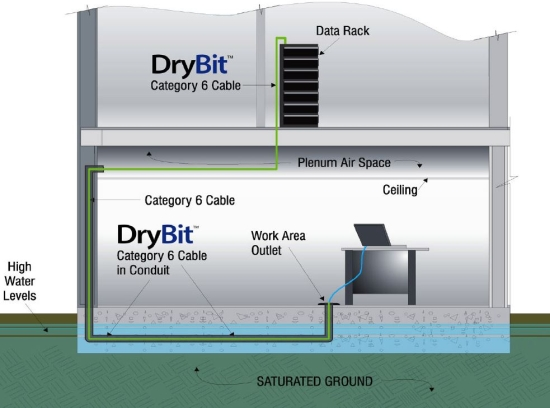 Describing the environments in which DryBit can be used and detailing the cable's value, Hitachi Cable America says, "Conduit that originates indoors but passes through or under a concrete slab is often subject to water infiltration. National Electrical Code 2017 Edition, Article 100 and the BICSI Telecommunications Distribution Methods Manual (TDMM) define these environments as wet locations because the slab and the associated conduit are subject to saturation by water. Standard plenum- or riser-rated cables can't be used in these situations since water will have a catastrophic effect on both their electrical performance and physical properties. The typical solution has been to use outdoor cable in the conduit and then transition to the appropriately rated cable type once indoors."
DryBit includes a dual-layer jacket construction for long-term immersion in wet environments, such as below-grade conduit. The trademarked DryBit Barrier "ensures maximum performance," according to Hitachi Cable America. The cable has a dry, no-gel construction, which the manufacturer characterizes as being contractor-friendly.
The video below describes and demonstrates DryBit Category 6 cable and its applications.