The ISO/IEC selected single-pair connector interfaces for commercial-building and industrial-plant environments, opening the door to intelligent connectivity in t
hese spaces.
In a round of voting that concluded in August 2018, the standard-development committee ISO/IEC JTC 1/SC 25 Interconnection of Information Technology Equipment, selected two single-pair connector designs as standard interfaces. Committee members chose one design, from CommScope, for use in MICE1 environments and the other design, from Harting, for MICE2/MICE3environments.
MICE is an acronym for mechanical, ingress, climatic, and electromagnetic. The higher the number, the more severe the environment. In practical application, an example of a MICE1 (M1I1C1E1) environment is a commercial officespace.
In materials that were presented to ISO/IEC JTC 1/SC 25 when multiple interfaces were being considered, CommScope described its LC-style connector as one that "allows many versions in a rich innovation platform." It presented renderings of both shielded and unshielded versions of the single-pairconnector.
CommScope further stated that the connector's "low part count and complexity will enable easy economic transition from 1-pair connectors currently in use (screw terminals) and lead to widespread adoption and growth." Additionally, according to the company, "Field installation with simple tools will enable installation in ceiling spaces and other difficult areas … contact wiping surfaces and resting surface concept similar to RJ45 will ensure reliable and robustperformance."
In its presentation to SC 25, Harting explained its connector "is designed especially for MICE3 applications." It is rated up to IP65/67, the company said, adding that the connector features "one MDI [medium dependent interface] design for PCB sockets, plug versions with IDC or crimp termination, and sockets for cabling platform for a wide variety of products [including] MDI sockets, plugs, bulkheads, adapters, cords."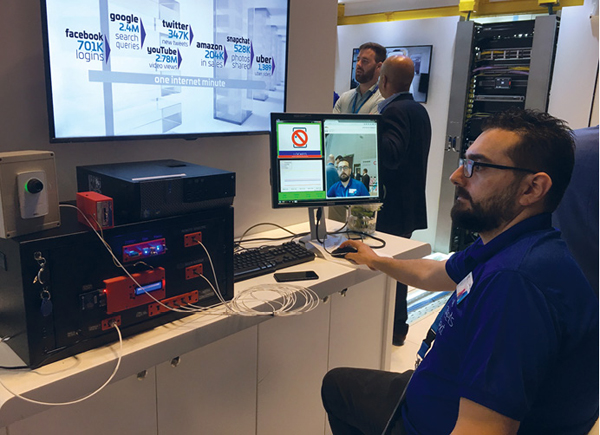 At the GITEX exhibition last fall, CommScope demonstrated this single-pair Ethernet infrastructure supporting a network of eight sensor/actuator-based devices.
Harting's connector uses already-existing M8 and M12 housings, which Harting says enable simple implementation in devices and other products. The connector provides transmission performance up to 600 MHz in a fully shielded design, and supports Power over Data Lines as well as remote powering for 1-kilometer applications, according to IEEE 802.3cg.
That standard—IEEE 802.3cg—will define 10-Mbit/sec single-pair Ethernet. Based on the ISO/IEC voting and selection of these two connector interfaces, the IEEE modified text within the next 802.3cg draft it produced. The current draft includes the following statement: "Connectors meeting the requirement of IEC 63171-a (CD) may be used as the mechanical interface to the balanced cabling for M1I1C1E1 environments. The plug connector is used on the balanced cabling and the MDI connector on thePHY."
Using the word "may" allows PHY manufacturers to use other connectors if they desire to do so, but the inclusion of this wording points PHY manufacturers to the IEC's choice of the LC-style connector for single-pairEthernet.
Exploring applications
On January 22, as part of the BICSI Winter Conference, CommScope senior engineer principal Masood Shariff delivered a presentation titled "Generic Balanced Single Pair Cabling Infrastructure for Powering and Communication With IoT and IBS Devices." The wide-ranging presentation went into detail on several aspects of, and applications for, single-pair cabling. Shariff represented CommScope and advocated for its connector design in the ISO/IEC decision-makingprocess.
We at Cabling Installation & Maintenance interviewed Shariff prior to that presentation; during the interview we discussed the LC-style connector's standardization and the promising outlook for single-pair cabling as an enabling technology for intelligent buildings and the Internet ofThings.
"Interfaces are a very important aspect of standardization," Shariff commented. Establishing a standardized interface, he explained, relieves concern about having to employ adapter cords in end-to-end cablingsystems.
The ISO/IEC's establishment of a standardized interface was a result of a request from the IEEE, he explained. The IEEE was seeking a standardized connector interface for the MDI. "The MDI connector is for the [networking] equipment," Shariff said. "The cabling connector interface is for the outlet," such as at the work area. "So there is a direct relationship between the two." As mentioned previously, CommScope's presentation to the ISO/IEC working group described its LC-style connector's ease of use in spaces like ceilingcavities.
He added that CommScope wants the LC-style connector to be available from multiple sources, pointing out that another cabling manufacturer already has created its own version of the interface. "We sent the two versions out to have the mated interface tested. The confirmation came back that the mated connector from the different manufacturers works just as well as the mated connection from the same manufacturer." Shariff said when he presented these test results to an IEEE meeting in September, they were well-received.
"This will be an ecosystem that has to be served by multiple vendors," he stated. "We are in the process of establishing partnerships" to build such anecosystem.
"The real driver is that we want to enable the IoT and intelligent buildings," Shariffcontinued.
IoT capabilities
Speaking somewhat philosophically about the IoT and its potential in commercial buildings, Shariff noted, "As humans we have only 5 senses, and we must find our way around with these 5 senses. At times it would be helpful if we had 10more."
Of course, humans' biology is the limiting factor; we'll never have more than those five senses. But when we're talking about a building space, the situation changes completely. These spaces can be designed with sensors to equip them with significant awareness of their surroundings and status. Automotive technology has led this trend. Shariff noted, "We're talking about 200 sensors per car. Everyone is paying for it, because the cost of an automobile has gone up. The magic is in obtaining functionality, affordably." That's why economic viability is an absolute must for single-pair connectivity, headded.
Shariff then detailed practical sensor/IoT-based applications in multiple environments. "In data centers, climate control will be regulated by sensors. Building spaces will rely on sensors for efficiency and safety, comfort and convenience." These sensor networks will require more connectivity than we're used to seeing in a typical commercial office environment. "A working space or room will have about 10 or more sensors. We're used to seeing 2 outlets per workspace or room. That will now be 10 or close to 10 sensors per workspace or room. There will be 5 or 6 times the number of cables in a workspace, compared to what we see in an office buildingtoday.
"Deploying that amount of connectivity in a room will be a challenge. It gets the workers in our industry motivated. 'How can we do it right?' We need connectivity that is smaller and easier to work with. And the craft required to install them can't be an impossible technical challenge. We are determining how to make this viable for the installers' expertise."
Single-pair connectors are not yet commercially available, but Shariff encouragingly noted, "Prototyping is happening in rapid steps." Now the direction will be determined by standards development and market acceptance. Once those factors come into focus, "We can fine tune the cable design to match exactly what standards say and what the market needs. Economic viability is likely to be a majordriver."
The technological developments needed to develop single-pair cable and connectivity are not particularly burdensome, he said. "We need to support 10 megabits per second, not 10 gigabits," he noted. "There's no crosstalk to overcome, so there's no need for cancellation. Transceivers can come down incost."
Footprint is a favorable characteristic also. "The cable will be half the size, or less, of a four-pair," Shariff emphasized. "And for connectivity, currently the maximum number of ports you can fit in a 1U patch panel is 48. That's high density. We could triple that [with single pair], putting up to 144 ports in a 1U, 19-inch patchpanel."
CommScope demonstrated a single-pair cabling system supporting a sensor network at the 2018 GITEX technology exhibition. CommScope connected eight sensor/actuator devices, including a smoke detector, motion detector, and surveillance camera, over a single-pair infrastructure. A single screen displays the data captured from the eightdevices.
When early adopters deploy these types of capabilities in their own building spaces, single-pair cabling infrastructure will be a crucial element.u
Patrick McLaughlin is our chief editor.