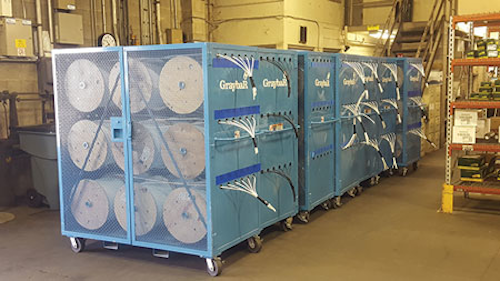 SmartCart and SmartReel from Graybar
The SmartCart from Graybar enables installers to "securely store and easily dispense up to 18 reels while reducing jobsite clutter and improving productivity," the company said. The SmartCart can be moved by one person, Graybar added. It holds up to 18 Category 6A cable reels per cart, has four lockable swivel casters and adjustable/removable shelving for pop-box applications. Each reel spins independently of the others. There is no setup time, Graybar emphasizes, because the company prepares the cart for the jobsite.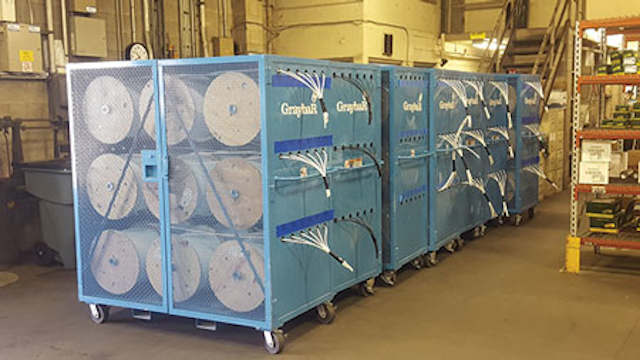 Separately, Graybar offers the SmartReel, designed for large cable spools weighing a ton or more. "Maneuvering reels weighing a ton or more throughout a jobsite requires a lot of manpower, equipment, effort and skill," Graybar stated. "With so many resources tied up, how is this impacting your total cost of install?" SmartReel, it noted, is "a portable payout system that makes it simple and safe for one person to move reels up to 5,000 pounds when and where you need them."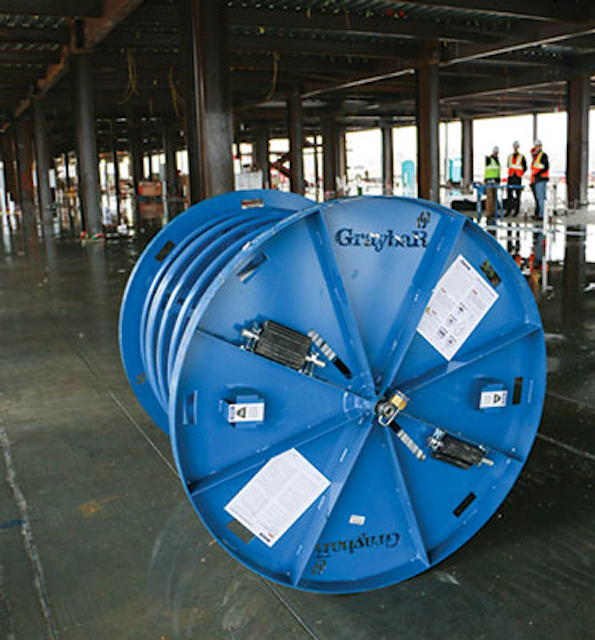 SmartReel's independently rotating wheels make moving easy, the company said, and the simple setup and maneuverability save time. No disposal is required because Graybar picks up the SmartReel from the jobsite. It fits through a 36-inch doorway opening, and maintains the ability to chock wheels and convert to a cable payout system directly at the feed point. It works with any manufacturer's cable, Graybar added.
Graybar, www.graybar.co