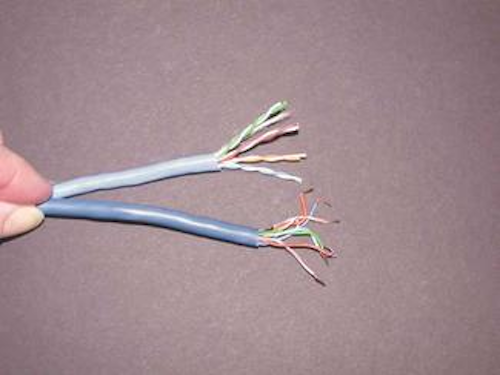 You can be held liable if bogus products don't measure up to end user's requirements.
The floodgates are open for counterfeit cabling products. And as overseas manufacturers move the bogus cable through distributors in North America and Canada, contractors can be held liable if they install products that aren't up to performance requirements.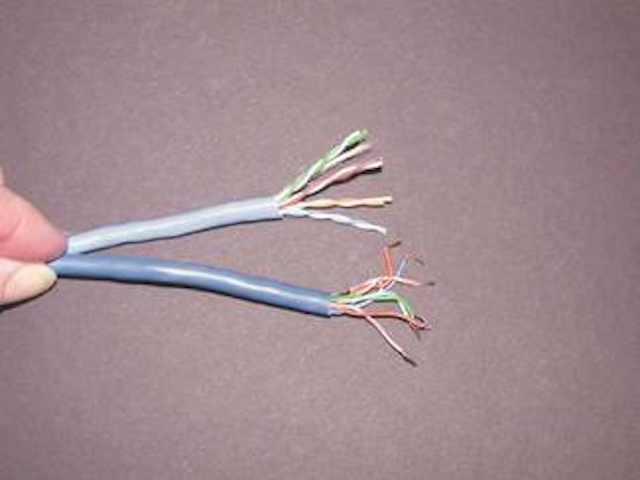 Can you tell the difference? The top cable is a legitimate Category 5e cable manufactured by Genesis Cable Systems. The bottom cable is a counterfeit Category 5e cable that was purchased by a contractor.
Click here to enlarge image
Here are some steps to take to make sure the cable you are installing is legitimate:
Make sure you are buying cable from a legitimate distribution house;
Be certain you are getting what you paid for by comparing it to products you've previously purchased;
Closely observe the quality of the cable, the box it came in, or even the print quality of its labeling; and,
Ask for a certificate of compliance or proof of where the cable or component came from.
This is the advice of experts who are dealing with the growing problem of counterfeit cabling products. Industry watchers say the problem has begun to pick up speed during the past six months, and while they say they are working to educate manufacturers and distributors, the contractor remains an important piece of the puzzle that has yet to be adequately informed. "We need to get to the contractor level," says Brian Monks, director of Anti-Counterfeiting Operations for Underwriters Laboratories Inc. (www.ul.com), based in Melville, NY.
The problem of counterfeit cabling products won't go away soon. Counterfeiting worldwide remains a $500 billion dollar problem, and U.S. customs officials seize roughly $1 million worth of counterfeit products each month. Much of the bogus cable comes from overseas. While China isn't the only country where the fake cable is being manufactured, the country is increasingly becoming a high growth market for counterfeit cable. The poor U.S. economy of the past few years has only added fuel to the problem as unscrupulous manufacturers try to take advantage of contractors and end users who are trying to save money.
"Everyone is looking to save money, cutting pennies, looking to save," says Dave Kiddoo, global business manager for wire and cable products at AlphaGary Corp. (www.alphagary.com), based in Leominster, MA. "A distributor who is able to get cables cheaper from one source versus another may take them on blind faith, even though they may not meet performance."
The problem isn't simply a threat to safety. Jeff Quinn, sales manager for DATCOM Inc. (www.datcominc.com), a distributor of premise wiring equipment based in Toronto, says the flood of counterfeit goods into the market has a damaging economic impact as well. It's an impact that can be felt from the distributor to the contractor. "These cables are coming in and driving the price down," says Quinn.
Counterfeit manufacturers will literally make a low-quality product, stamp the name of a legitimate American manufacturer on its casing, put the cables in a box, and ship it to the United States—selling it at a fraction of the cost. The problem is bad enough for manufacturers. "When it comes to the U.S., our manufacturers can't compete against them," says Jim Anastasi, technical manager of the cable products testing group, Intertek ETL SEMKO (www.intertek.com), based in Foxborough, MA.
But there are other ramifications. Contractors who purchase these cables and install them can be the ones to take the blame when the installed products fail to work.
When things don't add up
Counterfeit cables are too easily falling into the hands of contractors like George Maroukian, an installer for Kevo Telecom Inc. (www.kevotelecom.com), based in Markham, Canada. Recently, Maroukian visited a distributor near Toronto and found that he could buy boxes of Category 5e cable for $30 to $40 less than he normally pays for it. Maroukian purchased five boxes of the cable, and installed some of it in his next project.
Maroukian says the cable looked like the normal Category 5e cable he always bought. The coloring was the same, and the cables carried the same markings. But he noticed something strange about the cable not long after he opened up the first box.
"I noticed the way the cable was pulling out of the box, that it was twisty and coilly," says Maroukian. "But I figured, 'What the heck. No one would see it when it's complete as long as it works after I did the work.'"
But the cable didn't work. Maroukian noticed the cable failed to meet some of the Cat 5e specs when he later tested it. He knew there was nothing wrong with the installation. The cable just wasn't working. Maroukian had the cable tested. It proved to be low-quality, counterfeit cable.
This wouldn't be the last time that Maroukian purchased counterfeit cable. But he was growing wise to the problem. One day, Maroukian noticed that the coloring of the cable in a box he had purchased did not match up with the coloring of the cable he had previously bought. Sure enough, the cable was counterfeit.
Monks says it's surprising how color or brand name images and icons and logos can help a contractor detect a counterfeit cable. This has become one of the clues that you should look for as you try to ferret out counterfeit products. If the image looks slightly off from what you are used to seeing, you should be suspicious.
Monks adds that you should be hyper-aware as you prepare to buy cable you've worked with previously. Does the cable feel the same? Does the quality of the box that it came from match that of the previously purchased cable? Does the ink on the labeling look the same as before?
"For counterfeiters, the cheaper they make it, the more they can make," says Monks. "They skimp on other things."
Maroukian says he has taken this lesson to heart. He now looks carefully at the brand name logos of any cable that he purchases. He believes there are many contractors out there who are not aware of the extent to which counterfeit cable is permeating the market. They need to become just as suspicious as he is, he says. "We need to raise the level of awareness about this," Maroukian says.
Despite the growing awareness of the problem, others in the industry agree that contractors remain naggingly in the dark about the issue of counterfeit cable and its portent. Awareness is certainly growing on the manufacturer level, but it isn't necessarily trickling down to contractors who perhaps have the most to lose.
"Contractors should be wary that when they get approached by something that is normally $100 a reel and is now 45 bucks, that they should be questioning that," says Monks. In other words, contractors should be wary of disreputable distributors or distributors who simply aren't asking enough questions.
"The contractor should become more knowledgeable with regard to the cabling, and make sure that he pressures the distributor to provide him with the correct documents," says Quinn.
Monks says distributors should be raising an eyebrow when they come across incredible deals for cable. And contractors should be careful to choose a legitimate, reputable distributor from which to purchase cable. They should also verify where that cable came from.
Maroukian says reputable distributors need to actively ferret out counterfeit cable. Distributors are the main means by which cable manufacturers can move their bogus cable into the market. A savvy distributor can put a halt to this process. For starters, they can raise an eyebrow whenever they hear about heavily discounted goods coming in.
"The bottom line is the distributor has to have some idea that the products they carry are not suited for the professional marketplace," says Maroukian. "They have to take care that they themselves aren't selling a bad product."
Monks points out that, as in all cases involving counterfeit goods, it is technically not illegal to unknowingly purchase them. But it can be illegal to sell such goods to someone else. "To buy and install them is a whole new ball game," says Monks.
The real problems come, he says, when counterfeit cable leads to a fire or other accident where people are harmed or killed. Counterfeit cable typically has little or no fire or heat protection.
Monks says that, much like distributors, contractors must learn to be naturally wary prior to the time of purchasing the cable. "If you are buying 10 reels of cable a week from a distribution house, and suddenly you can buy it cheaper down the road, you should be aware of who is selling it to you," says Monks.
It can be tricky to tell if a cable is counterfeit simply by how it feels. Still, Quinn says he has learned to be suspicious if he comes across plenum-rated cable that actually feels like riser-rated cable. Plenum cable, Quinn says, is hard and brittle to the touch. But the counterfeit plenum cable he has seen has a soft jacket, and its coloring is lighter than it would normally appear. Plenum cable that feels like this could be counterfeit, he asserts.
But texture can be deceiving. That's why Monks says a wary contractor needs to ask for a certificate of compliance when he makes a cable purchase. Such a certificate demonstrates proof of where the cable came from. "If you are a contractor, and you are buying from a legitimate distribution house, make sure you are getting what you pay for," says Monks.
Brian Milligan is senior associate editor for Cabling Installation & Maintenance.
---
Real or counterfeit?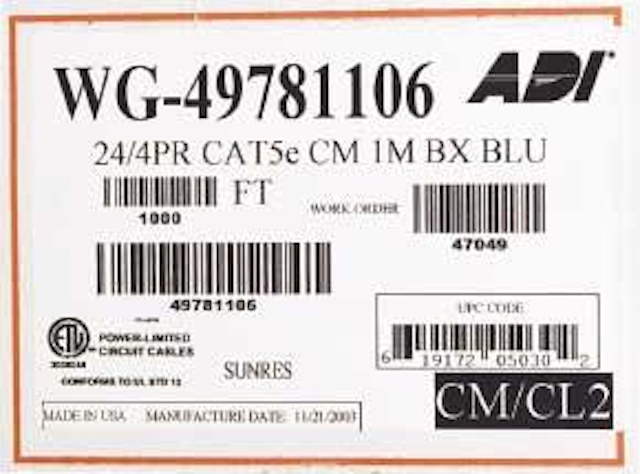 Click here to enlarge image
A contractor can recognize a box of counterfeit cable by asking himself the following questions:
Was the cable manufactured by a recognized manufacturer?
Was the box of cable sold by a reputable distributor?
Does the label on the box indicate a part number for the cable, which includes packaging and color codes?
Does the label include a complete product description of the cable, including wire gage, number of pairs and Communications Media (CM) listing per NEC?
Does the label indicate the quantity of cable?
Does the label carry a work order number for traceability purposes?
Is there an ETL or UL Power Limited Listing Number on the label?
Does the label carry a UPC code?
Does the label indicate the country where the manufacturer is located?
Does the label indicate the date that the cable was manufactured?
Does the cable itself carry most of this information in abbreviated form, and indicate ETL or UL verification or electrical performance parameters?
(This box of cable from Genesis Cable is authentic.)
---
Counterfeit cable manufacturers often go unpunished
While the problem of counterfeit cable is a serious one, industry representatives say it is frustratingly hard to punish offenders.
Clearly, the most efficient way of fighting the problem is to cut off the counterfeiters from their own market.
"It's supply and demand," says Brian Monks, director of Anti-Counterfeiting Operations for Underwriters Laboratories Inc. (www.ul.com), based in Melville, NY. "If there is no demand, it (the counterfeit business) will dry up."
But penalties for the crime remain weak and unthreatening. Counterfeiting in all forms in the United States is a white-collar crime, and to date, only 34 out of 50 American states actually have any anti-counterfeiting laws.
"There are no penalties," says Monks. "They can sell some counterfeit volume, and get just a slap on the hand."
Manufacturers are likewise stymied when the problem originates from overseas. John Pryma, vice president and general manager of Genesis Cable Systems (www.genesiscable.com), based in Pleasant Prairie, WI, says the National Electrical Manufacturers Association is working with the Commerce Department to try to get a handle on counterfeit cable operations. An office has been set up in Beijing in an attempt to educate Chinese authorities about counterfeiting operations, and bring about punitive laws.
But one thing industry players cannot easily do is sue companies in China and elsewhere that are putting out counterfeit cables and components. Representatives from ETL SEMKO, for example, say they are having some success fighting the problem in the United States. But that is as far as their success goes.
"If we know who the manufacturer is, we take action against him. We contact the person and ask him to cease and desist," says Jim Anastasi, technical manager of the cable products testing group, Intertek ETL SEMKO (www.intertek.com), based in Foxborough, MA. "But if he is in the Far East, how do I go after him?"
"The manufacturers don't have the financial or the physical capability to effectively bring suit against companies in China," agrees Dave Kiddoo, global business manager for wire and cable products at AlphaGary Corp. (www.alphagary.com), based in Leominster, MA. "The pursuit of these people would be nearly impossible for any company to take on, given the economics of the situation and the legal process."
Cable testers, such as UL and ETL, have much to lose due to the counterfeiting problem. The testing companies leave markings on boxes of cables that they have tested, and these stamps are being mimicked by counterfeiters. This practice victimizes the testing companies when the cable fails, making it appear that they gave approval to faulty products.
Testing company representatives say customs agents and inspectors need to likewise be educated on how to spot containers bearing counterfeit goods coming into U.S. ports. This is particularly true for the Port of Seattle and the Port of Los Angeles, both of which are prime ports through which counterfeit cable products from China are shipped.
"We need to educate the consumer and the customs officials that they need to be concerned," says Kiddoo. "They need to look for the right kind of labels and markings."
You can be held liable if bogus products don't measure up to end user's requirements.