CCCA, CDA warn against copper-clad aluminum cables
Despite what the package might say, such cables fail to comply with UL, TIA  and NEC requirements.
Mar 4th, 2011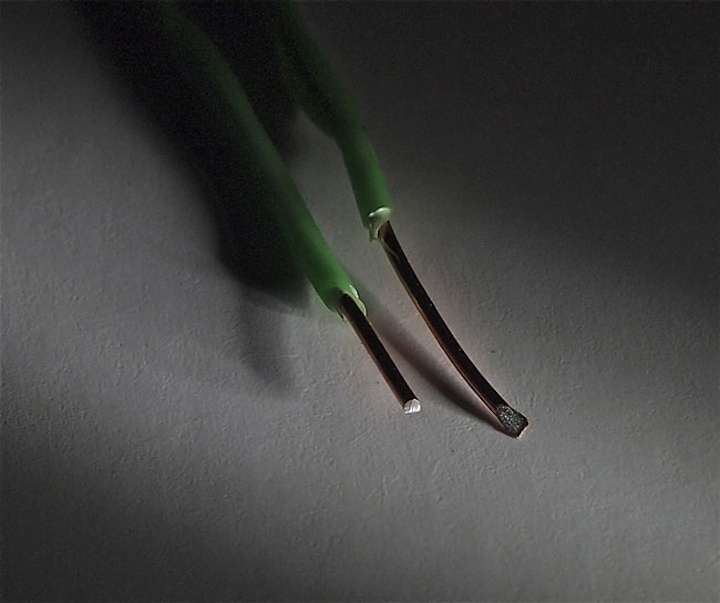 The Communications Cable and Connectivity Association (CCCA), along with the Copper Development Association (CDA), recently issued an alert about the presence in the market of twisted-pair cables with copper-clad aluminum conductors rather than solid-copper conductors.
We recently reported on a particular case involving copper-clad aluminum cable, in which the cable jacket and box claimed that the cable was UL-verified Category 5e. In fact, the CCCA and CDA pointed out in their recent release that such conductors violate several industry standards, including UL safety standard UL444. The groups warn that cables of this type are not safety-listed.
Several sets of specifications require solid-copper conductors within multi-conductor communications cables. In addition to UL444, there's the National Electrical Code and TIA-568-C.2. Section 800.179 of the NEC says, "Conductors in communications cable, other than in a coaxial cable, shall be copper." UL444, officially titled Standard for Communications Cable, states in Section 5.1.1, "The conductors shall be solid or stranded, annealed, bare or metal-coated copper." As the CCCA and CDA point out, UL444 compliance is a basic requirement for any communications cable to receive fire/safety ratings from UL or other nationally recognized test laboratories. Section 5.3 of TIA-568-C.2 requires compliance with ANSI/ICEA SS-90-661-2006 and ANSI/ICEA S-102-732, which both include the following: "Solid conductors shall consist of commercially pure, annealed, bare copper ..."
CCCA chairman Kevin Ressler acknowledged that contractors purchasing twisted-pair cable may be unaware that if it is copper-clad aluminum it does not meet the above-referenced codes and standards. In part, that is because the production of cable with copper-clad aluminum conductors is a relatively recent turn of events. Ressler pointed out that determining a cable is so constructed is relatively easily accomplished, by scraping the thin copper surface to reveal the aluminum.
The CDA's president Andy Kireta said, "As an organization, we place high confidence in industy codes and standards and support products that fully comply. The codes and standards that serve the structured cabling industry reflect copper's long history of performance and its remarkable capacity to meet network speeds that seemed impossible only a few years ago. We applaud CCCA's focus on cable compliance and product-quality issues, which improves and strengthens this vital industry."
The CCCA continued to drive home its theme of purchasing known brands from quality distributors. The group's executive director Frank Peri said, "When dealing with lesser-known brands, users should consider asking for complete documentation of product specifications, in writing, to confirm the product meets recognized industry standards. Users should also carefully examine cable for proper marks and labels to show it has been verified or listed by an independent third party such as UL or Intertek/ETL. As an added measure, UL and ETL website directories can also be checked to assure cable manufacturers are in compliance and authorized to display the appropriate mark."
You may also be interested in the following articles.
Counterfeit cable exposed (including photos of the jacket and box of the copper-clad aluminum cable shown on this page)
UL requires holographic labels for communications cable
Video explains rising cable prices