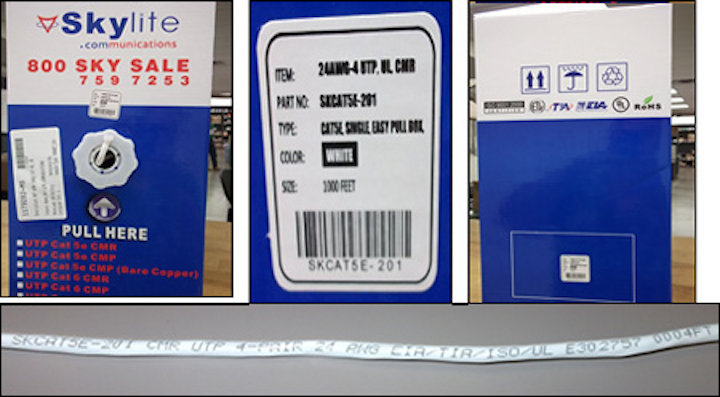 On October 12 Underwriters Laboratories (UL) issued a public notice alerting consumers, retailers, manufacturers, regulatory agencies and AHJs to the presence of four communications cables that bear unauthorized references to UL. "The communications cables have not been evaluated by UL to the appropriate Standard for Safety for the United States, and are not authorized to bear the UL Mark or any reference to UL," the notice stated.
One of the four cables listed in the notice is the one we told you about in February, which has copper-clad aluminum conductors. Two of the other three cables in the alert also have copper-clad aluminum conductors.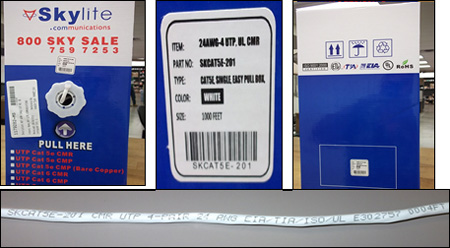 One of those cables has the brand name Skylite Communications and is known to be sold through the website 1000ftcables.com. The cable jacket displays the following information: SKCAT5E-201 CMR UTP 4-PAIR 24 AWG EIA/TIA/ISO/UL E302757
Another cable is sold under the brand name MG Electronics. Its jacket contains the following: UTP CAT5E CABLE 4 PAIRS 24AWG CMP RATED E310158. According to UL, the cable has been known to be sold through the site A1VideoSecurity.com and may have been sold through other outlets as well. UL's notice does not state that the cable uses copper-clad aluminum conductors.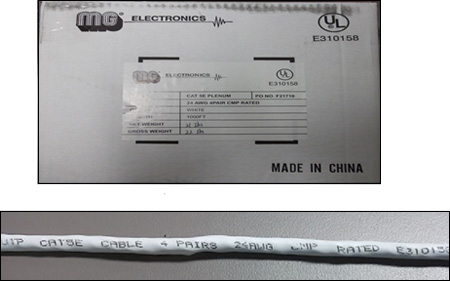 The other cable named in UL's recent notice is manufactured by Zhejian Dongyue Transmission Equipment Co. Ltd. It uses copper-clad aluminum conductors and can be identified by the following markings on its jacket: SOLID CAT6 TYPE CMR 23AWG/4PRS VERIFIED (UL) E339724 550 MHz, 0380FT, ZONE A B C D E F 1 2 3 4 5 6 7 8 9