Report: Shielded-cable growth rate outpacing unshielded
Even so, UTP will continue to dominate the copper-cable market for the next five years.
Apr 8th, 2011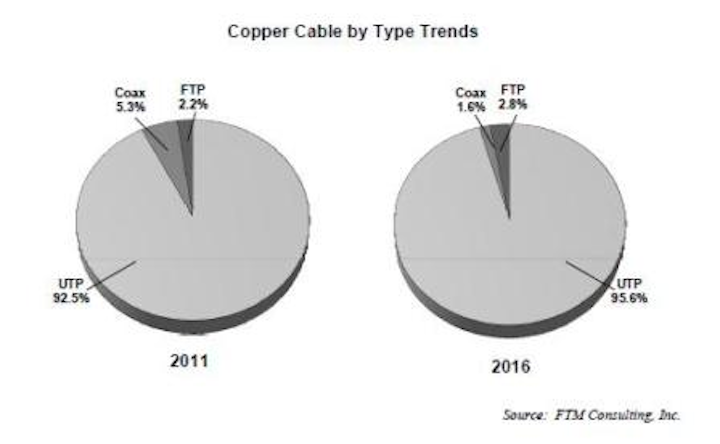 The latest study from FTM Consulting Inc., entitled U.S. Structured Cabling System Copper Cable Forecast, says shielded twisted-pair cables will grow at a faster rate than the other two copper-cable types examined - unshielded twisted-pair and coaxial.
FTM's president Frank Murawski said, "STP cables are expected to have the highest growth rate, at 26.4 percent over the next five years. The total copper cable market for SCS is forecast to grow from $4 billion in 2011 at a 20.8-percent rate to more than $10 billion by 2016. Most of this growth is driven by existing installations upgrading from early Cat 5 UTP cabling plus the need for copper cable in new networking applications, such as VoIP or data centers."
Despite shielded's higher growth rate, UTP cables will continue to dominate the market, according to FTM, with a 92.6 percent share in 2011 and a 95.6 percent share in 2016. In that same time period shielded's market share will grow only from 2.2 percent to 2.8 percent.
"STP cables are viewed as a niche makret product for those smaller installations needing higher bandwidth than is available with UTP cables, but due to financial considerations are reluctant to ugprade to fiber cabling," FTM said when announcing the study's availability. "Coax cable is projected to decline, as the primary cabling applications of security video camera networks evolves from coax cable to high-performance UTP cable, which is capable of supporting the video signals."