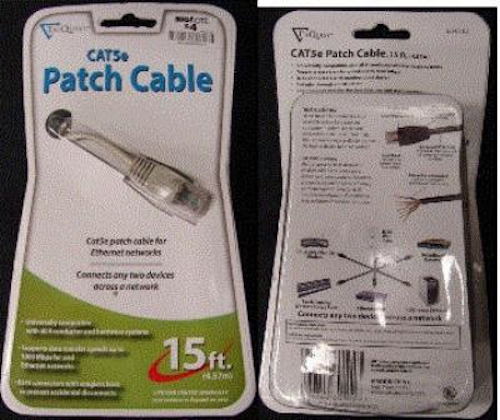 Those in the habit of buying their Category 5e patch cords at Big Lots might want to be careful the next time they're shopping. In late March Underwriters Laboratories (UL) issued a public warning about the unauthorized use of its mark on Category 5e patch cables, as well as USB 2.0 cables, known to be sold at Big Lots.
The products are sold under the brand name TriQuest; the Cat 5e model number is 60-0102 and the USB 2.0 model number is 60-0302. UL reports that the manufacturer is Sela Products LLC.
The notice from UL explains that the products "bear an unauthorized UL Mark on the product packaging. The products have not been evaluated by UL to the applicable standard for safety and it is unknown if they comply with the UL safety requirements."
UL's notice also said that the Cat 5e patch cable first went into production in February 2010; there are no date codes on the packaging or product. UL says there are 95,120 units of the Cat 5e patch cable.
As the image at the bottom of this page shows, the front of the packaging bears the TriQuest brand name. The right side of the image shows the back of the product packaging, which includes the unauthorized mark - the encircled letters "UL" - on the bottom right portion of the package.
The USB 2.0 cable that is part of the same UL notice also bears the TriQuest brand name. UL says it first went into production in March 2010 and there are 124,300 units of it. The USB 2.0 cable, like the Cat 5e patch cable, does not include date codes on the product or packaging.
Sela Products did not immediately respond to our request for information.
You can view the public notice from UL here.
You may also be interested in this story from 2011: Counterfeit cable exposed.