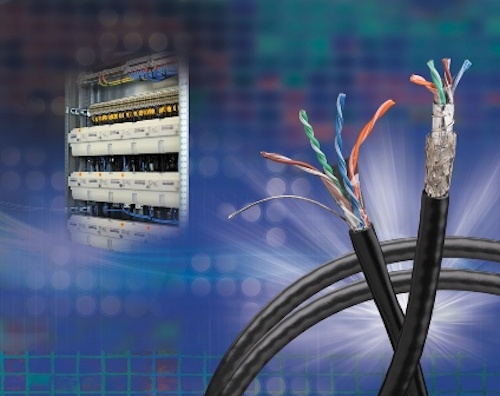 Two Belden Cat 5e cable products have been added to the manufacturer's DataTuff Industrial Ethernet line. The 600V AWM-rated shielded cables incorporate the company's bonded-pair technology and are designed to be rugged enough for use in listed motor control centers and switch gear in environments with high levels of electromagnetic interference (EMI).
According to Belden, the cables' AWM rating allows them to be used on or within a listed cabinet or machine, as well as more traditional Ethernet applications. Belden points out that the cables are not intended for 600V power delivery. They feature an overall shielded design with 24-AWG bonded-pair solid bare copper conductors, polyolefin insulation, a 24-AWG stranded tinned copper drain wire, and an industrial-grade oil- and sunlight-resistant PVC jacket.
The cables' part numbers are 7958A and 7957A. 7958A has an overall Beldfoil shield, which Belden says meets the EMI requirements of most plant environments. 7957A has an overall Beldfoil shield plus 70-percent tinned copper braid, which Belden says allows it to stand up to more-extreme EMI environments and provides additional structural integrity. Both cables, the company adds, are Ethernet/IP compliant.
A new product bulletin includes more-detailed information on the new cables.